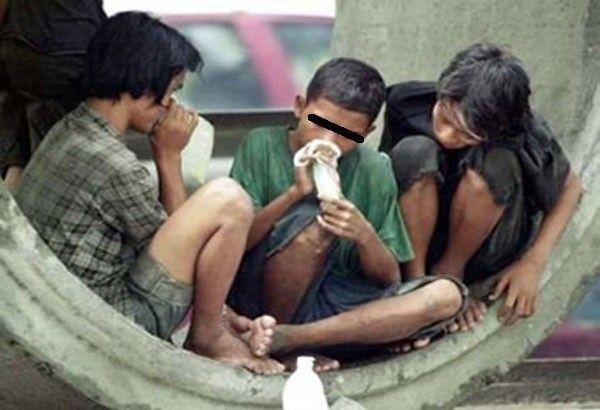 Oriental Mindoro Rep. Doy Leachon, chairman of the House justice committee, will preside over the hearing – where Speaker Gloria Macapagal-Arroyo will personally lead the attendees – in taking up House Bill 505 authored by Tarlac Rep. Victor Yap.
File
House holds hearing on kids' age of criminal liability
MANILA, Philippines — The House of Representatives resumes today its deliberations on a bill that lowers the age of criminal liability of children allegedly used by syndicates in their illegal activities from 15 to nine years old.
Oriental Mindoro Rep. Doy Leachon, chairman of the House justice committee, will preside over the hearing – where Speaker Gloria Macapagal-Arroyo will personally lead the attendees – in taking up House Bill 505 authored by Tarlac Rep. Victor Yap.
Yap's proposal seeks to amend Republic Act No. 10630 or the Juvenile Justice law that sets the criminal liability of children at age 15 as espoused by opposition Sen. Francis Pangilinan but which President Duterte has repeatedly opposed.
The Leachon committee, after months of deliberation and consultation with stakeholders and subject matter experts, is finalizing the bill in the hope that it will be passed into law before the end of the 17th Congress on June 30.
The measure, along with HB 2009 of Antipolo Rep. Romeo Acop – a retired police general – has been pending with the committee since July 2016.
Acop's bill also seeks to reinstate criminal liability of children above nine years who commit heinous crimes.
Under Yap's HB 505, a child nine years old and below at the time of the commission of the offense shall be exempt from criminal liability. While those above nine years but under 18 years old shall be exempted from criminal liability unless he or she acted with discernment.
"Congress gives utmost importance to legislative measures that ensure the safety of our future generation," Leachon said, noting the government's efforts to curb crime as an important catalyst to economic growth, enhancement of family values and national development.
"The committee considers this bill a priority matter of legislation," Leachon stressed.
The House official cited the "alarming increase" in the number of organized syndicates using minors to perpetrate criminal acts.
Arroyo, in a statement, said she supports the call of Duterte for the amendment of the law and for the passage of a bill that will lower the age of criminal liability from 15 years to nine.
"Children nine years and below shall be released to the custody of their parents or their nearest relative in the absence thereof subject to community-based intervention program supervised by the local Social Welfare and Development," she said.
The former president and now representative of Pampanga explained that it is for the minor's "best interest that he/she be referred to a child youth facility or Bahay Pagasa managed by the (local government unit) or a licensed and accredited (non-government organization) monitored by the (Department of Social Welfare and Development)."
But women's group Gabriela criticized the House leadership for attempting to amend the law, saying "Herods and Pontius Pilate are now working overtime to punish children and the innocent."
"The devil really works harder. This is proven by the eagerness of this administration to lower criminal liability to nine years old," Rep. Arlene Brosas lamented. "This is ridiculous and purely evil; an act of Herod and Pontius Pilate in 2019."
"Big criminals, plunderers and drug lords are given freedom by this administration while being hell-bent on lowering the age of criminal liability because of an ill-conceived logic that it will curb criminality and violence," she added.
Brosas countered the claim that lowering the age of criminal liability will help curb crime and violence and promote family values.
"Who in his right mind would think that putting a child aged nine behind bars will help curb crime and violence?" she asked.
"You are ruining a child's future by cutting any hope that he can change and correct it. This will not help promote family values, it will destroy families and shatter the moral fiber of our society," she pointed out.
"If the government is sincere in promoting family values and destroy criminality, then we should send these kids to school, focus on improving the standard and accessibility of our children to education and address the root causes of poverty, not put them in jail," she said.
"The youth are an integral part of nation-building and lowering the age of criminal liability to nine is demolishing a brighter and humane future of this nation," Brosas added.
Brosas noted that during the hearing of the bill, social workers, child rights advocates, psychologists and teachers opposed it.
"This administration failed to listen to expert opinions of resource speakers and child rights advocates. The people should now take this into their hands and stop this madness before it ruins the very basic unit of our society," she said.
Opposition to measure
Vice President Leni Robredo yesterday opposed the measure.
"This (proposed bill) is very painful," Robredo said in her weekly program BISErbisyong Leni over radio station dzXL.
Instead of punishing minor offenders, the Vice President said lawmakers should craft a law that would strengthen support programs for children in conflict with the law.
"To our fellow government workers in the House, let's have pity on our youth. Instead of punishing them, let's give them the chance to have a new life," she said.
Robredo, a lawyer, said the government should focus on fully implementing existing laws on juvenile delinquency rather than holding younger offenders criminally liable.
"Admittedly, it's a very good law but lacking in implementation," she said, referring to RA 10630.
On Friday, the United Nations Children's Fund (UNICEF) opposed fresh calls to lower the age of criminal liability, saying it is an act of violence against children.
UNICEF argued that a person reaches maturity only at 16 based on scientific studies.
The Commission on Human Rights (CHR) also expressed its opposition to the moves in Congress.
In a statement, the CHR said the government should instead fully implement RA 9344 or the Juvenile Justice Welfare law to provide rehabilitation as an intervention for children in conflict with the law.
"There are many gaps that should be addressed. One of these is the allocation of adequate funds for the establishment of Bahay Pag-asa facilities and the staffing of these facilities with professionals who will help in the rehabilitation of children who have violated laws," the CHR said in a statement issued yesterday.
"As children, they are going through their most important formative years. They need nurturing and guidance that should be provided by their parents and family, in the community that they belong to and even the government," the CHR said.
"It is the responsibility of the government to help them come back to society instead of implementing measures that will punish them and push them in the wrong direction," the CHR added.
For his part, Caloocan Bishop Pablo David called the bills "unchristian."
"We cannot even properly hold adults liable for their criminal offenses, now we want to hold nine-year-old children-in-conflict-with-the-law criminally liable as well?" he said in a statement posted on the Catholic Bishops' Conference of the Philippines (CBCP) news website.
"For what? For being born in an environment of abuse? For being neglected or abused by abusive parents and being left to fend for themselves out in the streets? For being used by abusive adults in criminal activities?" the prelate stressed.
He warned Congress that passing the measure into a law would make it the "most naive, heartless and unchristian Congress we have ever had."
The CBCP has earlier expressed strong opposition to the proposal.
Instead of lowering the age of criminal liability, the bishops said "stiffer penalties" should be imposed for those who exploit children in the perpetration of crime.
"The sins and failings of the young and immature should not mar the possibilities of one's future or stand forever in the name of an honorable and noble reputation that can, in later years, be very well built," the CBCP said in a statement issued in 2017. – With Helen Flores, Rainier Allan Ronda, Edu Punay