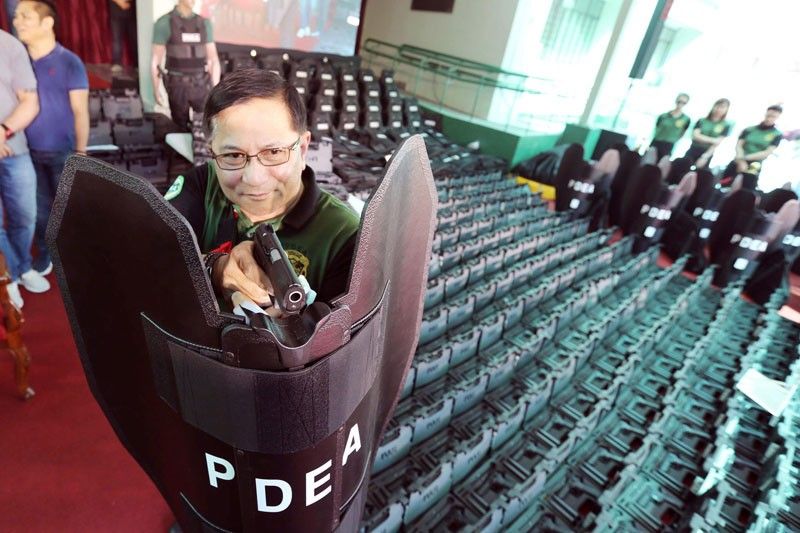 Philippine Drug Enforcement Agency chief Aaron Aquino poses with new high-powered firearms and protective equipment to be used by operating units in regional offices nationwide during a distribution ceremony at the PDEA main office in Quezon City yesterday.
Boy Santos
PNP human rights compliant? Release data, says CHR
Janvic Mateo
(The Philippine Star) - January 19, 2019 - 12:00am
MANILA, Philippines — Commission on Human Rights (CHR) chairman Chito Gascon yesterday urged the Philippine National Police to release records proving that PNP anti-drug operations are compliant with human rights standards.
Gascon said the CHR could not make an assessment of the claim made by PNP chief Director General Oscar Albayalde because they have not followed through with their promise to release data on the drug war to the commission.
"The CHR would be very keen and interested in coming to a complete understanding of exactly how the PNP has the confidence to make this bold assertion. It is for this reason that we have asked for their full cooperation in providing the CHR with all the relevant information we have been repeatedly requesting," he said.
"To this date, this has not been the case despite their public assurances to the contrary. Until the PNP is able to fully comply, the CHR cannot independently confirm this assertion by them of actual adherence to international human rights standards, which at best we can describe as self-serving and perhaps aspirational," he added.
Gascon said that while a good majority of security forces may be well aware of their human rights obligations and on a regular basis comply with the same, there is a need for greater transparency and accountability to verify Albayalde's claim.
The PNP chief on Thursday claimed that 98 percent of illegal drug operations from January to October 2018 have been found compliant with human rights standards.
He based the assertion on a supposed review by their own human rights affairs office, a copy of which has yet to be released.
Albayalde did not provide details on the incidents that were found to be in violation of human rights standards.
The CHR has repeatedly urged the PNP to release records of drug-related deaths, including those in police operations.
Government data showed that more than 5,000 people have already died in police operations since July 2016.
Human rights groups claim that the figures are higher, citing unresolved killings under the Duterte administration.
The CHR has repeatedly called on the police to file cases in relation to the so-called nanlaban (resisted) incidents, saying only a judge may determine if the killing of a suspect was indeed a case of self defense.
Meanwhile, Philippine Drug Enforcement Agency (PDEA) director general Aaron Aquino voiced support for the lowering of the age of criminal liability, following the apprehension of minors during a raid at Navotas fishport last week.
The House of Representatives on Thursday finalized the bill seeking to lower the age of criminal liability from 15 years to nine years.
National Capital Region Police Office (NCRPO) chief Director Guillermo Eleazar said their proposal to conduct mandatory inpection of bags and lockers in schools still stands but it is up for consideration by the Department of Education (DepEd).
The inspections would be conducted by teachers, school staff or members of the parents and teachers association, and police would not be allowed into the school.
Police would only be called in when illegal drugs are seized for proper disposition.
"The police respect the arrangement with the educational institution that we will not go in without their consent," he said.
Eleazar said the inspection would be a deterrent for minors to become involved in illegal drugs and provide proper intervention.
If illegal drugs would be seized, police would also focus on hitting the supplier.
Aquino said he supports the initiative so that students would not be able to bring drugs to school and influence others. – With Romina Cabrera