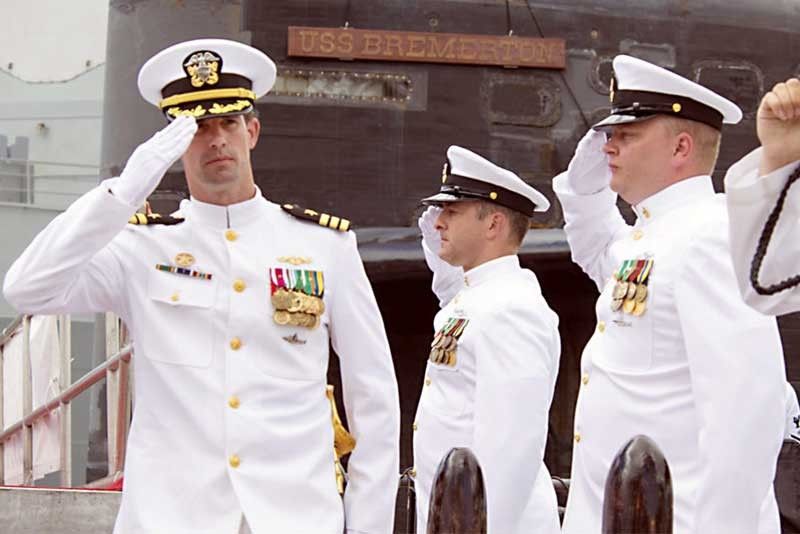 Capt. Travis Zettel, then commander of fast-attack submarine USS Bremerton, salutes personnel at Joint Base Pearl Harbor-Hickam in Hawaii in this Aug. 5, 2016 photo taken by Michael Lee of the US Navy.
US Navy exec axed for paid sex in the Philippines
(The Philippine Star) - January 14, 2019 - 12:00am
MANILA, Philippines — The commander of a United States Navy submarine was relieved from his post in August following his admission of hiring female prostitutes while the vessel was docked in the Philippines early last year, according to a report published in a Washington state newspaper on Friday.
Capt. Travis Zettel, commander of the USS Bremerton, was fired in August "following a loss of confidence in his ability to command the Los Angeles-class fast attack submarine, which is now tied up in Bremerton for decommissioning," the Kitsap Sun reported.
The Bremerton, Washington-based daily said it based its report on documents received through a Freedom of Information Act request.
The report said the incident occurred during the submarine's port call in Subic Bay on March 1. Zettel was reportedly seen with 10 "provocatively dressed females outside the front door of (his) hotel" at dinnertime of that day, according to a tipster interviewed by the Naval Criminal Investigative Service (NCIS) agents over the Department of Defense Inspector General's hotline.
The report added that Zettel told the tipster and another sailor that he had "requested/ordered 10 girls to arrive at the hotel." Another sailor, according to the newspaper, told investigators he saw "Zettel walking around and talking to other sailors in his command with three local females holding onto his arm."
In May, almost a month after the vessel arrived in Bremerton for decommissioning, the NCIS launched a criminal probe and confronted Zettel with the allegations, the Kitsap Sun report said.
Zettel, a Puyallup, Washington native commissioned in 1998 and first served on board the USS Salt Lake City before carrying out various assignments aboard other subs, "admitted culpability in the payment of female accompaniment," it added.
After he was reprimanded and relieved of his command, Zettel was administratively reassigned to the staff of Naval Base Kitsap-Bangor-based Submarine Squadron 19, the report said, quoting Navy officials then.
The other sailor, who was also interviewed by authorities but said he "did not participate in prostitution," was not "pursued for disciplinary action," the report said.
The STAR tried to reach the US embassy but it was unavailable for comment.
Meanwhile, Foreign Affairs Secretary Teodoro Locsin Jr. called the United States a "responsible state" for the decision to relieve Zettel.
"He was fired by the US government. Now that's a responsible state," Locsin said in a post on Twitter. – With Pia Lee-Brago