Duterte: Philippines will not buy weapons from US
January 11, 2019 | 12:26pm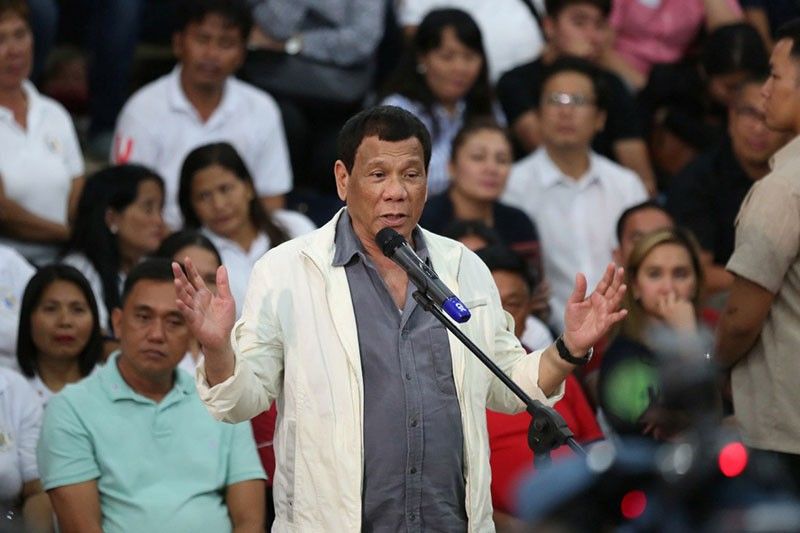 MANILA, Philippines — President Rodrigo Duterte declared that the Philippines would no longer purchase arms and military equipment from the United States for its criticism of the government's campaign against illegal drugs.
In a speech before soldiers in Bulacan, the president recalled how Washington supposedly pressured Manila due to Duterte's human rights violations.
Duterte cited US President Donald Trump's new order prohibiting countries to enter into arms deal with China or Russia.
"I will not agree to buy. Pangit tingnan. Hindi maganda (It doesn't look good). It does not sit well with the Filipino na ganunin ka tapos pasunod-sunod ka na lang (they will treat you that way and you just obey)," Duterte said.
"Pagka bumili ka sa China o maybe Russia, magsali ka sa embargo (If you buy from China or maybe Russia, you will be included in embargo), you cannot trade with America," he added.
A US Defense official cautioned the Philippines last August against procuring weapons from Russia, saying it might not be "a helpful thing to the alliance." The US and its former colony the Philippines are treaty allies.
"When you buy weapons systems, particularly major platforms, you're not just buying capability, you're investing in a relationship," US Assistant Secretary of Defense and Pacific Security Affairs Randall Schriver said then.
He stressed that US platforms are key to sustaining interoperability between US and Philippine forces.
Ties with Russia, China
Since assuming office in June 2016, Duterte has been seeking closer ties with China and Russia, becoming hostile toward the US despite the Philippines' long-standing alliance with Washington.
"Sabi ko naman sa (I told them) — your superiors and the civilian leaders, with that kind of arrangement, do not expect me to buy arms from the United States," the president added.
RELATED: Duterte to talk with Trump on arms purchase
Duterte recalled how China and Russia provided assistance to the Philippines when the conflict in Marawi City ensued in May 2017.
The president was in Russia when ISIS-inspired local terrorists seized Marawi, pushing him to cut his trip short upon declaring martial law in the entire Mindanao.
"I flew to Russia. And at a last minute, kasi pumutok and Marawi nandoon ako sa Russia (Marawi happened while I was in Russia). So I had to sign the martial law power, doon ako sa Russia. And we had a talk with Putin and he said, 'you can have it and I'll give you some trucks," Duterte said, referring to firearms acquired from Moscow.
China also offered the guns for free after the deal with the US did not push through.
"We had that order from America fortunately, unfortunately they stopped that. That prompted me to go to China to buy... and China said, 'no it's all right. You can have the guns free,'" Duterte said.
In November 2016, Duterte ordered a deal for 26,000 M4 assault rifles from the US cancelled after the US State Department halted the sale. US Sen. Ben Cardin had previously said he would oppose the deal over concerns over human right violations attributed to the government's war on drugs.
"We will just have to look for another source that is cheaper and maybe as durable and as good as those made from the place we are ordering them. We will not insist on buying expensive arms," Duterte said then.
US assistance in Marawi
Despite Duterte's tirades against Washington, the country's long-time ally was among the first foreign countries to provide assistance to Marawi.
American troops provided technical assistance in the campaign against the Maute group but did not involve "boots on ground," former presidential spokesperson Ernesto Abella earlier confirmed.
The US still provides assistance to residents affected by the conflict in Marawi and nearby areas. In October, the US government launched the Marawi Response Project that seeks to improve economic and social conditions of communities in the area.