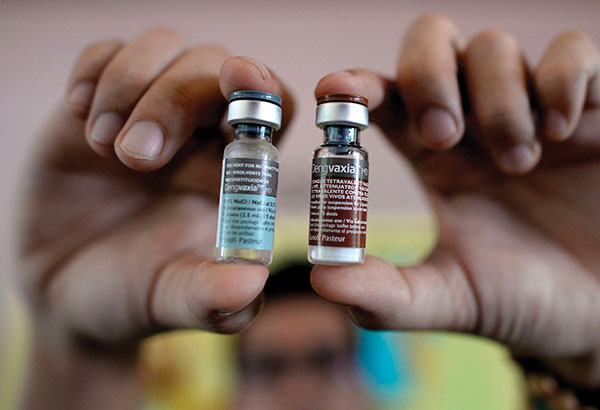 Doctors for Truth and Welfare, led by former Health Secretary Esperanza Cabral, said the Public Attorney's Office should stop spreading 'unproven claims' about dengvaxia
AFP, File
Doctors' group urges PAO to quit spreading unproven Dengvaxia claims
(Philstar.com) - December 13, 2018 - 7:42pm
Health department urged to ask 'true' experts to speak up for vaccine
MANILA, Philippines — Doctors for Truth and Welfare, led by former Health Secretary Esperanza Cabral, called on the Public Attorney's Office on Thursday to "stop spreading unproven claims" about the controversial Dengvaxia vaccine.
The group said in a press statement that PAO's public campaign against Dengvaxia has been diminishing the public's trust in vaccines that help stop preventable illnesses.
"We call for a halt to the continuous spread of unproven claims of deaths caused by the dengue vaccine by the same unqualified but noisy people who are largely responsible for the fall in vaccine confidence in the country," the group said in a statement, referring to PAO chief Persida Acosta and forensics chief Erwin Erfe.
Cabral was Health secretary from January to June 2010.

INTERAKSYON: No solid proof yet dengvaxia caused deaths of 39 – DOH chief
According to the group, they were "forced" to come out with a statement after seeing confidence in the safety of vaccines drop to 32 percent from 93 percent, while cases of measles rose by 350 percent and of rubella by over 1000 percent.
"Children are needlessly suffering and dying because of the fear mongering and misinformation that has been allowed to propagate in little over a year. We are headed for epidemics of epic proportion of otherwise preventable diseases," the group said.

READ: Acosta urges public to get vaccinated amid measles outbreak
Distribution of the vaccine was suspended in December 2017 after manufacturer Sanofi Pasteur, said that vaccinating those without prior exposure to dengue potentially put them at risk of contracting dengue anyway.
Shortly after the announcement, the PAO, led by Acosta and Erfe, began directly linking the deaths of children to the vaccine.
"Indeed, Dr. Erwin Erfe and Attorney Persida Acosta should be held accountable for the thousands of disabilities and deaths that could have been, and could yet be avoided, were it not for their irresponsible behaviour," DTW said.
They asked that the DOH prioritize addressing the low vaccination rates by asking "true" vaccine experts to speak out and "counter all the disinformation."
Prior to Acosta's statement agreeing with Health Secretary Francisco Duque III — that the public should get vaccinated to avoid getting infected with measles — Duque said in April that the PAO chief made a "circus" out of the Dengvaxia issue.

READ: No green light for Dengvaxia anytime soon, DOH says
The DOH is also expected to extend the ban on commercial distribution of dengvaxia when it expires this December 29.