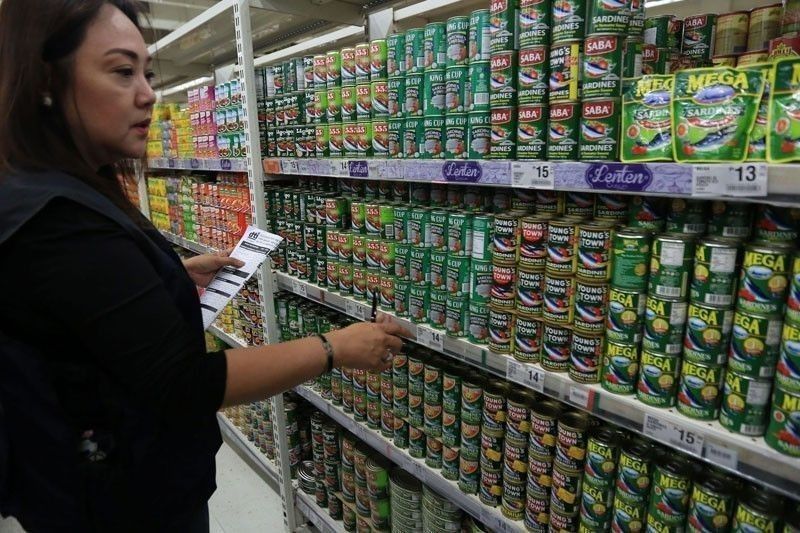 Prices of some canned sardines are expected to increase by 40 centavos to 85 centavos.
File
Prices of canned sardines to go up
MANILA, Philippines — Prices of canned sardines and a corned beef brand are set to increase slightly under the new suggested retail price (SRP) list of the Department of Trade and Industry (DTI).
"The DTI is pleased to announce that all basic and prime goods in the SRP bulletin are retaining their current SRPs, at least until the first quarter of 2019, with the exception of a few brands of canned sardines and one corned beef that will have adjustments in their prices," Trade Secretary Ramon Lopez said yesterday.
Prices of some canned sardines are expected to increase by 40 centavos to 85 centavos.
The price increase is due to the high acquisition cost of herring – locally called tamban – which is currently at P32 per kilo.
To address the high acquisition cost, producers of canned sardines have recommended to the government to set the SRP for tamban to reduce the retail price of canned sardines in the market.
The DTI said it is set to meet with the Bureau of Fisheries and Aquatic Resources to study the proposal.
One brand of corned beef is also hiking its price due to the rising cost of beef forequarter, a major raw material of the product.
While the prices of canned sardines and one corned beef brand are set to increase, Lopez said several brands of bread and one milk brand are slashing their prices as a gift to consumers this holiday season, despite not being included in the SRP list.
In particular, Gardenia Bread is reverting to its October prices of P46.75 and P62 for the 400-gram (g) and 600 g Gardenia Loaf Bread, respectively.
The price of Gardenia Pandesal has also been cut to P36 per pack from P37.
Marby has likewise reduced the prices of its 600g Super Loaf Bread and Wheat Bread by P5.50 and P10 to reach P58 and P61.50, respectively. These prices will be in place until April 30.
For milk, the 80g Alaska Fortified Milk Drink will be sold at a discounted price of P29 until the end of the year, 50 centavos lower than its regular price.
The DTI is releasing a new SRP list as the three-month commitment of manufacturers of basic necessities and prime commodities not to raise prices amid high inflation, ended on Dec. 1.
Basic necessities cover canned sardines, milk, coffee, bread, instant noodles, salt, detergent soap, bottled water and candles, while counted as prime commodities are luncheon meat, meat loaf, corned beef, beef loaf, condiments like vinegar, patis and soy sauce, as well as toilet soap and batteries.
"Our consumers can rest assured that these increases are in their absolute minimum, as DTI continues to negotiate with the manufacturers to ensure that prices of basic and prime goods remain to be reasonable while businesses maintain a fair return on their investment," Ruth Castelo, DTI undersecretary for consumer protection group, said.