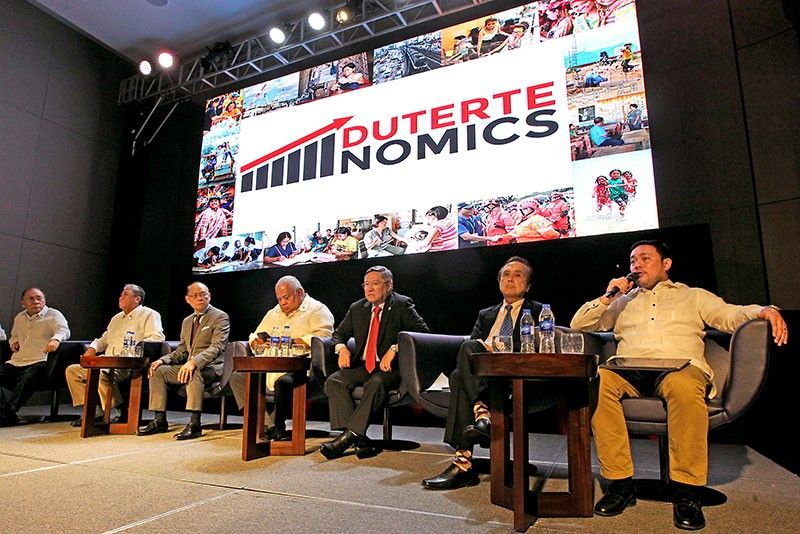 Cabinet secretaries outline infrastructure projects under the Build! Build! Build! program during the DuterteNomics Forum at Conrad Manila in Pasay City in 2017. Photo shows (from left) presidential spokesman Ernesto Abella, Transport Secretary Arthur Tugade, Budget Secretary Benjamin Diokno, Executive Secretary Salvador Medialdea, Finance Secretary Carlos Dominguez III, NEDA chief Ernesto Pernia and DPWH Secretary Mark Villar.
KRIZJOHN ROSALES
Why a reenacted budget is not good news for the Philippines
MANILA, Philippines — For the first time in nine years, the Philippine government will operate on a reenacted budget next year, which policymakers said could threaten the implementation of the Duterte administration's infrastructure plan that aims to spur economic growth.
What is a reenacted budget and why does it face criticisms now?
If Congress fails to pass a new national budget before the end of 2018, the current year's budget is automatically reenacted. This means new programs and projects proposed for 2019 will be unfunded since the previous outlay will be reused next year.
Agencies cannot reprogram 100 percent of their reenacted budget, but they can augment other items using "savings" — or cash earmarked for previous year's project that may have been completed since.
Operating under a previous year's budget has always been seen as prone to corruption, as it gives the president the power to determine which projects to fund and reallocate the "savings" elsewhere.
Based on the Senate's timetable, the ratification of the P3.757-trillion national budget for 2019 may be done by February. This means that a reenacted budget may have to be implemented for the first quarter of 2019, the Budget department said.
"It is not a rational move since the same budget would be allocated for projects that are already completed," Dr. Francisco Magno, Political Science professor at the De La Salle University, said in an interview.
"With a reenacted budget, there would be a need to strengthen legislative oversight over budget realignment procedures."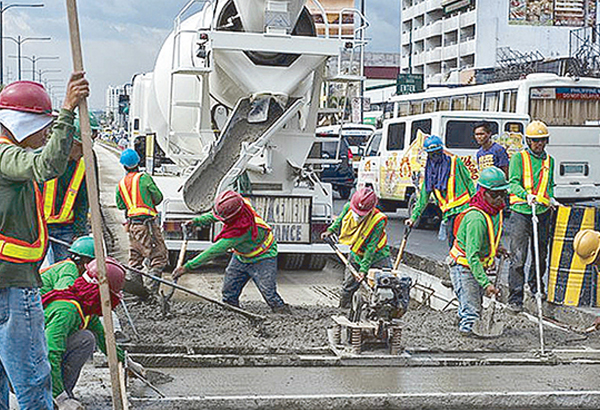 A reenacted budget means new projects will remain unfunded and money would be allocated to projects that have already been paid for. File
What are the implications of a reenacted budget?
"A reenacted budget means that there would be no expenditure plan to support new programs, including the delivery of public goods, services and infrastructures to foster inclusive growth," Magno stressed.
Budget Secretary Benjamin Diokno has said the delayed approval of the 2019 national budget will likely dampen the economy, which needs state spending to fuel growth as household consumption remains in retreat due to inflation and high interest rates.
Diokno explained that a rollover budget will likely result in a five-month "implementation gap" for new projects—worsened by the 45-day ban on state spending ahead of the May 2019 mid-term elections.
Salary adjustments for civilian and military personnel programmed for 2019 will have to wait until the new budget is greenlighted, Diokno added.
"We want to be able to frontload projects at the start of the year, if possible, especially infrastructure projects," Diokno told a press conference on Tuesday. "Can you imagine if there's slow construction? That will kind of slow down growth and it will also slow down employment because no construction means no jobs. No jobs means more poverty."
A budget deadlock was last experienced when House Speaker Gloria Macapagal-Arroyo was president. Her administration operated under old appropriations for three of the nine fiscal years that she was president, severely restricting infrastructure projects and services and casting doubts on the Philippines' credit worthiness.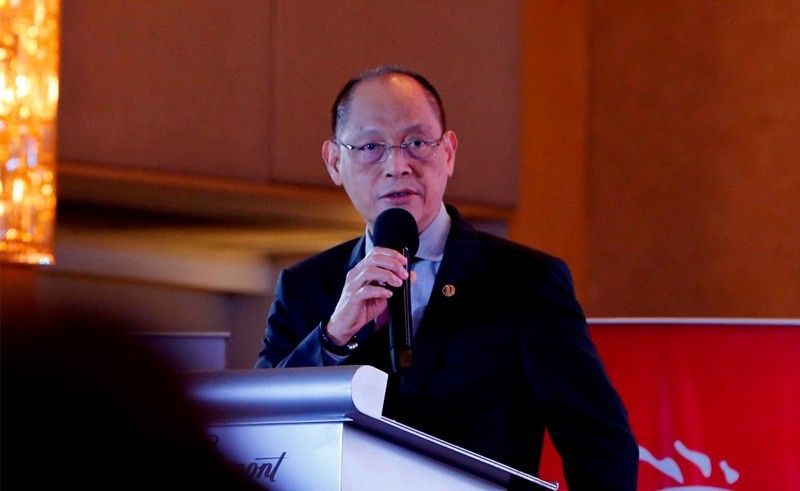 Budget Secretary Benjamin Diokno said the executive brach gave Congress the proposed 2019 budget in July "to give them enough time so that this thing will not happen ." PPD/Alfred Frias, file
Who's to blame?
In the same news briefing on Tuesday, Diokno had a reminder for lawmakers: "Duty first before leisure."
"The president has done his job. The ball is in Congress' court. It is the collective responsibility of legislators to approve the general appropriations bill before they go on a holiday break," the Budget chief said.
"Remember the reason why we submitted the budget on the day of the [State of the Nation Address] is to give them enough time so that this thing will not happen."
Last August, the leadership of the House of Representatives indefinitely suspended all budget hearings after lawmakers rejected the Executive's shift to cash-based budgeting system for next year. Budget work resumed by end-August.
A cash-based system seeks to force agencies to finish projects on time by allocating funds only for projects that can be procured within the fiscal year, as opposed to the former "obligation-based" scheme that had provided for a two-year time frame.
READ: House to adopt hybrid budget system for 2019
The House of Representatives passed House Bill 8169 or the proposed 2019 Fiscal Year General Appropriations Bill on third and final reading last November 20. Senators have said the chamber will not have enough time to examine the spending plan before Congress adjourns on December 14.
What can Duterte do now?
"The president can meet the Congressional leadership to discuss how to pass the 2019 budget on time," De La Salle University's Magno said.