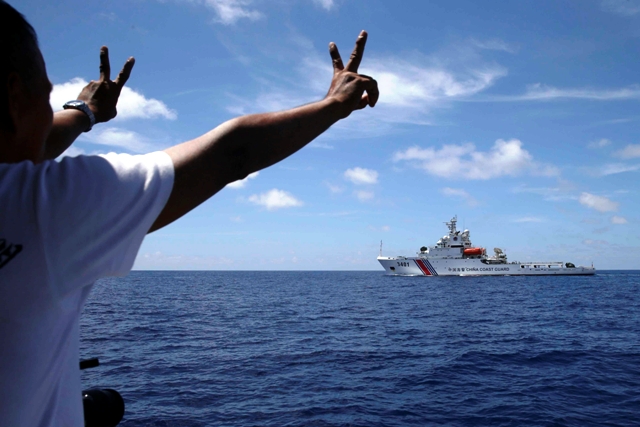 A Philippine Marine gestures at a Chinese Coast Guard vessel which tries to block a Philippine Government vessel AM700 from approaching the Second Thomas Shoal (local name Ayungin Shoal) to resupply and replace fellow marines who were deployed for almost five months Saturday, March 29, 2014 off South China Sea on the West Philippine Sea. AP/Bullit Marquez
Experts: Joint development in South China Sea no guarantee of better ties
(Philstar.com) - September 22, 2017 - 8:42am
MANILA, Philippines – A joint development in the disputed South China Sea between the Philippines and China does not guarantee better relations, according to experts, who also cautioned that failure to spell out the "expectations" under such an agreement may spark another conflict.
Both countries have active claims over the contested waters but are now open to the idea of joint energy ventures, with China saying that such cooperation will not "impair" the "final delimitation of boundary."
But analysts at a forum in the University of the Philippines in Manila on Friday said working out such an arrangement would be difficult, citing the need to maintain warmer ties between Manila and Beijing before the two nations can forge an energy deal.
"So continuing stable relations is precondition for smooth implementation. It is not a guarantee of better relations. Just because you have it doesn't mean that everything will be going well," UP Law Professor Jay Batongbacal said.
"The feasibility of joint development is directly correlated with the state of relations between the parties," he added.
Batongbacal also stressed that if the two claimants are serious about entering into a joint energy agreement, it is "important" that the text of the arrangement clearly clarifies the "expectations" of both sides to avoid another standoff.
"Not only that the maritime area is disputed, but the joint development agreement [will] also [be] disputed," he said.
"There is actually an underlying presumption that both parties regard each other's claims as legitimate, and that there is an acknowledgement of both parties that there are possible rights," he added.
Ties between the two countries soured after the Philippines filed, and won, a case against China in a United Nations-backed tribunal last year. The court said China violated the Philippines' sovereign rights by blocking fishing and oil exploration as well as by building manmade islands there.
Taking office shortly before Manila's legal victory against Beijing, Philippine President Rodrigo Duterte sought warmer relations with the Asian power by setting aside the international court's ruling in exchange for billion dollars' worth of Chinese investments.
Aside from Manila and Beijing — Brunei, Indonesia, Malaysia, Singapore, Taiwan, and Vietnam also have overlapping claims over the sea.
'More flexible'
In the same forum, Lucio Pitlo III, Chinese Studies professor at the Ateneo de Manila University, said that compared to a government-to-government kind of joint venture, a commercial energy deal would be "easier" and "more flexible" to implement.
However, he said that it would be hard for local players to work with bigger energy firms in China due to "political risks" and inadequate expertise.
"Local players don't have much capacity and resources to execute most of these oil and gas explorations and development," Pitlo said.
To recall, talks between Philippine oil and gas firm PXP Energy Corp. and China National Offshore Oil Corp. (CNOOC) about joint exploration and development of Reed Bank were scuttled in late 2014 after Manila filed an arbitration case against Beijing.
Reed Bank, which is believed to hold vast oil and gas deposits, is being claimed by Manila as part of its exclusive economic zone due to its proximity to the western Philippine island of Palawan.
Citing warmer ties with China, PXP said it is hoping to revive the stalled negotiations under the Duterte administration.
Last month, Foreign Affairs Secretary Alan Peter Cayetano said the Philippines was working on a "commercial" energy deal with China and gave an assurance that this would not violate the Constitution.
This was after the Energy department announced that oil and gas exploration at Reed Bank may resume before December.
Meanwhile, for Aileen Baviera, professor at UP's Asian Center, it is crucial for the Philippines to assess China's interest in order to create a "space" for a joint development of the resource-rich sea.
"Is there a convergence now of interest? So that's the challenge: to understand what China sees as its interest right now and does that serve our interest because China will be looking at us in the same way," Baviera said.
"And if they feel that that is something that they can support and also serves their interest right now, then maybe there is space to talk about joint development otherwise I don't know if we can go very far," she added.
'Rebuilding takes time'
For his part, UP Political Science Professor Herman Kraft said "rebuilding" Manila and Beijing's strained ties "takes time."
Reaching a consensus among other claimants in Southeast Asia would also be difficult, Kraft added.
"Consensus is not easy to build simply because we're still talking about an association where national interest is the guiding factor in participating and cooperating," he said.
In August, China and the 10 countries of the Association of South East Asian Nations adopted the framework for a code of conduct in the South China Sea, which is seen as a potential regional flashpoint.
The framework seeks to establish a rules-based outline to guide the concerned parties and to promote maritime cooperation in the disputed waters.
The Philippines has repeatedly expressed its position that it wants a legally binding instrument.