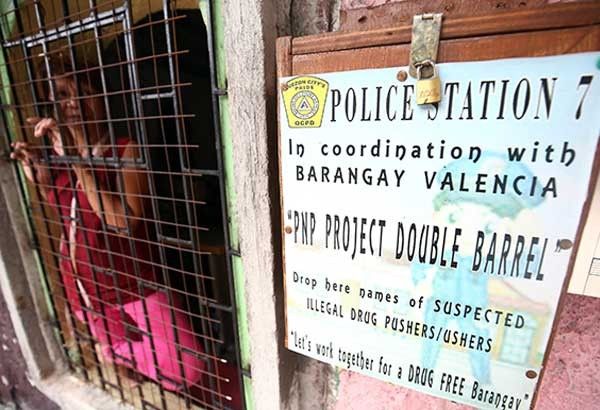 Alsa Masa (Masses Arise) was created in 1984 to fight the communist insurgency in Agdao, Davao City. It was founded by Brgy. Captain Wilfredo "Baby" Aquino.
The STAR/Miguel de Guzman
CHR cautions on move to revive concept of 'Alsa Masa'
(Philstar.com) - November 19, 2018 - 2:41pm
MANILA, Philippines — The Commission on Human Rights on Monday cautioned the Philippine National Police on possible abuses in its proposal to create a civilian network similar to "Alsa Masa" in the 1980s.
In a statement, CHR spokesperson Jacqueline de Guia said that the government must ensure that "it would not follow the history of 'Alsa Masa' in 1980s known for its abuses."
The Commission notes that the government has yet to resolve the allegations of human rights violations already linked to its bloody war against drugs.
"[T]he Commission urges the government to ensure adherence to strict guidelines in its implementation that would prevent violations of human rights, including respect for due process and the rule of law," de Guia added.
According to a news report, the Philippine National Police is again eyeing the revival of a concept similar to "Alsa Masa" to expand its Community Mobilization Project, which is already being implemented at Calabarzon.
Chief Supt. Edward Carranza, regional police director, was quoted in the said news report as saying: "It's like the Alsa Masa."
The government has eyed the revival of "Alsa Masa," the now-defunct anti-communist vigilante group based in Davao City, as early as September 2016.
READ: Philippines-wide 'alsa masa' eyed
Former Interior and Local Government Secretary Ismael Sueno said in September 2016 that the department is hoping to revive the concept of "Alsa Masa," in a bid to urge citizens to be more involved in anti-crime efforts.
"We will institute volunteerism. Maybe this organization can also come up with what needs to be implemented in the barangay level," Sueno told members of the House of Representatives' appropriations committee during a hearing on the DILG's budget more than two years ago.
The DILG on October 2017 launched its anti-drug program, MASA-MASID or Mamamayang Ayaw sa Anomalya, Mamamayang Ayaw sa Iligal na Droga, which aimed to gather information on reported activities that may be related to crime and illegal drugs through drop boxes installed in municipal or city and village halls.
'Masa Masid'
The DILG's Oplan 'Masa Masid' and the PNP's Project Double Barrel are facing petitions at the Supreme Court.
Two groups composed of kin of alleged victims of extra-judicial killings challenged President Rodrigo Duterte's drug war before the Philippines' highest court in October 2017.
The SC held oral arguments on the case in November and December 2017 but it has yet to rule on the petitions.
READ: Highlights from the Supreme Court oral arguments on the drug war
'Alsa Masa'
"Alsa Masa" (Masses Arise) was created in 1984 to fight the communist insurgency in Agdao, Davao City. It was founded by Brgy. Captain Wilfredo "Baby" Aquino.
Agdao was believed to be then-under the influence of the New People's Army.
Later, Aquino-led Alsa Masa "became notorious for its own lawless activities, including liquidations of suspected rebels," according to a report by Lawyers Committee for Human Rights as quoted in "Vigilantes in the Philippines" written by Ronald May.
Aquino was reportedly killed by members of the NPA in 1985. — Kristine Joy Patag