Guevarra on Sagay probe: NBI will stick to findings, evidence
November 13, 2018 | 12:29pm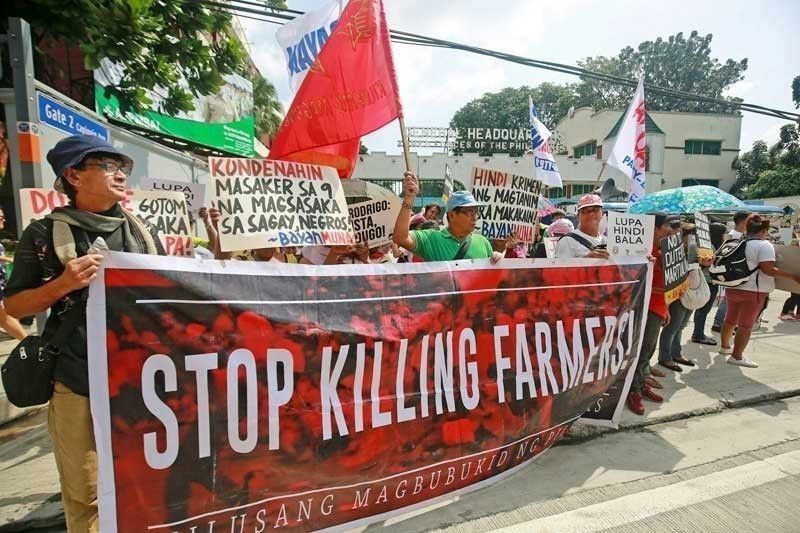 MANILA, Philippines — Justice Secretary Menardo Guevarra on Tuesday said the National Bureau of Investigation would stick to its findings amid allegations of red-tagging in Sagay massacre probe.
The National Federation of Sugar Workers asked the Department of Justice, the head agency of NBI, about the direction of its probe into the killing of nine sugarcane workers in Sagay, Negros Occidental last month.
The group raised fears on the linking of communist groups as perpetrators of the killing and whether they would be red-tagged or branded as communists. The PNP earlier claimed that the New People's Army is using the NSFW as a "legal front" to "occupy land and make money out of it"—an allegation denied swiftly by the group.
"If that is the case, we suggest that the DOJ secretary just pull out the NBI in Negros Island and just parrot what his tyrannical boss and his military and police officials want the people to believe to be the perpetrators of the Sagay massacre and the killers of Atty. Ben [Ramos]," the NSFW statement read.
But Guevarra told reporters that: "The NBI investigation is still ongoing and we'll go by what the evidence will show."
The STAR earlier reported that Guevarra said his department would continue to pursue the declaration of over 600 leaders and members of the Communist Party of the Philippines and its armed wing, the NPA, as terrorists before the Manila Regional Trial Court in the wake of Sagay massacre.
This comes after the military tagged members of the communist party as perpetrators in the massacre of the nine sugarcane workers in Sagay.
Guevarra explained that the government considers the incident in Sagay, which was linked to the reported plot of the communist group to destabilize the administration and oust President Rodrigo Duterte, as an "anarchical activity" and "threat to national security."
John Milton Lozande, secretary general of NFSW, raised concern about the repercussions of the DOJ chief's statement to the group of sugarcane workers.
"Would the DOJ then include the NFSW in the proscription list if the NBI tags the NPA as the perpetrators of the Sagay massacre or even Atty. Ben Ramos, who was red-tagged (called a communist) April this year when his picture together with others were put in a tarpaulin together with NPA rebels in the Municipality of Moises Padilla?" Lozande raised.
Ben Ramos, a human rights lawyer who gave legal assistance to the kin of Sagay massacre victims, was gunned down last week. Investigation into his murder is ongoing.
The National Union of People's Lawyers-Negros called Ramos' red-tagging as "what can only be described as a poster-hitlist" that was reportedly put up by police in Moises Padilla town, also in Negros Occidental.
According to a report on independent news site Bulatlat.com in April, the poster included the faces and names of supposed "CNN" — a government abbreviation for Communist Party of the Philippines-New People's Army-National Democratic Front — personalities. — Kristine Joy Patag