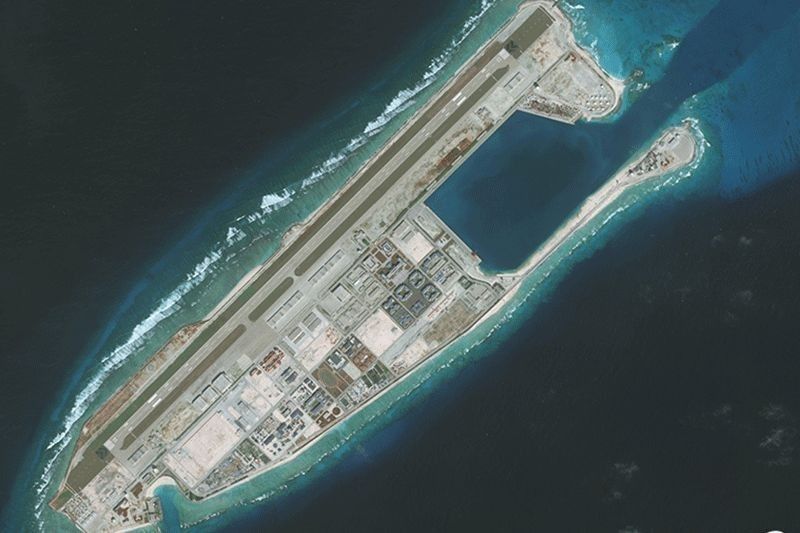 This January 1, 2018 satellite image shows China's installations on Fiery Cross Reef in the Spratly Islands.
DigitalGlove via CSIS/AMTI
China's weather stations in Spratlys serve military purposes — Batongbacal
MANILA, Philippines — Beijing's weather monitoring stations on the Spratly Islands should also be seen as continued development and enhancement of military outposts in the Manila-claimed features, a maritime expert said.
Jay Batongbacal, director of the University of the Philippines Institute for Maritime Affairs and Law of the Sea, said China's recent activities on its artificial islands should be viewed in the context of its efforts to gain de facto control of the South China Sea, part of which is the West Philippine Sea.
"Even if they may provide public goods, these are incidental to their primary role as part of China's military bases. They also serve military purposes, as all large/important military bases have their own weather services to support their usual military operations such as launching and landing aircraft and ships," Batongbacal said on Facebook.
The operation of weather monitoring stations on three features in the Spratly Islands — Fiery Cross, Mischief and Subi Reefs — is also part of Beijing's long-term effort to assert rights and exercise sovereignty in the contested waterway.
"Acceptance of these 'public goods' could be seen as acquiescence to China's civilian administration and control of this sea region," he added.
No need to verify
In a press briefing on Monday, presidential spokesperson Salvador Panelo said the government has yet to get confirmation on China's operations of weather stations in the Spratly Islands.
The Malacañang spokesman said these were "merely" news reports despite the Chinese Foreign Ministry's official announcement.
"There is no reason to doubt and "verify" this information since it is an official announcement by the MOFA spokesperson," Batongbacal said.
Foreign Affairs spokesperson Elmer Cato said that DFA was coordinating with concerned government agencies and with the Philippine Embassy in Beijing to verify the reports.
Chinese Foreign Ministry spokesperson Lu Kang confirmed this in a press briefing last November 1, saying that the projects were "designed to observe the maritime, hydrological, meteorological conditions and air qualities and provide such services as maritime warning and forecast, tsunami alert, weather forecast, air quality forecast and disaster prevention and relief."
Lu added that the projects would provide more "public services" to countries in the region and to secure freedom of navigation in the South China Sea.
"As a responsible major country, China will continue to fulfill its obligations and commitments with concrete actions and make due contributions to the security of the South China Sea and for the benefits of people in this region," Lu said.
Protest China's actions
Batongbacal has urged the Philippine government to protest China's establishment of such facilities, which also play a role on the military bases despite initially being meant to "provide public good."
"The Philippines should protest this latest action of China as it definitely part of the larger effort to assert China's claims to sovereignty/rights over the long run, and unilaterally impose its position on other littoral States," Batongbacal said.
Panelo earlier said that the DFA would definitely make the necessary diplomatic actions once the Philippine government confirms the reported operation of weather monitoring facilities in the Spratlys.
Echoing Malacañang's statement, the DFA also said it would "take the appropriate action should these reports be validated."