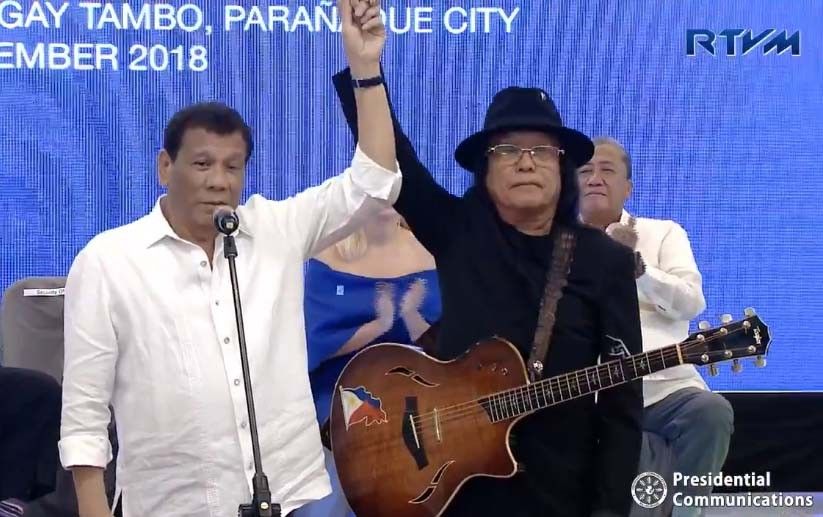 President Duterte says "Vote for Freddie Aguilar" in what the Palace said is not exactly an endorsement for the folk singer's senatorial bid.
Screengrab from RTVM/PCOO
Palace: 'Vote for Freddie Aguilar' not necessarily for Senate seat singer is running for
(Philstar.com) - November 6, 2018 - 2:05pm
MANILA, Philippines — President Rodrigo Duterte's endorsement of folk singer and senatorial candidate Freddie Aguilar may not actually be for his bid for a Senate seat, a Palace spokesman tried to explain Tuesday.
Presidential spokesperson Salvador Panelo, who is also chief presidential legal counsel, offered the explanation when asked whether the president would endorse candidates who are not from the administration PDP-Laban party.
Aguilar, the singer behind the hits "Anak", "Magdalena", and "Estudyante Blues" has submitted to the Commission on Elections a certificate of nomination and acceptance (CONA) for PDP-Laban.
Senator Aquilino Pimentel III, PDP-Laban president, however has clarified that the CONA submitted by Aguilar was signed by an official of a "rogue" faction of the party.
"From what I know, the PDP-Laban has not yet released the complete lineup... the president certainly has the right to endorse someone he feels should be endorsed," Panelo initially said, adding Duterte was technically not campaigning for Aguilar.
"[H]e was just expressing his opinion on the qualification of the person," Panelo said.
"He didn't say 'vote for this person'. He's just saying the messages of Freddie Aguilar's songs have social content... He's good, brilliant," the president's spokesman said before being shown an official transcript that included Duterte saying exactly that while also raising Aguilar's hand on Monday evening.
Raising a candidate's hand is usually a form of endorsement.
"He may not be referring to an election... He may be referring to you people to vote for this man as an outstanding man," Panelo finally said.
READ: For his nationalistic songs, Freddie Aguilar gets Duterte endorsement
Duterte 'endorses' Aguilar at PITX inauguration
Duterte made the endorsement at the inauguration of the Parañaque Integrated Terminal Exchange, where Aguilar performed a song.
Duterte then urged the audience to consider voting Aguilar in next year's polls.
"Freddie is running for senator. I won't ask for anything from you but just consider. He is a brilliant man. Of course he can talk in English. But he is a singer, that is his profession," Duterte said.
"Kaya ako nakikiusap. Tutal dose man 'yan. Ibigay ninyo sa isang nationalist, yung isang tao nagmamahal sa bayan. (I urge you. There are twelve slots. Give one to a nationalist). And the protest of his songs are there. They will be heard by the next generations and generations to come," he added.
Voters will elect 12 senators in the 2019 midterm elections, when local and national posts will be contested. "Outstanding man" is not among the positions that candidates are running for.