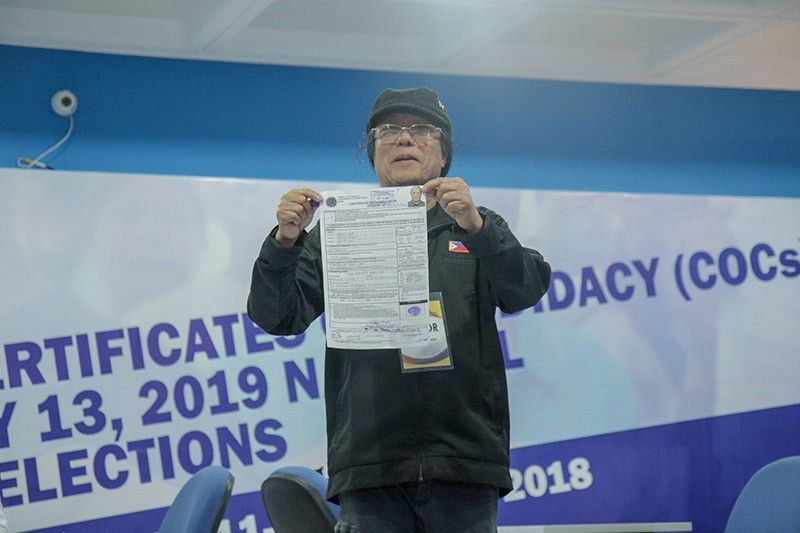 The "Anak" singer was the second to file his certificate of candidacy at the Commission on Elections head office.
Philstar.com/Kat Leandicho
For his nationalistic songs, Freddie Aguilar gets Duterte endorsement
MANILA, Philippines — President Rodrigo Duterte on Monday endorsed the senatorial bid of folk singer Freddie Aguilar, calling him a "nationalist" whose songs carry a social message.
Before the end of the program for the inauguration of the Parañaque Integrated Terminal Exchange, Aguilar performed a song about the sufferings of a Filipino migrant worker.
After the song number, Duterte approached the microphone and asked Aguilar to remain on stage.
He then asked the audience to allow home the "rare opportunity" to say something about the singer, one of the celebrities who supported his presidential bid.
"You know, Freddie Aguilar, all of his songs are nationalist...They are really Tagalog. But all of his songs carry a social message," Duterte said.
The president then talked about the song Aguilar performed, saying he was angry with drug pushers because they are contaminating the children of migrant workers who endure hardship abroad. Duterte then urged his audience to consider voting Aguilar in next year's polls.
"Freddie is running for senator. I won't ask for anything from you but just consider. He is a brilliant man. Of course he can talk in English. But he is a singer, that is his profession," Duterte said.
"Kaya ako nakikiusap. Tutal dose man 'yan. Ibigay ninyo sa isang nationalist, yung isang tao nagmamahal sa bayan. (I urge you. There are twelve slots. Give one to a nationalist). And the protest of his songs are there. They will be heard by the next generations and generations to come," he added.
Duterte said Aguilar has "several messages for the Filipinos to remember."
'If you don't vote for him, watch out'
"Pag hindi ninyo binoto 'yan, bantay kayo sa akin. Isa-isahin ko kayo. (If you do not vote for him, watch out. I will run after you one by one)," the president said in jest.

"Let us help Freddie because he is one exemplary nationalist guy. And do not ever think that he just knows Tagalog. He is my friend. He is a brilliant guy. He can talk and he can help the country. Maybe he can relate or translate his songs in Congress and give him a chance also. Give him a platform to tell us about what he feels," he added.
Duterte then raised Aguilar's hand and said: "Vote for Freddie Aguilar."
Aguilar, the singer behind the hits "Anak," "Magdalena," and "Estudyante Blues" has submitted to the Commission on Elections a certificate of nomination and acceptance (CONA) stating that he is a member of the ruling Partido Demokratiko Pilipino-Lakas ng Bayan (PDP-Laban).
Senator Aquilino Pimentel III, PDP-Laban president, has clarified that the CONA submitted by Aguilar was signed by an official of a "rogue" faction of the party.