ASEAN legislators call for end on growing assault on journalists
November 2, 2018 | 12:20pm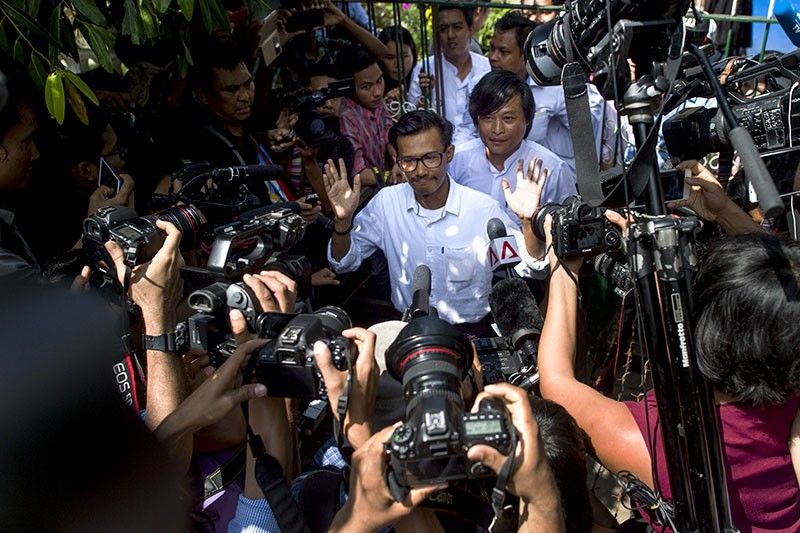 MANILA, Philippines — As the world commemorates the International Day to End Impunity for Crimes against Journalists, the ASEAN Parliamentarians for Human Rights urged Southeast Asian nations to put an end on "growing assault" against press freedom.
The group of regional lawmakers also called for justice on those responsible for killing media workers as a culture of impunity emboldens more attacks on journalists.
Rep. Teddy Baguilat (Ifugao), an APHR board member, warned that the media is under increasing threat in the region.
"It is abhorrent that brave journalists should have to put their personal freedom or even lives on the line when they are simply trying to do their jobs," Baguilat said.
The Ifugao lawmaker stressed that Southeast Asian governments must do more to protect journalists to avoid sending a signal that such crimes are acceptable.
Philippines' 'shameful record'
In the Philippines alone, there have been at least 47 unsolved killings of journalists since 2008, making the country one of the most dangerous countries for media workers.
Last June, unknown gunmen shot down local published Dennis Denora while driving his car through Panabo City, Davao del Norte.
One of the most deadliest single attacks against journalists in history was the 2009 Maguindanao massacre, which took the lives of at least 34 media workers. Until now nobody has been held accountable for the gruesome incident.
The Philippines, along with Somalia, Syria, Iraq and Sudan, are the five states in the world with the poorest accountability records, based on the Committee to Protect Journalists.
APHR chair and Malaysian lawmaker Charles Santiago said President Rodrigo Duterte's tirades against media outlets must end immediately.
"The Philippines has a shameful record of holding killers of journalists to account – authorities should focus on seeking justice for these attacks, not trying to silence legitimate criticism," Santiago said.
Challenge to ASEAN governments
Myanmar, Indonesia and Cambodia are also among Southeast Asian countries where murders of journalists have gone unpunished in the last decade.
At least 13 journalists have been killed in Cambodia since 1994, most of whom were investigating corruption allegations against government and military officials, the APHR said.
In Myanmar, two Reuters journalists have been sentenced to seven years in jail for violating the Official Secrets Act.
"Their only 'crime' was helping to uncover a massacre of Rohingya villagers by the Myanmar security forces," the APHR said.
Santiago pointed out that independent media should be proected and not subjected to attacks as it plays a crucial role in any democracy.
"Governments in Southeast Asia and across the world must do their utmost to ensure that journalists can carry out their work without fear of reprisal. This must include effective, impartial and speedy investigations into all attacks on media workers," the Malaysian lawmaker said.
As It Happens
LATEST UPDATE: November 15, 2021 - 6:57pm
Dennis Denora, a Sun.Star reporter and publisher of the Trends and Times community paper, has been shot dead by unidentified killers, according to the Davao chapter of the National Union of Journalists of the Philippines.
Denora was killed near the wet market of Panabo City in Davao Del Norte on Thursday afternoon, NUJP Davao says.
The Davao del Norte Press & Radio-TV Club says in a statement that is is angered and saddened by news of the killing.
"His death awakens the anger and pains of journalists who do their job and yet are being judged by the pistol," the group also says.
November 15, 2021 - 6:57pm
A US journalist detained in Myanmar since May has been released and will be deported soon, a junta spokesman told AFP on Monday.
Danny Fenster was being taken to the capital Naypyidaw from Yangon where he was jailed and will be deported, another government source told AFP, speaking on condition of anonymity.
Fenster, who had been working for local outlet Frontier Myanmar for around a year, was arrested as he headed home to see his family in May.
"We can confirm that he has been released and will be deported. Detail will be released later," spokesman Zaw Min Tun said.
Fenster, who spent 176 days in detention, was sentenced to 11 years in prison last week for encouraging dissent against the military, unlawful association and breaching immigration law. — AFP
November 14, 2021 - 5:44pm
Sudanese security forces have arrested the bureau chief of Qatari-based Al Jazeera TV network, the media outlet said on Sunday, a day after the latest crackdown on anti-coup protesters left at least six dead.
"Security forces raided the house of Al-Musalami al-Kabbashi, the Al Jazeera bureau chief in Sudan, and detained him," the network said on Twitter without elaborating.
Al Jazeera has given prominent coverage to demonstrations against the October 25 coup but last week it also aired a detailed interview with top general Abdel Fattah al-Burhan, one of only two he has granted.
Demonstrations against Sudan's latest coup, including by tens of thousands of people nationwide on Saturday, have occurred regularly despite a rigorous internet outage. — AFP
November 14, 2021 - 1:32pm
Cuban authorities on Saturday revoked the credentials of journalists who work for Spanish news agency EFE, its local editor-in-chief said, on the eve of planned anti-government demonstrations by the opposition.
Atahualpa Amerise, head of EFE's Cuba bureau, said authorities asked them to return their credentials, without providing "the exact reason" why they would be prohibited from reporting.
"When we asked why, they pointed to the regulations on foreign press," Amerise said.
"They haven't told us whether it's temporary or permanent."
EFE's local bureau has three editors, a photographer and a videographer.
Amerise said it was the first time such an order had been given to a foreign press office in Cuba. — AFP
September 28, 2021 - 9:22am
NUJP Metro Manila retiterates their call to stop attacks against journalists covering hearings after a reporter was kicked out of th Viber group of House good government and public accountability chair Michael Aglipay.
Rappler reporter Rambo Talabong was kicked out of the group chat after writing a story and quoting Aglipay asking if anyone died from expired face shields during House hearings on Pharmally's dealings with the government.
NUJP Metro Manila streesed that "no journalist should be singled out and be barred from covering government offices and personalities."
NUJP Metro Manila chapter
stands firm that no journalist should be singled out and be barred from covering government offices and personalities.@ramboreports#DefendPressFreedom pic.twitter.com/PlhqoG974r

— NUJP (@nujp) September 27, 2021
July 13, 2021 - 8:39am
The United States on Monday criticized its ally Morocco for handing a five-year prison sentence to a journalist and urged the kingdom to protect media freedom.
The US State Department said it was "disappointed" by Friday's sentencing of Soulaimane Raissouni, the editor-in-chief of the now-defunct Akhbar Al Yaoum whose allies say he was targeted for his critical coverage.
Raissouni, who has lost a significant amount of weight after a hunger strike of more than 90 days, was convicted of indecent assault against another man, making him the latest in a string of journalists prosecuted for alleged sex crimes.
"We believe the judicial process that led to this verdict contradicts the Moroccan system's fundamental promise of fair trials for individuals accused of crimes and is inconsistent with the promise of the 2011 constitution and His Majesty King Mohammed VI's reform agenda," State Department spokesman Ned Price told reporters.
"Press freedom is foundational to prosperous and secure societies, and governments must ensure that journalists can safely perform their essential roles without fear of unjust attention, violence or threats," he said.
But the Moroccan prosecutor's office said Raissouni received a "fair" trial and had been "prosecuted for crimes that have nothing to do with his journalistic work." — AFP