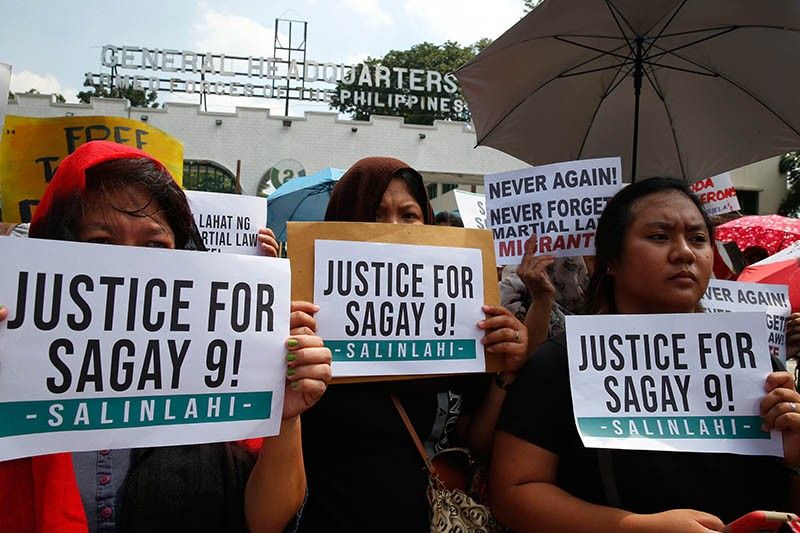 Protesters, mostly Indigenous Peoples, display placards during a rally at Camp Aguinaldo, the general headquarters of the Philippine armed forces, to protest killings over the weekend of nine farmers in Sagay, Negros Occidental in central Philippines Tuesday, Oct. 23, 2018 in suburban Quezon city northeast of Manila, Philippines. The protesters alleged that hundreds of indigenous peoples were victims of several killings and continued attacks on their schools and communities partly because of the implementation of Martial Law in the south.
AP/Bullit Marquez
CWR decries massacre of Negros sugar workers
MANILA, Philippines — The killing of nine sugarcane workers in Sagay City, Negros Occidental over the weekend underscored the plight of farmers under the Duterte administration, the Center for Women's Resources said Thursday.
The victims, who included four women and two minors, were resting in makeshift tents at Hacienda Nene in Purok Firetree, Barangay Bulanon when around 40 men opened fire on Saturday evening.
CWR condemned the massacre, noting it happened with only a few days before the Peasant Month comes to an end.
"The Sagay massacre only highlights the plight of our farmers especially, peasant women under this administration. It only underscores the evils of hacienda system, which exploits millions of farmers in the country, and the failure of the government to pursue genuine agrarian reform," it said.
According to CWR, 157 farmers have been murdered from since the start of Duterte's presidency in 2016. Of these, 24 were women.
It stressed that Filipino farmers continue to endure poverty, landlessness and landgrabbing, soaring prices of basic goods, and militarization, harassment and attacks.
"Farmers either die of poverty or of brutal murders. They are mercilessly murdered by social injustice," CWR said.
It also denounced the red-tagging of peasant organizations by government authorities.
Armed Forces of the Philippines chief Gen. Carlito Galvez Jr. on Wednesday accused the Communist Party of the Philippines and its armed wing, the New People's Army, of having a hand in the massacre of the victims.
The victims were all members of the National Federation of Sugarcane Workers, a farmers' group that the Philippine National Police has labelled as a "legal front" of communist rebels.
The NPA in Negros, however, denied involvement, saying "it does not carry out senseless killings like state troops and its paramilitary forces."
Women in agriculture
CWR, a data bank and research institution for women, noted that women still remain an "invisible force" in agricultural production.
Only 644,000 peasant women were counted in agricultural production in the country.
CWR's data showed that female farm workers get 8.5 percent lower wage than their male counterparts. The gender wage gap in sugarcane plantations is at 21 percent.