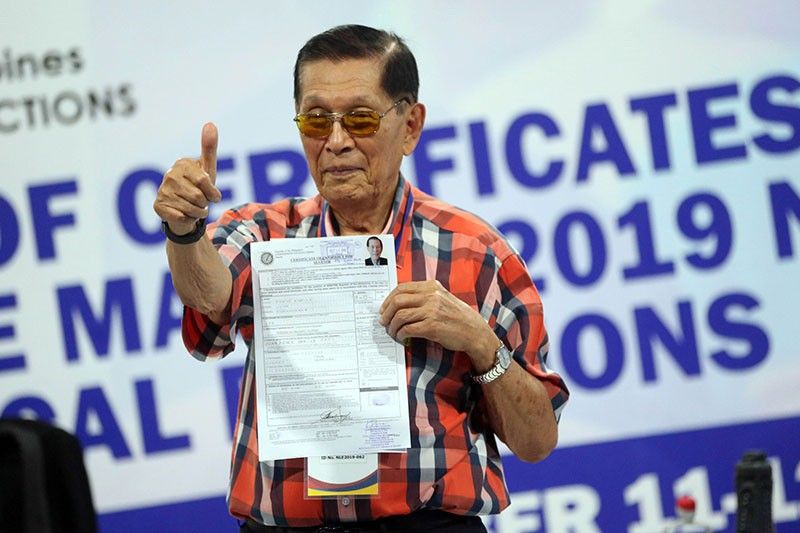 In this October 17 phtoto, former Senate President Juan Ponce Enrile, 94, files his certificate of candidacy for senator in the 2019 midterm elections.
STAR/Krizjohn Rosales
Enrile on martial law victims: I'm sorry, but they started it
MANILA, Philippines — After seemingly apologizing to victims of human rights violations during martial law, former Senate President Juan Ponce Enrile placed the blame on the victims themselves.
Enrile, who is 94 years old and seeking a Senate comeback, recently went on an interview with former Sen. Ferdinand "Bongbong" Marcos Jr., the only son of ousted dictator Ferdinand Marcos.
The veteran lawmaker was severely criticized for claiming in the interview that no one was arrested for simply opposing the late dictator during martial law.
In an interview with CNN Philippines' "The Source", Enrile said he was not disputing the claims of martial law victims but insisted that there was an internal conflict within progressive groups during the Marcos regime.
"They blamed us for some of this like Plaza Miranda (bombing). They blamed me, they blamed the government. I lost an election because they blamed me but we did not do that," Enrile claimed.
"Second, I'm sorry that some of them got hurt but they started it. They wanted to topple the government of the people, elected by the people or installed by the people," he added.
Rebellion by the Communist Party of the Philippines and New People's Army was one of the justifications for the declaration of martial law in 1972. Repression during the martial law years saw moderate activists joining the undeground movement.
Enrile sorry for 'hurting people' in interview
Enrile also apologized to those who were offended in his interview with Bongbong Marcos.
"I'm sorry if I hurt people. I never intended to hurt people but that is what I know. I'm stating facts, if they can provide me with a contradictory proof that I was wrong, I will accept," Enrile said.
RELATED: Era of Impunity: Did Marcos oversee a period of peace and order?
He insisted that he was only answering questions during the interview and was not trying to highlight the achievements of the late strongman.
The senatorial aspirant also stressed that he did not say that no one was arrested during martial law.
"I would not be foolish to ask that question because I was the one who signed the arrest warrants," Enrile told "The Source".
Enrile's latest remarks blatantly contradicts his own statement during his one-on-one conversation with Marcos Jr.
During the interview released on Marcos Jr.'s Facebook page, Enrile said "Name me one person that was arrested because of political or religious belief during that period. None. Name me one person that was arrested simply because he criticized President Marcos. None."