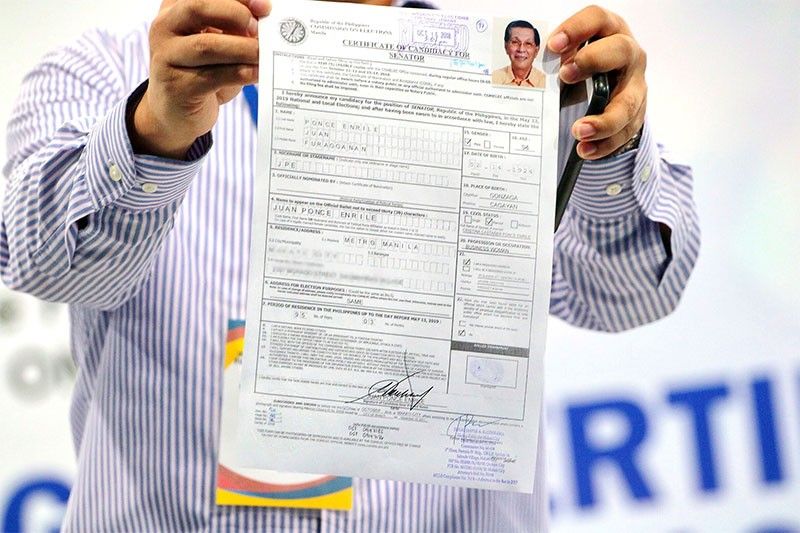 Former Senate President Juan Ponce Enrile filed his certificate of candidacy for senator through his lawyer.
Philstar.com/Erwin Cagadas
Enrile comes out of retirement for Senate return
MANILA, Philippines (Updated 5:15 p.m.) — Two years after announcing his retirement from public service, former Senate President Juan Ponce Enrile will seek a comeback in the Senate.
The 94-year-old veteran lawmaker filed his certificate of candidacy through his lawyer Joseph Sagandoy on Tuesday afternoon.
In August 2015, the Supreme Court allowed Enrile to post bail for P1.45 million. He is facing plunder and graft charges for his alleged involvement in the multi-million peso pork barrel scam.
Juan Ponce Enrile, 94, formalizes his Senate bid. His authorized representative lawyer Joseph Sagandoy filed the COC for senator on Tuesday afternoon. Enrile is running as an Independent candidate @PhilstarNews pic.twitter.com/BM2OLg8PeY

— Rosette Adel (@rosette_adel) October 16, 2018
In his bail petition, Enrile asked the court to consider his advanced age and voluntary surrender. A week after posting bail, the former senator returned to work at the Senate.
He announced his retirement in June 2016 during a privilege speech.
Prior to being a senator, Enrile served as acting Secretary of Finance from 1966 to 1968, Secretary of Justice from 1968 to 1970, and Minister of National Defense from 1972 to 1986.
Meanwhile, Enrile's form was corrected after his occupation was initially indicated as "business woman." The "wo" portion was erased using correction fluid.
LOOK: Juan Ponce Enrile's COC form was corrected. Initial occupation indicated was "business woman."

The "wo" part was erased by a correction fluid.@PhilstarNews #Elections2019 pic.twitter.com/nYhKKsMh4Y

— Rosette Adel (@rosette_adel) October 16, 2018
As It Happens
LATEST UPDATE: November 8, 2018 - 5:44pm
The Commission on Elections has started to accept the certificates of candidacy filed by senatorial and party-list aspirants who will run in next year's midterm elections.
Sen. Aquilino "Koko" Pimentel III, a re-electionist, was the first to file his COC at the Comelec main office.
Other senatorial bets who submitted their COCs, as of this writing, include:
Singer Freddie Aguilar
Former Health department consultant Willie Ong
Former Bayan Muna Party-list Rep. Neri Colmenares
November 8, 2018 - 5:44pm
Lawyer Glenn Chong, former congressman for Biliran, has filed a disqualification case against Sen. Aquilino "Koko" Pimentel III, president of the administration PDP-Laban party.
According to a press release from Reform Philippines Coalition, Chong believes Pimentel should be disqualified from seeking reelection since he is on his second consecutive term as senator.
"This is not an attack on his person. I am saddened that Senator Pimentel, being a lawyer and legislator is unmindful of the term limits set by the constitution. His filing of his Certificate of Candidacy while in clear violation of this provision is unconstitutional, illegal and highly immoral," Chong, RPC spokesman, says.
This is the second attempt to disqualify Pimentel from running. Lawyer Ferdinand Topacio filed a similar complaint against the former Senate president in October.
RELATED: Koko Pimentel says law on his side to seek reelection
Pimentel, a lawyer, contends that he did not get to serve a full term from 2007 to 2013 since he was locked in a poll protest against Sen. Juan Miguel Zubiri. He was only proclaimed the winning senator in 2011, after Zubiri resigned from the Senate.
"The Constitution, the law and jurisprudence are on my side. Well regarded legal minds known for their expertise in election law have likewise chimed in; they agree with my position: I can run for reelection," he said in October.
In a related development, Zubiri told reporters at a news conference at the Senate that "(Pimentel) was not able to serve the full term, not even a major portion of the term."
Zubiri says of his former rival: "I think he should be able to seek reelection."
October 18, 2018 - 2:15pm
Vice President Leni Robredo says the 2019 polls will be tough for the opposition. "The President is still very popular, and the candidates that he will endorse would have... you know... would benefit from the president's popularity. But we are hopeful that we will be able to... to win a number of seats—in the Senate, at least. We have— I'm not sure if you are familiar at all with the political landscape in the Philippines, but in the Philippines, political parties do not matter much. You belong to a political party, but then everyone switches political parties every election season," she says in the CSIS-Pertamina Banyan Tree Leadership Forum & US-Philippines Strategic Initiative in Washington, D.C., United States. She says the opposition decided not to put up a full slate for the Senate as a strategy. "Instead of 12, we're putting up only eight. And it's a strategy. It's a strategy that we're doing. We decided to put up names of really, very good people, so that we could differentiate from the names put up by the administration."
October 17, 2018 - 5:10pm
The filing of COCs for next year's polls has ended at 5 p.m. today.
October 17, 2018 - 9:32am
The candidate filing for the May 2019 elections continues today. As of 9 a.m. Wednesday, three senatorial candidates have submitted their certicate of candidacy. These are: * Bong Revilla (represented by wife Lani Mercado) * Francis Tolentino * Jiggy Manicad The Comelec has earlier advised that there will be no extension of filing hours.
October 16, 2018 - 6:23pm
In an update into the apparently relaxed rules on the number of companions allowed when former presidential aide Bong Go filed his certificate of candidacy, Commission on Elections spokesperson James Jimenez says not everyone in the crowd came with him. "There were reports of some of them having been part of the entourages of the other filers," Jimenez says, adding they had been "they had been milling around the lobby without leaving" when news came that President Rodrigo Duterte was going to the Comelec to show support for his aide. He says the others "sort of joined the rush to go up, so by the time they got here, there was a lot of them and it was hard to tell them apart."