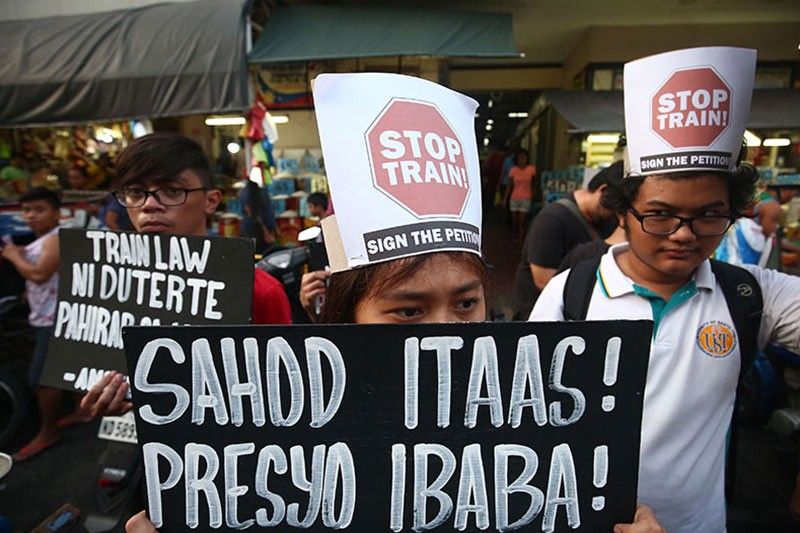 Student activists from the League of Filipino Students rally in front of the Trabajo Market in Manila to protest the effects of the Tax Reform for Acceleration and Inclusion law on on May 28, 2018.
The STAR/Miguel de Guzman
Filipinos most likely to take political action on poverty, poor health care — think tank
MANILA, Philippines — Poverty and poor health care are the top two concerns that would make Filipinos take political action, according to a study from Washington-based Pew Research Center.
A new poll by the American think tank revealed that 74 percent of Filipinos are likely to take political action, such as contact an elected official or participate in a demonstration, concerning poverty.
The second top choice for the Philippines was poor health care with 71 percent, followed by police misconduct with 69 percent and poor-quality schools with 68 percent.
Other concerns that would push Filipinos to take action are freedom of speech (66 percent), government corruption (62 percent) and discrimination against ethnic, racial and religious groups (54 percent).
"When asked what types of issues could get them to take political action, such as contacting an elected official or participating in a demonstration, people in 13 of 14 countries rank poor health care as either their first or second choice among the issues tested," Pew Research Center said.
"Many also place poverty and poor-quality schools among the top two issues. Overall, people are somewhat less likely to say the other issues tested could inspire them to take action," it added.
Aside from the Philippines, the survey was also conducted in Argentina, Brazil, Greece, Hungary, Indonesia, Israel, Italy, Kenya, Mexico, Nigeria, Poland, South Africa and Tunisia.
Young people likely to participate online
The survey also found that younger people are more likely to post comments on social media over political or social issues.
"Those ages 18-29 are more likely than older adults to post comments online about social or political issues in 12 of the 14 countries surveyed," Pew Research Center said.
In the Philippines, about 26 percent of those aged 18 to 29 years old said they have commented on political or social issues, in contrast to those aged 30 to 49 years old (11 percent) and 50 years and older (4 percent).
Social media users are also more likely to take political action for freedom of speech, according to the study.
The survey found that 73 percent of Filipino social media users said they are likely to take political action for freedom of speech issues.
"People who use online social networking sites are particularly likely to take political action across the full range of issues included on the survey... As a group, social networkers tend to be younger and more educated than those who do not engage in social networking," the study read.
The latest survey was conducted from May 20 to August 12 using face-to-face interviews among 14,875 respondents in 14 countries.
"Because it does not represent every region, the study cannot reflect the globe as a whole," the think tank said.