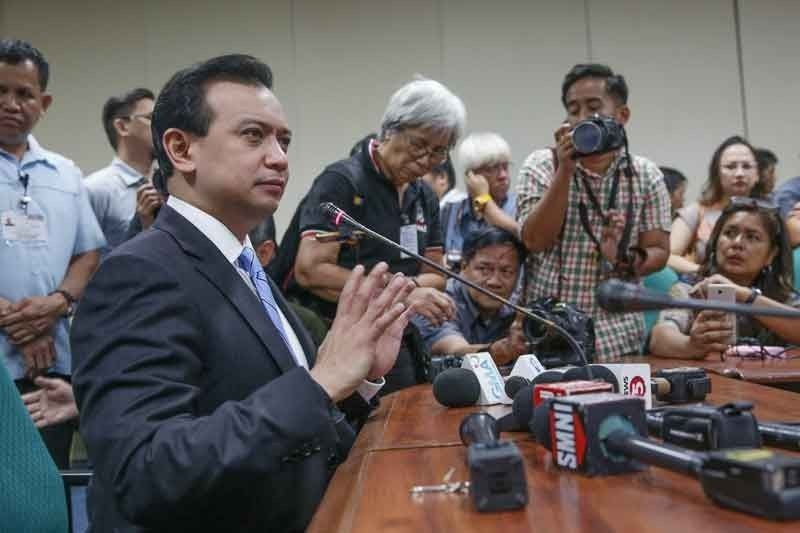 Makati RTC Branch 148 was set to promulgate its decision on the coup d'etat case against Trillanes—over the 2003 Oakwood Mutiny—when it dismissed the charge pursuant to the amnesty granted to Trillanes and more then 250 others in 2011.
The STAR/Geremy Pintolo
Makati judge in 'final stage' of ruling on DOJ plea vs Trillanes
(Philstar.com) - October 18, 2018 - 4:55pm
MANILA, Philippines — Makati Regional Trial Court Branch 148 Judge Andres Soriano is is in the "final stage" of ruling on the government's plea for warrant against Sen. Antonio Trillanes IV, police said.
Asked if Soriano would issue a ruling on Thursday, Senior Supterintendent Rogelio Simon, chief of the Makati police, was quoted in an ABS-CBN video report as saying: "For today, wala rin. Walang lalabas (nothing again. Nothing will be issued)."
"He's at the last stage of his work, or his assignment," Simon said.
The police chief said that he has personally talked to Soriano, and the judge told him that he would be informed "two or three hours" before the release of the resolution.
If the judge issues a warrant, it will be the Makati police that will implement it.
Simon also explained that coordination with the police is important for the mobilization of forces, as most officers are deployed on an ordinary workday.
Proceedings wrapped up last week
It has been a week since Soriano wrapped up the proceedings on the Department of Justice's motion for the issuance of a warrant and hold departure order against Trillanes.
Soriano had initially allowed both the government and the camp of Trillanes to file their pleadings, when the government moved for the issuance of warrant.
After Soriano's sala received the pleadings, he set a hearing for the presentation of evidence on October 5. Both parties presented their witnesses on the said hearing.
Soriano is determining—pursuant to a ruling by the Supreme Court—the factual issues involved in President Rodrigo Duterte's Proclamation 572 that declared Trillanes' amnesty "void from the beginning" due to the senator's alleged non-compliance with requirements.
Following Proclamation 572, the DOJ also sought a warrant from Makati RTC Branch 150. Judge Elmo Alameda granted their plea last September 25.
Trillanes has asked the court to set aside the said ruling and set a testimonial hearing on the case, but Alameda has yet to rule on their appeal. — Kristine Joy Patag