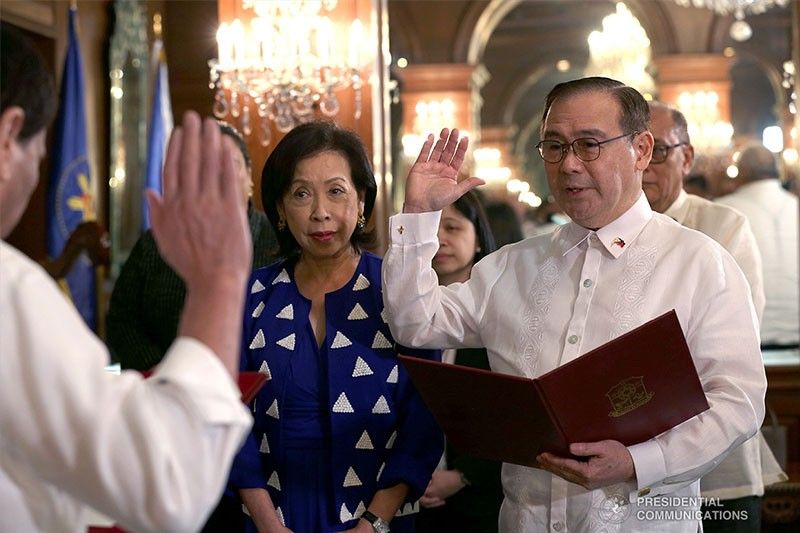 President Rodrigo Duterte administers the oath to newly appointed Foreign Affairs Secretary Teodoro Locsin Jr. during a ceremony at the Malacañan Palace.
Presidential Photo/Simeon Celi Jr.
Duterte told new DFA chief Locsin to 'be truthful' — Palace
MANILA, Philippines — President Rodrigo Duterte has given his marching orders to new Foreign Affairs Secretary Teodoro "Teddy" Locsin Jr., who took his oath of office on Wednesday.
Locsin will be taking over the Department of Foreign Affairs' top post, which was vacated as his predecessor Alan Peter Cayetano will be running as representative of Taguig City in the 2019 elections.
"The conversation is like 'I'm honored for your appearance today and there is only one message I would like to give you and that is to be truthful, nothing more,'" presidential spokesperson Salvador Panelo said in a press briefing, recalling the encounter between Duterte and Locsin.
The Malacañang spokesman added that Duterte appoints his Cabinet members on the basis of truth and competence.
Asked about Duterte's orders on his independent foreign policy, Panelo said there was no change on the administration's policy.
"With respect to the foreign policy, I think the new DFA (secretary) knows the marching orders of the president. There has been no change from the time that secretaries have been appointed in the Department of Foreign Affairs from former secretary (Perfecto) Yasay to former Secretary Alan (Cayetano) and to him (Locsin)," Panelo said.
Locsin served as the Philippines' permanent representative to the United Nations for more than a year before being appointed as the country's top diplomat.
After taking his oath as the new DFA chief, Locsin flew to Belgium for his first overseas event as top diplomat.
As soon as he assumed office in 2016, Duterte declared that his administration would pursue an independent foreign policy, which is already mandated in the 1987 Constitution.
Under Duterte's administration, the Philippines has forged ties with China and Russia at a time that the United States is reinvigorating its engagement in the Asia Pacific.
Critics have urged the president to revisit his foreign policy following reports that Beijing has installed surface-to-air missiles and electronic jamming equipment on its bases in the South China Sea.
"What may we call one that acquiesces to the abuses against it? Answer: a willing victim. What may we call one that defends an aggressor at every opportunity? Answer: an abettor," former Foreign Affairs Secretary Albert del Rosario said in a forum in July.