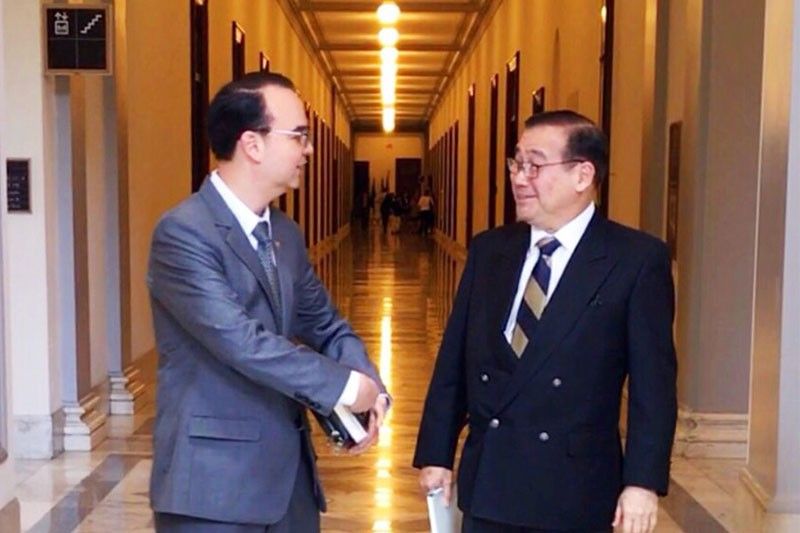 This photo sent to reporters on Oct. 12, 2018 shows Foreign Affairs Secretary Alan Peter Cayetano talking with Ambassador to the United Nations Teddy Locsin at the Russell Senate Office Building in Washington DC last year after meeting the late Sen. John McCain. Locsin will take over the top DFA post, which will be considered vacant once Cayetano files his candidacy for Taguig City representative.
DFA/Elmer Cato
Teddy Locsin to take over DFA
MANILA, Philippines — Ambassador to the United Nations Teodoro "Teddy Boy" Locsin Jr. confirmed that he would be the next Secretary of Foreign Affairs as the position would be vacated.
Foreign Affairs Secretary Alan Peter Cayetano would be running as representative of Taguig City and he would be considered resigned once he files his certificate of candidacy.
"I was asked I said yes; but love UN, the many friends [and] intellectual companions I made. But I didn't say no when asked as I didn't when he told me I was UN ambassador," Locsin said on Twitter.
Locsin described his work at the UN as "sharpening a blade every day."
"I will be Secretary of Foreign Affairs which includes the UN; I will have a direct hand until the architecture of sovereign independence in all matters of state that my team started to erect is remitted," he said.
Locsin was appointed as the country's permanent representative to the UN in September 2016 at a time when the country had an uneasy relationship with the UN over President Rodrigo Duterte's crackdown on illegal drugs.
The UN has repeatedly expressed concern over the spate of extrajudicial killings and summary executions linked to the so-called war on drugs.
Cayetano, meanwhile, said he made his decision to run for Congress after a heart-to-heart talk with Duterte.
"So we had a heart-to-heart talk, and we both agreed that a role in Congress and a leadership position in Congress would be good in terms of pursuing that vision," Cayetano told reporters in Indonesia.
The outgoing DFA secretary was in Bali, Indonesia to attend the Association of Southeast Asian Nations Leaders' Gathering.