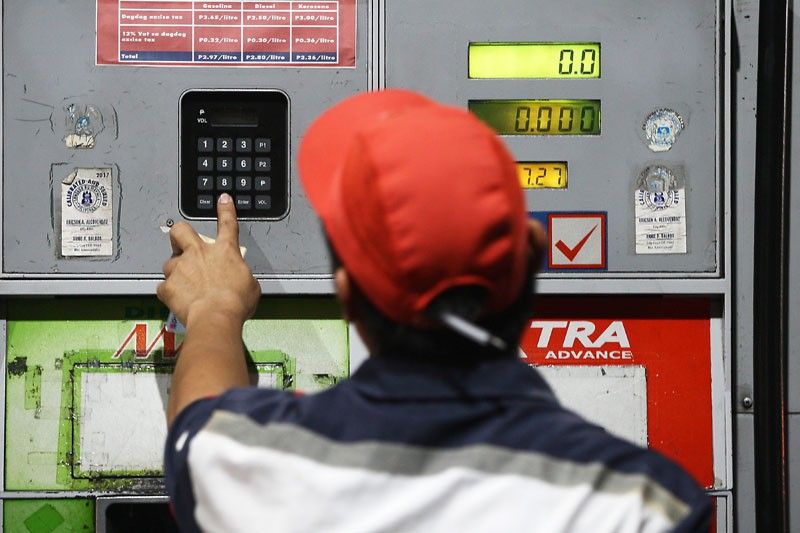 Duterte said he has asked Finance Secretary Carlos Dominguez III to look into the proposal, which some sectors said would provide relief to consumers.
Miguel de Guzman
Duterte open to fuel tax cut, suspension
(The Philippine Star) - October 10, 2018 - 12:00am
MANILA, Philippines — President Duterte is open to suspending excise taxes on fuel to counter the effects of rising commodity prices.
"Maybe," he told Palace reporters yesterday when asked if he would support a suspension of the excise taxes.
Duterte said he has asked Finance Secretary Carlos Dominguez III to look into the proposal, which some sectors said would provide relief to consumers.
Some senators have endorsed a resolution calling for the suspension of excise taxes on petroleum products to mitigate the impact of soaring prices. Sen. Franklin Drilon said the President could also ask lawmakers to issue a resolution that would allow him to suspend the taxes.
Duterte maintained though that inflation is caused by rising oil prices in the world market. He said unlike other countries, the Philippines has no oil reserves, making it vulnerable to price shocks.
At the Senate, Majority Leader Juan Miguel Zubiri said yesterday they will not touch the second tax reform package of the Duterte administration until the government manages to slow down the rising prices of goods.
He and several other senators met with Duterte and economic managers in Malacañang in a hastily called meeting Monday night where the second tranche of the Tax Reform for Acceleration and Inclusion (TRAIN 2) was briefly discussed.
Zubiri said Finance Secretary Carlos Dominguez III was resigned to the fact that the TRAIN 2 would not pass in the Senate this year.
"He (Dominguez) is asking if we can pass it (TRAIN 2) next year, we told him: 'Secretary let's prioritize inflationary problems first, let's fix the inflation, let's stabilize the inflationary pattern when it comes to food and other services and then maybe we can discuss other tax measures'," he told reporters.
He added that senators were more agreeable to the proposed tax amnesty bill, which he said would not hit the poor, trigger increase in prices and at the same time allow the government to collect from tax evaders.
"It's (tax amnesty) a chance for them to pay the right amount of taxes without the legal impediment of filing charges against them. That was the discussion last night," he pointed out, adding that the measure may be passed in January and is expected to raise P30 billion.
Sen. Sonny Angara, chairman of Senate committee on ways and means, last month said the panel is suspending its deliberations on TRAIN 2 until the Department of Finance (DOF) is able to present credible data that the revenue measure will not lead to loss of jobs.
He clarified though that the committee would still hold a meeting with DOF officials to listen to their presentation.
Sen. Joseph Victor Ejercito, for his part, repeated his call for the suspension of the second round of excise tax increases on petroleum products due to kick in January 2019.
Under the law, the excise tax on diesel is scheduled to go up to P4.50 in 2019 while gasoline will increase to P9 at the start of next year.
"I urge our economic managers to be sensitive to the plight of Filipino families who are struggling with skyrocketing inflation rate and unabated fuel price hikes," Ejercito said in a statement.
He argued that whatever purchasing power was added to Filipino consumers by virtue of the decrease in income tax under the TRAIN law has been "obliterated" by a nine-year high 6.7 percent inflation rate in September and oil price increases for eight consecutive weeks.
He said world crude prices, currently at more than $80 per barrel, are expected to reach $100 per barrel in the coming months.
"I believe it's time to give Filipino families a break. Defer the second round of increase in excise taxes on fuels scheduled this January 2019. At the very least, this will give our people a breather from spiraling prices of goods," Ejercito added.
In a statement, the Department of Energy (DOE) warned that global oil prices could rise further in the coming months in anticipation of a growing seasonal (winter) demand.
It urged consumers to change their lifestyle and use fuel wisely as the agency takes steps to ease the effects of rising prices.
The DOE stressed that the continued rise in local petroleum prices is "due to the current global situation where international political and economic factors are at play," including US economic sanctions on Iran taking effect next month. Iran is the Organization of Petroleum Exporting Countries' third largest producer.
It also cited the political and economic instability in Venezuela, which has the world's largest proven oil reserves and is considered one of the largest oil exporters in the west.
"Global oil prices also tend to go up in the winter months (from October to March), as demand for heating is at its highest," the statement reads.
The DOE claimed that it is finding ways to mitigate the impact of the continued rise in oil prices, including fuel discounts to public utility vehicle drivers and the importation of low-cost diesel through Philippine National Oil Co.-Exploration Corp.
Earlier, Energy Secretary Alfonso Cusi said his agency is exhausting all options to mitigate rising fuel prices and called for the practice of fuel efficiency measures.
"We've been exploring higher and expanded fuel discounts to public utility vehicles, looking at nearby countries for lower priced supply and even went to unpopular options to ensure that consumers are protected from the impact of this global price situation," he said.
The DOE is also promoting the development of indigenous energy resources under the Philippine Conventional Energy Contracting Program, which will be launched next month.
Worst hit
Meanwhile, a National Economic and Development Authority (NEDA) official said the poorest Filipino families are among the "worst hit" by the country's rising inflation.
At a press conference in Quezon City yesterday, NEDA assistant secretary Carlo Bernardo Abad Santos said poor families spend a big chunk of their budget on food, which he said is among the major drivers of inflation.
"If food prices go up, they would either spend more (or buy less). That would have an impact in terms of the nutrition of the family," he said. "What's important is that we need to address the prices of food… When you see the main drivers, it's really the prices of rice, vegetables, fish and meat."
Abad Santos said they are pushing for both long-term and short-term initiatives to address the rising food prices.
"What's important is we lower the prices of rice… We need to focus on agricultural policy, in terms of improving productivity, improving access to farmers," he said.
Headline inflation of the country reached a nine-year high at 6.7 percent last month, exceeding the 6.4 percent recorded in August.
Lotta Sylwander, Philippine representative of the United Nations Children's Fund, said inflation would also have an impact on the health of children.
"Family income matters for nutrition. It's sad that the inflation now is so rapid that it can actually directly or indirectly harm children's health. But as I said, we believe that there's more to it than just poverty issues," she said, noting that there are also other factors that contribute to the health of children.
For the Bagong Alyansang Makabayan (Bayan), the latest oil price hike makes the removal of burdensome taxes on oil products very urgent. –with Alexis Romero, Paolo Romero, Janvic Mateo, Danessa Rivera, Rhodina Villanueva