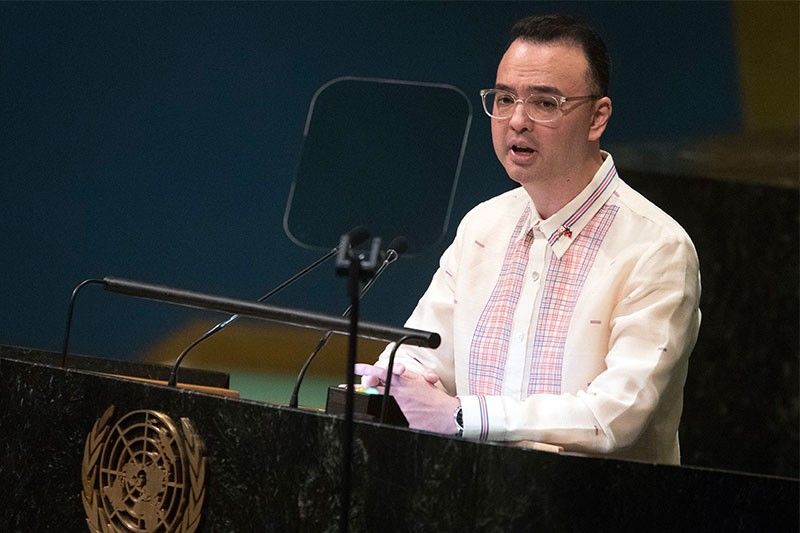 In this September 29 photo, Foreign Affairs Secretary Alan Peter Cayetano addresses the 73rd session of the United Nations General Assembly at the UN headquarters in New York.
AP/Mary Altaffer
Philippines trying to rush joint exploration framework
MANILA, Philippines — Despite not setting a deadline on a framework on possible joint exploration with China, Foreign Affairs Secretary Alan Peter Cayetano said the Philippines is trying to rush the deal.
"So we are trying to rush the framework so that if it's acceptable to both sides, even an agreement of principle with the DFA and Chinese [Ministry of Foreign Affairs] will be a giant step forward," Cayetano said.
Cayetano earlier said the Philippines and China have agreed not to set a deadline on the possible joint exploration in the West Philippine Sea, the portion of the South China Sea that the Philippines claims.
In a press conference last August, the Foreign Affairs chief said he and his Chinese counterpart to work on the legal framework "as soon as possible."
Beijing is still in the process of reviewing Manila's offer of 60-40 sharing on the proposed joint exploration in the West Philippine Sea, Cayetano said Friday.
'Cautiously enthusiastic'
Cayetano said both the Philippine and Chinese sides are "cautiously enthusiastic" on the deal and that Beijing has not "closed the door" on Manila's offer.
"They said they are open to it but it really depends on our commercial entities and what they have discussed," Cayetano told reporters.
The country's top diplomat noted that the two parties are enthusiastic as the possible joint exploration would benefit the region and cautious at the same time as it is a delicate matter.
The forthcoming framework on joint exploration would have to be acceptable under the Philippine Constitution and Chinese laws as well.
"It would have to pass the scrutiny of Congress and judiciary so we are asking ourselves the hard questions now: if this happens, what's this and this," he said.
Cayetano said he will be consulting a lawyer on oil and gas, as well as Chief Presidential Legal Counsel Salvador Panelo, to ensure that the framework will be constitutional.
The DFA chief added that he will also ask his counterpart Chinese Foreign Minister Wang Yi to consult lawyers on their side for the project.