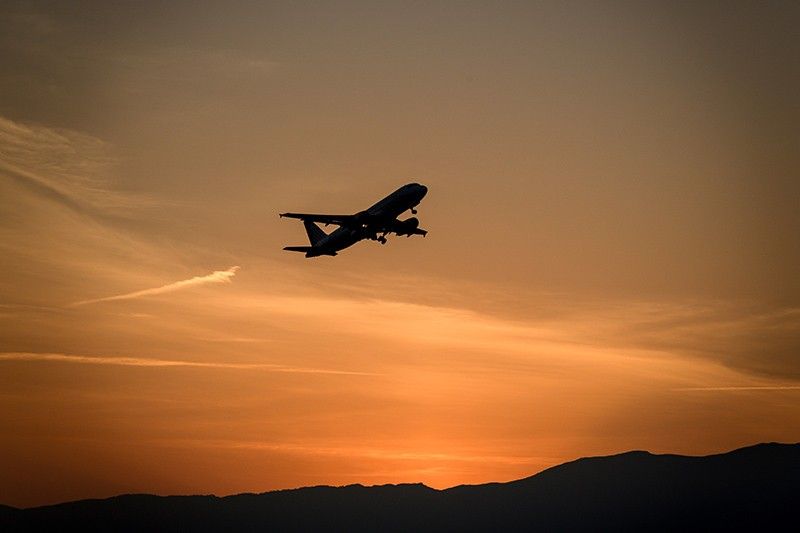 A commercial plane takes off after sunset from Geneva Airport on September 29, 2018 in Geneva.
Fabrice Coffrini/AFP
Why airport passengers are asked to remove shoes at security checks, explained
MANILA, Philippines — A recent video showing Rep. Aniceto "John" Bertiz III scolding a screener at the Ninoy Aquino International Airport has raised questions on why airport security checks sometimes require passengers to take their shoes off.
At a press briefing on the incident involving Bertiz, Manila International Airport Authority General Manager Ed Monreal explained that this depends on the security level hoisted over the airport.
He said security level one involves the regular process where passengers are only required to "divest" metals inside their pockets. It also has a lower number of allowed random inspections of check-in bags at 20.
The additional requirement of removing shoes and placing them on the X-ray is implemented during security level 2. Monreal said there are three security levels that airport authorities enforce.
On why shoes have to be X-rayed, the airport official said this was because there were past incidents were contrabands and explosives were concealed inside shoes.
He explained that failure to comply with such protocols could mean dire consequences for the country.
"Para po compliant tayo at di tayo masita ng ating international auditors, which is the TSA (Transportation Security Administration), US, Canada, Australia, Europe," he said.
(So we are compliant and avoid getting warnings from international auditors, which is the TSA, US, Canada, Australia, Europe.)
"Dahil kung hindi ho, tayo naman malalagay sa alanganin baka sabihin yung mga airlines natin di puwede lumipad doon dahil mayroon tayong breaches on security."
(Otherwise, we will be put in a difficult situation as they may say that our airlines are prohibited to fly there since we have breaches on security.)
These fears are not far-fetched.
In 2001, two months after jihadists hijacked airplanes and crashed it into the World Trade Center on September 11, British terrorist Richard Reid attempted to detonate explosives hidden inside his sneakers.
His plan, which earned him the moniker "shoe bomber," was thwarted by passengers and crew on board the American Airlines flight traveling from Paris, France, to Miami, Florida.
It became policy in the US to remove shoes for security checks after this and other countries, including the Philippines, did the same to prevent similar attacks from happening.
Philippine airport authorities also said that the checking of shoes is covered under Annex 17 to the Convention on International Civil Aviation, which the country is a party to since 1947. Annex 17 provides constantly updated standards and recommended practices to help nations deal with evolving security threats to civil aviation.
Currently, no technology exists yet that could screen shoes for bombs as you wear them.
But a future where passengers would no longer be required to remove them for security checks might soon be possible.
The TSA, created in 2001 after the September 11 terror attacks, the deadliest on US soil, had been working to develop this kind of "shoe scanner" technology as far back as 2011.
The British government in February this year also announced that it granted £1.8 million (P127 million) in funding for eight projects aimed at developing aviation security. One of the project recipients is working on technology enabling imaging to scan shoes for explosive materials and another for a step-on shoe scanner to detect explosives and weapons.
Development of such screening devices could mean bolstered security and faster, hassle-free queues for passengers at the airport.