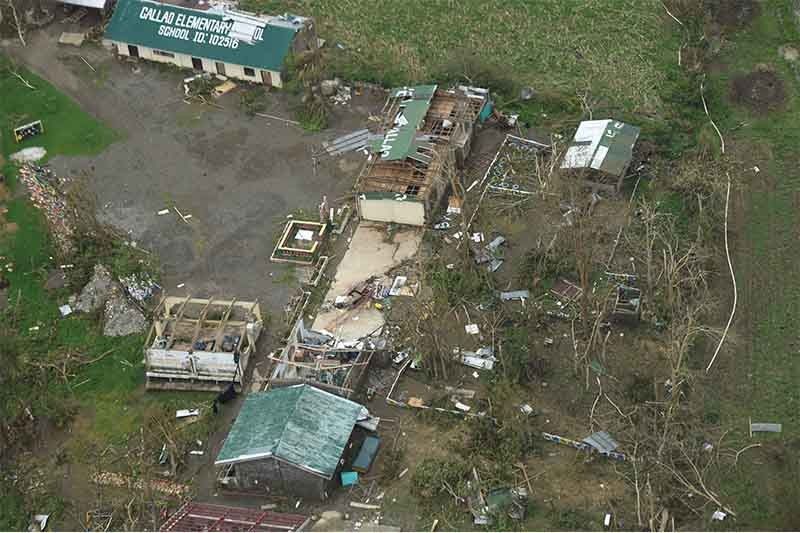 Aerial shot of houses destroyed at the height of Typhoon Mangkhut (local name: Ompong) in Gattaran, in Cagayan province, on September 16, 2018. Super Typhoon Mangkhut slammed into the northern Philippines, with violent winds and torrential rains, as authorities warned millions in its path of potentially heavy destruction.
AFP/Ted Aljibe
International aid pour in as Philippines continues recovery, relief operations
MANILA, Philippines — International aid has started pouring in as the Philippines recovers from the onslaught of Typhoon Ompong, the strongest storm to hit in 2018.
The United Nations World Food Programme said on Sunday that it is transporting 20,000 bags of rice for families affected by "Ompong."
The sacks will be transported from the National Food Authority in Valenzuela to the Department of Social Welfare and Development's National Resource Operations Center.
The DSWD is the lead agency conducting relief operations.
The WFP will also participate in the Philippine government's post-typhoon assessments to determine food security in the regions of Cagayan Valley and the Cordillera.
According to the National Disaster Risk Reduction and Management Council, the typhoon affected more than 250,000 people.
Presidential adviser on political affairs Francis Tolentino, also the point person for "Ompong," said more than 25 people are feared dead. The number of casualties might still rise as recovery operations, especially in areas hit by landslides, continue.
Australia, meanwhile, is providing 800,000AUD or roughly P31 million in humanitarian supplies for emergency response for those affected by "Ompong."
READ: Japan, Australia offer aid for 'Ompong' victims
This includes sleeping mats, blankets, and hygiene and shelter kits which would be distributed to 25,000 people through the Philippine Red Cross.
Australia has also fielded humanitarian experts, including a disaster risk reduction specialist from the Australia Assists program.
"Ompong" left the Philippine Area of Responsibility at 9 p.m. on Saturday as it headed towards southern China.