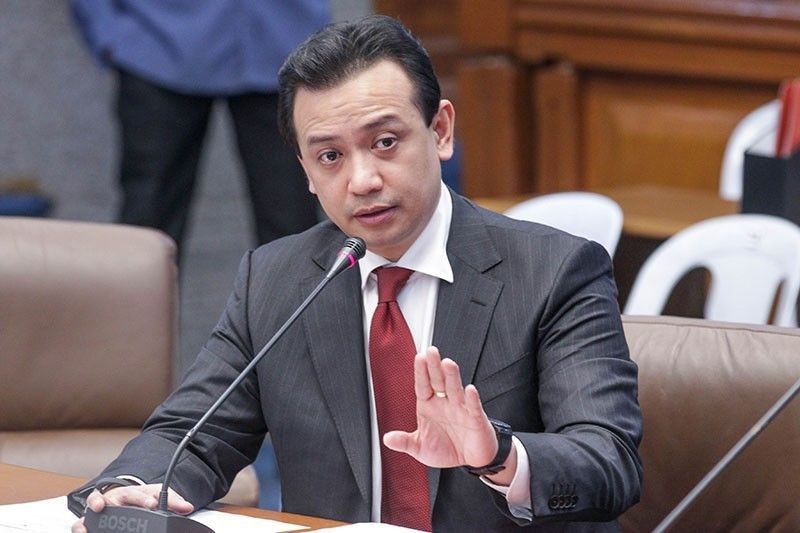 Following President Rodrigo Duterte's nullification of the amnesty granted to Sen. Antonio Trillanes IV, state prosecutors on Tuesday sought a Makati court for a travel ban and arrest warrant against the lawmaker.
The STAR/Geremy Pintolo
Court sets hearing for warrant vs Trillanes
MANILA, Philippines — The Makati court handling the case of Sen. Antonio Trillanes IV set a hearing on September 13, despite state prosecutors' plea that a hearing is not needed for an application for alias warrant.
On Wednesday, Presiding Judge Andres Bartolome Soriano set a hearing on the state prosecutors' "Very Urgent Ex-Parte Omnibus Motion for the Issuance of Hold Departure Order and Alias Warrant."
Bartolome, judge of Makati Regional Trial Court Branch 148, also gave Trillanes five days to answer the motion.
On the same day that the Palace made public Proclamation No. 572, state prosecutors on Tuesday afternoon sought the court for an issuance of an alias warrant against Trillanes.
An alias warrant contains the updated information on an accused person. It is issued if the original warrant of arrest is returned without being served.
"Recall that there were previous commitment orders issued by this Honorable Court in September 2003 and in November 29, 2007. Thus, this application for an alias warrant of arrest no longer needs a hearing," the motion filed by the state prosecutors read.
A case of coup d'etat was filed against Trillanes before Makati Branch 148, but the lawmaker has argued that the case was already dismissed in 2011.
The Palace has declared as null from the start Trillanes' amnesty as Duterte said that the senator did not apply for amnesty. The Department of Justice said that records from the court support this claim.
However, a video footage surfaced online showing that the senator had filed an amnesty application.
FACT CHECK: Palace claims Trillanes did not apply for amnesty
"It is clear that this instant case is still pending with this Honorable Court and has yet to be terminated through a promulgation of judgment which was merely suspended last Dec. 16, 2010," the prosecutors said.
They asked for an alias warrant of arrest "so as not to defeat the purpose of the said court processes."
Citing Trillanes' capacity to flee another country, they also asked the court to issue a travel ban against the senator.
Related video: