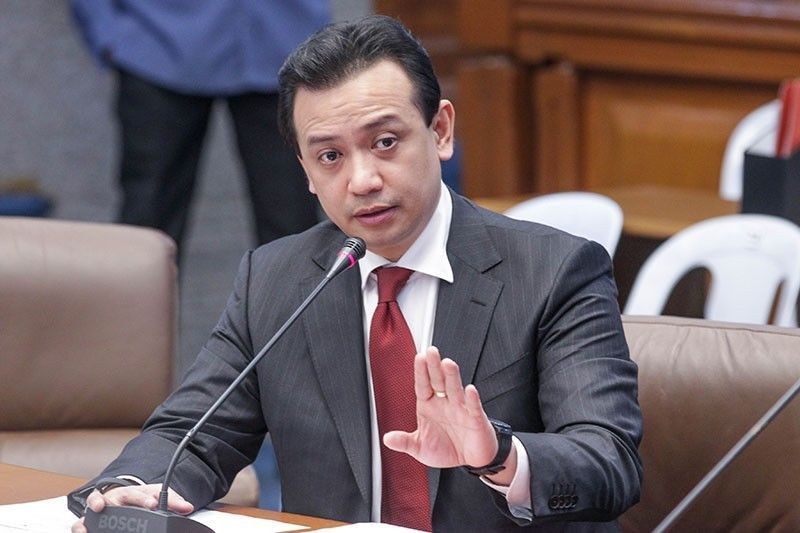 In his Proclamation 572 dated August 31, President Duterte voided the amnesty granted to Sen. Antonio Trillanes IV by former President Benigno Aquino III.
The STAR/Geremy Pintolo
DOJ seeks travel ban, arrest warrant vs Trillanes
MANILA, Philippines — Following President Rodrigo Duterte's nullification of the amnesty granted to Sen. Antonio Trillanes IV, state prosecutors on Tuesday sought a Makati court for a travel ban and arrest warrant against the lawmaker.
State prosecutors filed a motion seeking the issuance of a hold departure order and an alias warrant against Trillanes before the Makati Regional Trial Court Branch 48.
An alias warrant contains the updated information on an accused person. It is issued if the original warrant of arrest is returned without being served.
The prosecutors cited a portion of the same Makati court's order dated Dec. 16, 2010 that read: "[B]ut the Court cannot render the promulgation moot and academic by reason of Proclamation No. 75 as all the accused has to avail of the Amnesty and that they must qualify per decision of the Commission under the Department of National Defense."
The Palace has declared as null from the start Trillanes' amnesty as Duterte said that the senator did not apply for amnesty. The Department of Justice said that records from the court support this claim.
However, a video footage surfaced online showing that the senator had filed an amnesty application.
FACT CHECK: Palace claims Trillanes did not apply for amnesty
"It is clear that this instant case is still pending with this Honorable Court and has yet to be terminated through a promulgation of judgment which was merely suspended last Dec. 16, 2010," the prosecutors said.
They asked for an alias warrant of arrest "so as not to defeat the purpose of the said court processes."
Citing Trillanes' capacity to flee another country, they also asked the court to issue a travel ban against the senator.
In a report by GMA news, Makati court Judge Andres Soriano said he has received the DOJ's motion, but added that he would have to review the records again "because this involves 53 volumes and the case started from another judge."
Trillanes, for his part, said he would not elude arrest.
He also said that he is under the custody of Senate President Vicente Sotto III until his lawyers file the petitions to resolve the executive order.
Trillanes was the second opposition legislator to be ordered arrested under Duterte's term.
Sen. Leila De Lima has been jailed for more than a year over drug-related charges.