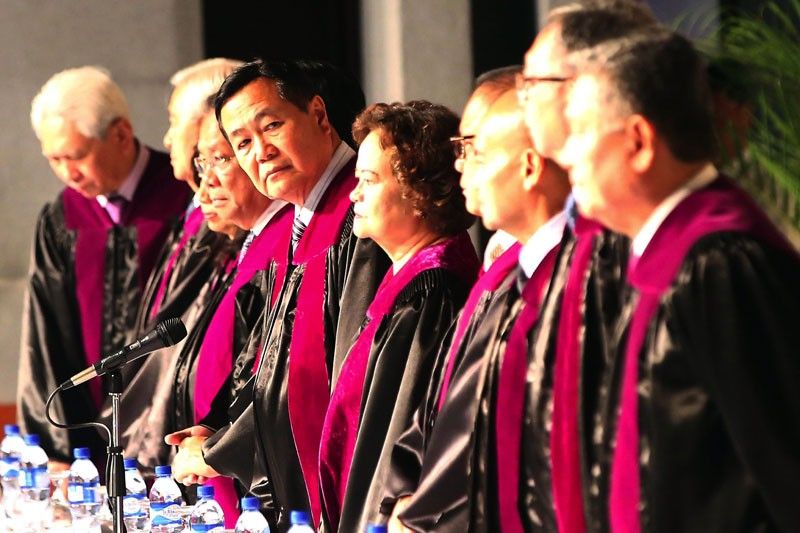 SC justices are among the highest-paid officials in the 1.5-million strong bureaucracy.
Higher retirement perks await Teresita De Castro
Jess Diaz
(The Philippine Star) - August 29, 2018 - 12:00am
MANILA, Philippines — For serving less than two months as chief justice, Teresita de Castro will enjoy a pension around 50 percent higher than what she would have received as an associate justice of the Supreme Court.
SC justices are among the highest-paid officials in the 1.5-million strong bureaucracy.
The chief justice has a salary range of P233,857 to P264,721 a month depending on length of service. De Castro will most likely get the highest rate.
She will enjoy the second highest salary in government next to that of President Duterte for only a little over a month. Her retirement benefits would be computed on the basis of her salary as chief justice.
The chief justice holds the same Salary Grade 32 as the vice president, Senate president and Speaker of the House of Representatives.
According to opposition Rep. Edcel Lagman of Albay, De Castro "will serve an inordinately fleeting tenure of 38 days."
"She is scheduled to take her oath on Friday, Aug. 31, 2018 and compulsorily retire on Oct. 8, 2018. During her short incumbency, she can relish her reward while she counts her days until retirement," he said. De Castro took her oath yesterday.
Lagman and three opposition colleagues have filed impeachment complaints against De Castro and seven other justices who voted to oust Maria Lourdes Sereno as chief justice through a quo warranto case filed by Solicitor General Jose Calida.
Calida had questioned Sereno's qualification to sit as chief justice. Last year, De Castro was in 23rd place in the Commission on Audit (COA) report of highest-paid officials.
She received a total of P6.8 million, of which P1,903,338 was her basic salary. Additionally, she was paid P744,000 in honoraria as member of the SC and the Presidential Electoral Tribunal (PET); P2.2 million in allowances, P1.3 million in incentives and P628,000 in discretionary fund.
The highest-paid SC member in 2017 was Presbitero Velasco Jr., who received P9.6 million. He was sixth in the COA list.
The other justices, their total compensation and their ranking in the biggest-salary list were Diosdado Peralta, P7.4 million (No. 16); Mariano del Castillo, P7.3 million (No. 20); Antonio Carpio, P6.8 million (No. 21); Lucas Bersamin, P6.8 million (No. 22); Maria Lourdes Sereno, P6.5 million (No. 24); Estela Perlas Bernabe, P5.9 million (No. 31); Marvic Leonen, P5.3 million (No. 47); Noel Tijam, P5.2 million (No. 48); Alfredo Benjamin Caguioa, P5.2 million (No. 49); Francis Jardeleza, P5.1 million (No. 52); Andres Reyes Jr., P5.2 million (No. 50); Samuel Martires, P5 million (No. 56) and Alexander Segismundo, P4.3 million (No. 86).
Martires, President Duterte's newest SC appointee, has transferred to the Office of the Ombudsman. He succeeded retired ombudsman Conchita Carpio-Morales, who was paid a total of P4.9 million in 2017.
Two justices who retired last year received millions in gross compensation. They were Jose Mendoza, who was paid P3.8 million for 7.4 months; and Bienvenido Reyes, who received P3.2 million.
Court administrator Midas Marquez, who has the rank of justice, pocketed P4.2 million last year.
Loss for words
Two weeks ago, Peralta and Bersamin, who were candidates for the position of chief justice won by De Castro, had a hard time explaining increases in their wealth before the Judicial and Bar Council.
The two, when asked by council member Milagros Fernan-Cayosa about their wealth, attributed the "significant" growth in their wealth to the increase in their salaries under Executive Order No. 201 and their membership in the Senate Electoral Tribunal (SET) or the House of Representatives Electoral Tribunal (HRET).
"When you either get to be a member of the PET, Senate Electoral Tribunal or the House Electoral Tribunal, you are given an allowance that is very substantial," Bersamin said.
Peralta said his income grew due to the salary adjustment for government personnel and the P1.7 million he received as a member of the HRET.
All SC justices are members of the PET, for which they get additional allowances. Three justices sit in the SET and another three in the HRET, for which they are paid more allowances in lieu of salaries due to the ban on double compensation.
The salary increase Peralta and Bersamin referred to is contained in Executive Order No. 201, which then president Benigno Aquino III signed in February 2016.
Aquino's issuance provided for a four-year upgrading of salaries in the bureaucracy.
Under the order, Duterte's monthly pay jumped from P120,000 in 2016 to about P300,000 this year.
'Shameless'
Meanwhile, Manila Auxiliary Bishop Broderick Pabillo yesterday called De Castro's appointment "shameless."
In his blog, Pabillo admitted that while they might not be familiar with the legal process or with inner workings in the SC, "we are not fools. We know the basics of decency and appropriateness."
He said it was grossly inappropriate for De Castro to aim for a position whose previous occupant she had helped remove.
"After having testified against chief justice Maria Lourdes Sereno in the Lower House, and still voting for her ouster in the Supreme Court, thus acting as both accuser and judge, now she takes the place of the one she had worked hard to oust," Pabillo, chairman of the Catholic Bishops' Conference of the Philippines-Episcopal Commission on Laity (CBCP-ECL), said.
"Hindi ba masyado ng garapal? Ganito na ba ang garapalan sa Supreme Court (Isn't it so brazen? Is the Supreme Court now this shameless)?"
He added that the President could not wash his hands of any responsibility for the ouster of Sereno since he had made previous pronouncements denouncing Sereno.
"So who can believe that Duterte had no say in this ouster? The smell is too strong – an implicit political transaction has taken place between the Palace and De Castro. You scratch my back and I scratch yours. You do me a favor and I return the favor," he said.
"With the game of transactional politics engulfing the Supreme Court, can we expect it to stand up and check the power of the President?"
The Church official also said that the people should not just be onlookers as the country's democratic institutions are being torn down.
"We should not be silent. We voice out our rage and together join forces and consider how we can prevent our democratic system from further sliding down," he added. – With Evelyn Macairan