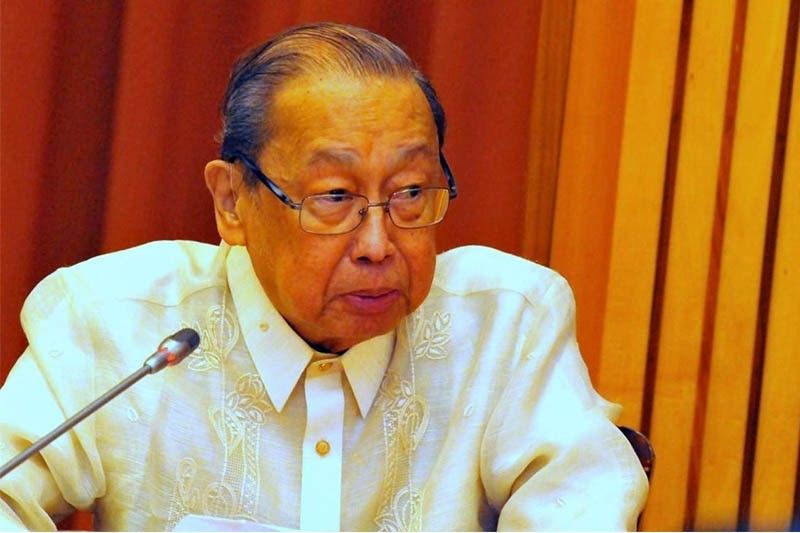 "I'm alive—fairly healthy and I'm having dinner with a beautiful lady from Davao," the president said in a Facebook Live stream on Monday night.
OPAPP/file
Joma Sison 'pleased' Duterte not in a coma after all
(Philstar.com) - August 21, 2018 - 2:09pm
MANILA, Philippines — Communist Party of the Philippines founding chairman Jose Maria Sison, after having his claim that President Rodrigo Duterte is in a coma debunked, said that that means that the president can still stand trial for his alleged crimes.
Sison, who posted on Sunday night an unverified report that Duterte is in coma, said: "I am pleased to see that Duterte is still alive and that there is a chance of his living long enough to be held accountable for his crimes against the people and be tried by the people's court or by the International Criminal Court."
Fatou Bensouda, prosecutor of the International Criminal Court, announced her office was opening a preliminary examination into allegations of summary killings in the government's campaign against drugs. Although the Palace initially welcomed the development as a chance for the government to prove critics wrong, Duterte announced in March that the Philippines was withdrawing from the ICC.
Sison's statement came after the president, with his aide Bong Go, went on Facebook Live on Monday night.
"I'm alive—fairly healthy and I'm having dinner with a beautiful lady from Davao," the president said.
Sison earlier claimed that those who saw the president at a gathering with his fraternity brothers last Saturday noticed an alleged discoloration on the president's face. He added that Duterte's walk and handshake appeared unstable.
Presidential spokesperson Harry Roque was quick to dismiss Sison's claims. In a press conference, Roque said Duterte is fine and is expected to appear in public on Tuesday.
Duterte seemed 'very tired, dispirited'
Sison stressed that he never claimed that his post on Duterte was comatose was "certainly true."
He, however, pointed out that the video showed Duterte with a face "darker than usual." He also said the president appeared "very tired and dispirited."
But Roque, on Monday, shrugged off Sison's claims, and said that he is a "spent revolutionary" who has no way of knowing the state of Duterte's health as he is in Netherlands.
Asked for a medical report on the president's condition, Roque said that he does not see the need for it as Duterte himself disclosed that he was given a clean bill of health.
Section 12 of Article VII of the 1987 Constitution provides that "[i]n case of serious illness of the president, the public shall be informed of the state of his health."
In July 2017, Duterte was also hounded by rumors that he had fallen ill after he skipped the Philippine Independence Day ceremony on June 12 and was absent from public engagements the following days. But Duterte quuipped that he was not in coma, but was in fact in bed, a remark that his aide Go repeated on Monday.
A few weeks ago, Malacañang denied rumors that the president was rushed to the hospital due to an illness.
Roque asked the public to stop spreading such news as these could constitute a crime.
RELATED VIDEO:
— Kristine Joy Patag