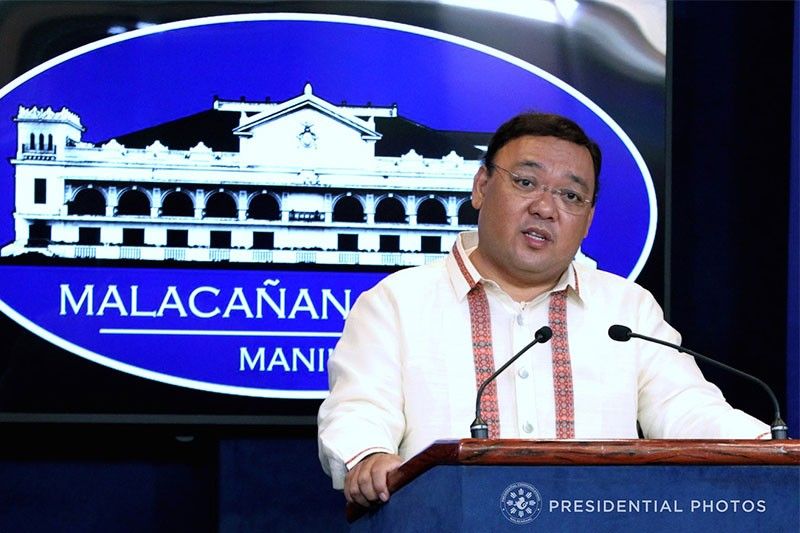 "The Philippine pilots continue their flights, they disregarded that," presidential spokesperson Harry Roque said, referring to Chinese radio warnings against Philippine military aircraft patrolling the South China Sea.
Presidential Photo
Philippine pilots continue to fly, disregard Chinese warnings — Palace
MANILA, Philippines — Chinese radio warnings cannot deter Philippine military aircraft from flying over the disputed South China Sea, part of which is the West Philippine Sea, Malacañang said Monday.
London-based broadcast network BBC reported that the Chinese military has been warning Philippine and US planes to stay away from Beijing's artificial islands in the South China Sea.
Presidential spokesperson Harry Roque said the Philippine government is yet to verify the report.
"Investigation will be conducted but if the information is true, the good news is that our pilots did not back off despite being told to leave, they still contined their flight because we have territory there," Roque said in a press briefing.
Noting that the Filipino pilots disregarded the Chinese warnings, Roque said Filipino pilots will continue to assert the country's sovereignty over the disputed waters.
"That means we are upholding our title, that we're asserting our sovereignty because we conducted the overflight over the islands," Roque said.
According to the BBC report, the Chinese military issued a vociferous warning against a Philippine plane flying nearby.
The radio transmission is suspected to come from Beijing's artificial islands, where they have powerful communications and surveillance equipment.
"Philippine military aircraft, I'm warning you again. Leave immediately or you will bear responsibility for all the consequences!," a voice can be heard saying in the video.
The Chinese military, however, used a calmer tone when a US military plane flew over the area.
"China has sovereignty over the Nansha Islands and adjacent waters. Leave immediately and keep far off to avoid misunderstanding," the voice said.
Beijing has been calling out Washington for supposedly playing up the militarization of artificial islands in the South China Sea.
The Chinese Foreign Ministry stressed that Beijing will "never attack others unless we are attacked."
Aside from communications equipment, China has deployed anti-cruise ship missiles, surface-to-air missiles and electronic jamming equipment to its outposts on the Spratly Islands.