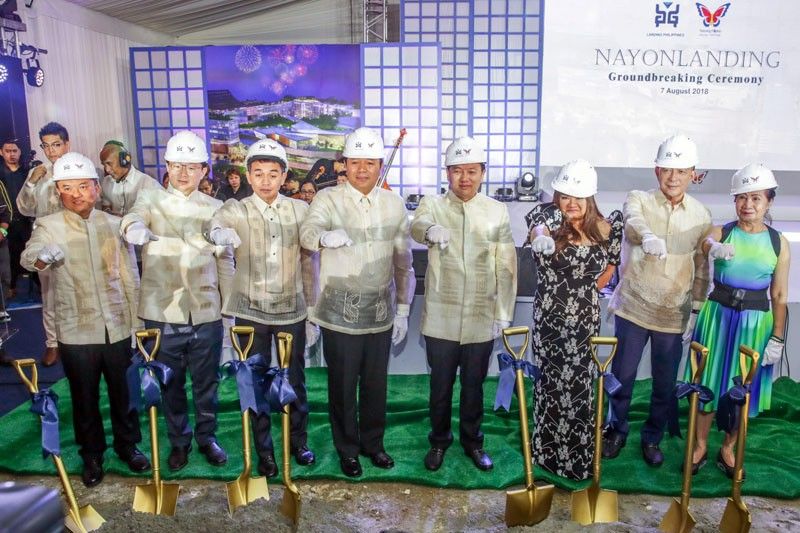 Nayong Pilipino foundation chair Patricia Ocampo (third from right) leads the groundbreaking for the construction of the $1.5-billion nayon Landing integrated resort in Parañaque yesterday. During the ceremony, Malacañang announced that President Duterte had fired the foundation's board of directors for approving the supposedly disadvantageous lease deal with Landing resorts Philippines Development corp. also in photo are Landing?cfo David hoon, Landing CEO Jay Lee, Parañaque Rep. Eric Olivarez, Parañaque Mayor Edwin Olivarez, Landing Philippines chairman and executive director Yang Zhihui, Pagcor president alfredo Lim and chair and CEO Domingo.
Geremy Pintolo
Duterte sacks entire Nayong Pilipino board
For 70-year casino lease
MANILA, Philippines (Update 2, 4:27 p.m.) — With the groundbreaking came the heartbreak.
As officials of the Nayong Pilipino Foundation (NPF) were leading groundbreaking rites yesterday for a casino project in the Entertainment City in Parañaque, word from Malacañang got around that they were being dismissed for corruption.
NPF chair Patricia Yvette Ocampo hurriedly left as news of President Duterte's order broke out. In a statement later in the day, Ocampo denied any wrongdoing. Dismissed were all board members and management of the state-run firm.
Presidential spokesman Harry Roque Jr. said the President – at Monday's Cabinet meeting – voiced his "exasperation" that the NPF had entered into a lease deal with Landing Resorts Philippines Development Corp. that was "grossly disadvantageous" to the government.
"In addition to the firing of the entire board of the Nayong Pilipino Foundation Inc., the President has instructed a review of the contract of lease entered by (Nayong Pilipino) with Landing Resorts Philippines Development Corp., which the Chief Executive described, in his own words, as flawed," Roque said in a statement.
Recalling what transpired during Monday's meeting, Roque said the President was incensed that NPF leased a government property "for a ridiculous long period of time of 70 years, beyond the lifetime of anyone."
"The papers that will formally terminate the entire management and the entire board of directors of Nayong Pilipino will be issued in due course by the Executive Secretary," Roque added.
Roque could not provide details about the lease contract but he claimed it was originally supposed to be for 70 years, later reduced to 50 years and eventually to 25 years.
"The rental payment was still unconscionable. But he was exasperated. He started the meeting with a general expression of exasperation," the presidential spokesman said.
Asked if the government would pursue charges against NPF officials, Roque replied: "I do not know yet whether or not charges will be pursued. I'm only announcing that he has sacked all of them."
NPF officials at the groundbreaking ceremony were caught off guard by the announcement. Online videos showed Ocampo rushing to leave and refusing to answer questions from the media.
Landing Resorts Philippines Development Corp. (LRPDC), a subsidiary of Hong Kong's Landing International Development Ltd., has a provisional license to operate a casino issued by the Philippine Amusement and Gaming Corp. (Pagcor).
The casino is a component of Landing Philippines' tourism project with the NPF. The project will be developed on land owned by NPF and has an investment commitment of $1.5 billion, according to a Pagcor press statement.
In a statement, Ocampo said she would abide by President Duterte's order but denied accusations of irregularities in the lease contract with Landing Philippines.
"I strongly deny accusations that there was graft and corruption. On the contrary, the lease contract with Landing International Development Ltd. is aboveboard and is highly advantageous to the government and to the Filipino people," she said.
Monthly rentals were pegged at P360 per square meter, and the advance rental amount was placed at P827.05 million.
In addition, NPF will receive an additional monthly rental equivalent to 10 percent of net profits from the operations of attractions and theme parks, exclusive of the value added tax.
"We negotiated what we believed then, and believe now, are most advantageous terms and conditions for the government and the people," Ocampo explained.
"We will continue to serve the President in our personal capacities as we firmly believe in the President's fight to rid the country of graft and corruption," she added.
"In behalf of the board of trustees of the NPF, I would like to thank the President for having been given the opportunity to serve the Filipino people. It is regrettable that it has come to this, but we understand that we serve at the pleasure of the President," she said.
No effect
Landing International, meanwhile, said in a statement its NayonLanding project is still pushing through and its lease contract with NPF still valid despite the sacking of NPF officials.
The firm said that from its point of view, Malacañang's decision "did not affect the validity of the subject contract of lease."
It clarified that the term of lease with NPF is for a period of 25 years only "commencing from the date of execution of the contract of lease."
"Unless the lease contract is cancelled or nullified on solid legal grounds by the courts, Landing has reason to believe that it is a valid leaseholder and can legally proceed with its project," it said.
But it stressed that "subject to and upon approval of LRPDC's application with the Tourism Infrastructure and Enterprise Zone Authority (TIEZA), the term of the lease shall be for a period of 50 years as allowed by Republic Act No. 9593 or Tourism Act of 2009, as an incentive to encourage foreign investments in the Philippines."
Earlier at the groundbreaking ceremony, Ocampo said the NPF supported Landing Group because the project was in line with the board's aim of preserving and promoting Filipino culture and heritage.
She said NPF board members had made it their commitment to put up a new Nayong Pilipino to remind the Filipino of the country's culture and diverse heritage.
"We talked to several people and presented our project but it was only the Landing Group that embraced our entire concept. I have never met in my whole life an investor to our country that in the entirety of this whole project and investment, decided to promote our country and that is why our whole board is 200 percent supportive," she said.
In a press briefing yesterday prior to the actual groundbreaking, Landing International chief operating officer Jay Lee said the group, through Landing Resorts Philippines Development Corp., is on track to open its planned Filipino-inspired integrated leisure and entertainment resort in Manila.
Landing Philippines will build NayonLanding, an integrated resort with estimated development cost of up to $1.5 billion, featuring Filipino-inspired architecture and interior design that will be the country's newest entertainment and leisure hotspot by 2022.
Lee said the group is unfazed by the competitive gaming market in the Philippines – described by some players as already saturated.
"I don't think it is a saturated market. It just depends on the kind of product the operators intend to invest. This will be a flagship landmark for Manila," Lee told reporters.
He said Landing International has a network of regional tourists who would be the ideal market for the soon-to-rise integrated resort. "Regional tourists have not come to Manila," he also said.
"By having this huge family leisure and entertainment complex, we are creating a destination for regional travelers," he added.
The development will have as its flagship attraction the Pilipino Cultural Theme Park. It will also have an indoor theme park.
"NayonLanding will be an iconic landmark that will highlight Manila as a modern global city with a rich culture and heritage. We are redefining integrated resort as we blend in the local cultures, leisure and entertainment into the development, making it a must-see and a must-experience tourist destination," said Landing International chairman Yang Zhihui in his speech at the ceremony.
Furthermore, he said the project is expected to significantly contribute to the economy and the country's tourism industry as it is projected to create over 40,000 jobs by 2022, including direct and indirect employment.
It also expects to draw an additional 2.5 million foreign visitors to the Philippines.
Projected to have at least 1,500 hotel rooms, NayonLanding will provide a diverse offering for local and international tourists. Landing also operates Jeju Shinhwa World on Jeju Island, South Korea. With Louella Desiderio, Catherine Talavera, Iris Gonzales
(Editor's note: We inadvertently took the names of the old board members from the NPF website that has not been updated. Their names are now edited out of the story. We regret the oversight. We have asked Malacañang for the current names but have yet to get a response.)