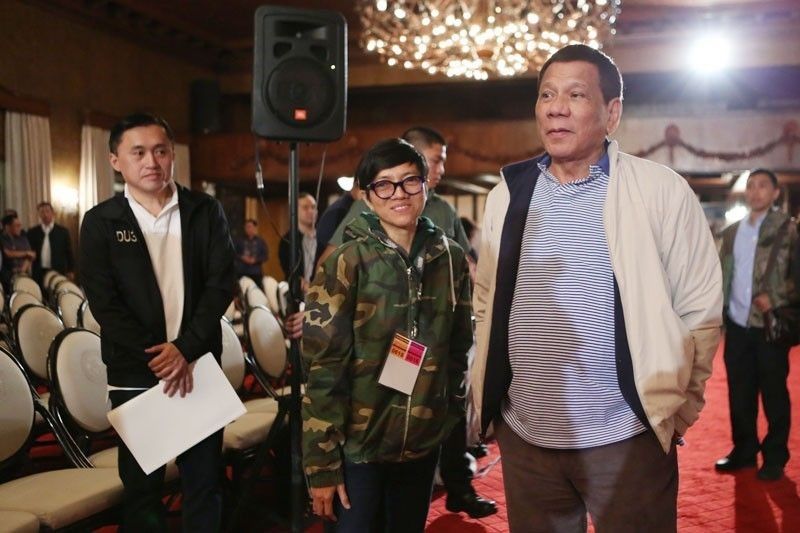 President Rodrigo Duterte with director Joyce Bernal who was tapped to direct the third State of the Nation Address of the the Philippine chief executive.
File
House leadership standoff spoiled SONA director Bernal's masterstroke — Palace
(Philstar.com) - July 24, 2018 - 5:47pm
MANILA, Philippines — The leadership issue at the House of Representatives spoiled what should have been the "masterstroke" of movie director Joyce Bernal during the third State of the Nation Address of President Rodrigo Duterte.
Presidential spokesman Harry Roque said Bernal, the director of last Monday's SONA, wanted Duterte to pause from his speech to sign the Bangsamoro Organic Law.
The law seeks to bring lasting peace in Mindanao by creating a new Bangsamoro region with greater economic and political powers.
But the proposed scene did not happen because of the House of Representatives' failure to ratify the BOL hours before SONA.
The morning session was abruptly ended by Deputy Speaker Gwendolyn Garcia despite a motion by Deputy Speaker Rolando Andaya Jr. to declare the position of House speaker vacant.
House Speaker Pantaleon Alvarez was eventually ousted and was replaced by former president and now Pampanga Rep. Gloria Arroyo.
"That (signing of BOL during the SONA) was supposed to be director Joyce Bernal's masterstroke in the SONA yesterday," Roque said.
If the signing pushed through, it would have been the first time, at least in recent memory, a president signed a law in the middle of a SONA.
The House of Representatives ratified the measure a day after on Tuesday.
Roque said there is a strong chance that Dutetre would sign the BOL into law this week.
"I'm sure, because BBL (Bangsamoro Basic Law) did not take center stage in the SONA that they will be some kind of a ceremony perhaps here in the Palace to highlight the signing of the BBL," he said, referring to the BOL by its old name.

"I think the fact that it was finally passed by Congress is evidence of the political will of the president himself."
Roque also shrugged off criticisms that Duterte did not say anything new in his 48-minute SONA.
"Of course they are critics. There is nothing new with their criticism of the president," he said. — Alexis Romero