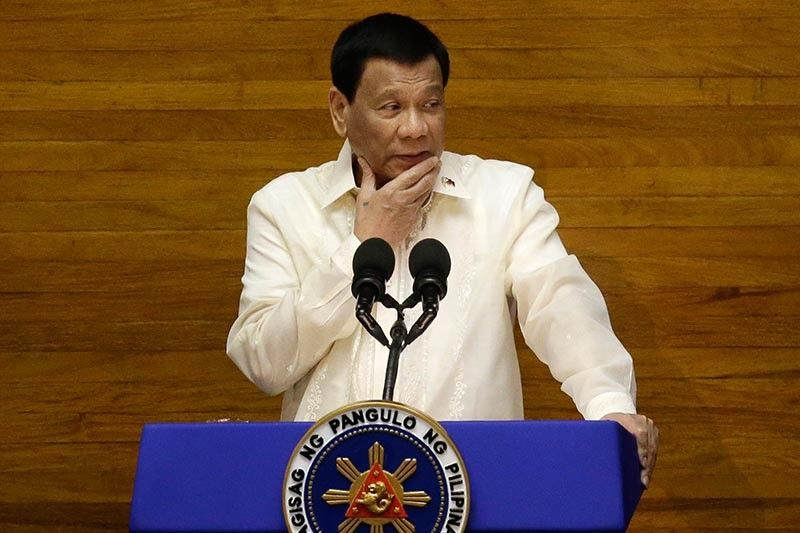 Philippine President Rodrigo Duterte pauses during his third State of the Nation Address at the House of Representatives in Quezon City, Manila, Philippines Monday, July 23, 2018.
AP/Aaron Favila
Groups hit Duterte's remark on human rights during SONA
MANILA, Philippines — Rights groups expressed their disappointment over President Rodrigo Duterte's remark in his third State of the Nation Address that his concern is the lives of people, not human rights amid thousands of killings in his bloody war on drugs.
In his shortest SONA yet, Duterte accused human rights advocates of lashing at the administration and law enforcers over the killings but failing to direct their protest against "drug-lordism" and drug trade.
"Your concern is human rights, mine is human lives," the chief executive said, using an oft-repeated but inaccurate dichotomy that support for human rights is support for crime suspects.
READ: Duterte's concern for human lives gets attention but for wrong reasons
For Karapatan secretary-general Cristina Palabay, Duterte's take on human rights vis-à-vis human lives was expected from "someone infamous for rights violations and for enabling more butchers in the police and military."
"It baffles us how someone who backed and directed the killing of thousands of Filipinos can muster the audacity to claim that he's fighting for human lives. He's utterly shameless," Palabay said.
She added that human rights and human lives are mutually exclusive.
"The very essence of what human rights are for is to aid individuals attain a life with dignity, anchored on their being productive members of society," Palabay said.
Carlos Conde of the Human Rights Watch Asia division, for his part, believes that respect for human rights and respect for human lives are not mutually exclusive but "one reinforces the other."
"President Duterte is seeking to perpetuate a dangerous deception by asserting that those who criticize the murderous excesses of his 'drug war' are unconcerned about the toll that drug addiction inflicts on individuals and families," Conde said.
He challenged the president to end the killings and provide accountability for thousands of deaths to show his care and concern for Filipinos.
READ: Duterte Year 2: 'Without rights, a return to rule by tyrants'
More bloodshed
Early in his 48-minute speech, Duterte vowed that the war against narcotics will continue and will be as "relentless and chilling" as it was the day his administration began.
"Let me begin by putting it bluntly: the war against illegal drugs is far from over," he said, noting that narcotics "waste away lives, dysfunctionalize families and ruin relationships."
Palabay stressed that killings and violations of rights to due process are not solutions to the country's drug problem.
"This 'war' has created more problems that it has solved. The big drug syndicates are out there, continuing with business as usual while this government is stubbornly pushing with this ineffective campaign—all while the poor are being arbitrarily killed and targeted," she said.
More than 4,200 people have been killed in acknowledged anti-drug operations—mostly urban slum dwellers.
The Philippine National Police in June said it has also recorded 22,983 cases of killings that were classified as deaths under inquiry since the anti-drug campaign was launched in July 2016.
Conde stressed that Duterte's promise to relentlessly pursue the war on drugs should prompt the International Criminal Court, which has launched a preliminary examination into the killings, as well as the United Nations Human Rights Council to ensure that the president and his men involved in the campaign will be accountable.
READ: Relentless, chilling drug war to continue — Duterte
Related video: