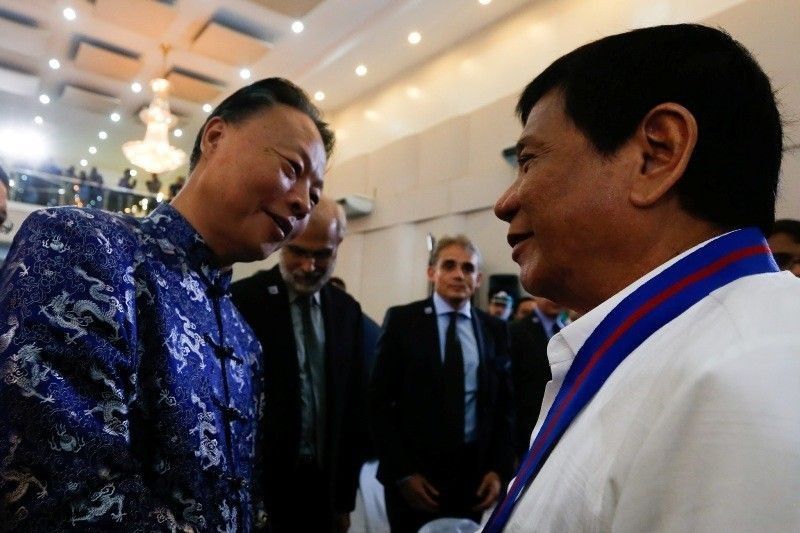 In this Aug. 17, 2016 photo, President Rodrigo Duterte chats with Chinese Ambassador to the Philippines Zhao Jianhua.
PPD/Toto Lozano, File
Duterte trusts China 'will be fair' on South China Sea row
(Philstar.com) - July 17, 2018 - 6:58pm
MANILA, Philippines — President Rodrigo Duterte is expecting China to be fair on the South China Sea row as he expressed optimism that Filipinos would eventually view Beijing as a "good neighbor."
Duterte, who has been accused of not doing enough to assert the country's maritime claims, said the Philippines and China have agreed to discuss the dispute some other time as Beijing has to deal with its bilateral relations and issues.
"We will allow them (China) the sufficient period to sort out things and I'm sure that in the end, China will be fair and the equity will be distributed," the president said.
"I cannot talk about—well, elaborate these things now. They are in the blueprint. But in the days to come, we would realize that China, after all, is really a good neighbor," he added.
Duterte said the two countries are talking about a "concerted effort" to "develop" but did not elaborate. The president previously said he was open to a joint exploration with China in the South China Sea, even suggesting that the two countries adopt a '60-40' sharing deal.
China claims about 90 percent of the South China Sea but this is being disputed by the Philippines, Vietnam, Malaysia, Brunei and Taiwan have overlapping claims. In 2016, a Hague-based arbitral tribunal ruled that China's maritime claim has no legal basis but Beijing refused to recognize the ruling.
China has built structures, including military facilities on Kagitingan (Fiery Cross), Panganiban (Mischief), Zamora (Subi), Burgos (Gaven), Kennan (Hughes), Mabini (Johnson) and Calderon (Cuarteron) Reefs, areas off the province of Palawan that are also being claimed by the Philippines.
Despite Duterte's effort to portray China as a friend of the Philippines, majority of Filipinos think Beijing should not be allowed to militarize the disputed areas.
Eight out of 10 Filipinos or 81 percent think the government should not "leave China alone with its infrastructures and military presence" in Philippine-claimed areas in the South China Sea, according to a Social Weather Stations poll conducted last June.
The president has repeatedly said that insisting on the Philippines' maritime claims would create "trouble" and that a war with China would only result in a "massacre" of Filipino soldiers.
Officials have denied that Duterte has abandoned the Philippines' claims, saying the President is just pursuing non-contentious aspects of Manila's relationship with Beijing such as economic cooperation. They insist that Duterte will not give up even an inch of the Philippines' territory to other countries. — Alexis Romero with Job Manahan
Related video: