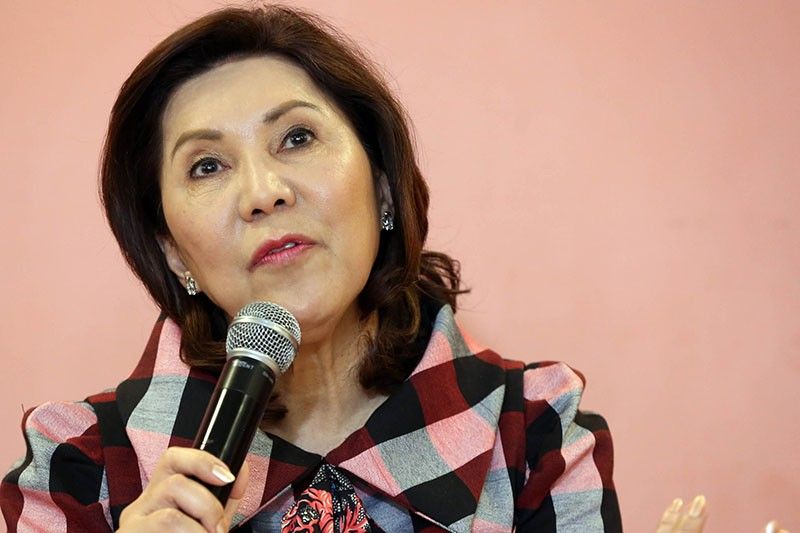 In this file photo, Department of Tourism Secretary Wanda Tulfo-Teo with Assistant Secretary Ricky Alegre called a press conference in Quezon City to discuss the issue on the closure of Boracay island and its effects on tourism in the Philippines.
The STAR/Boy Santos
Bitag to return P60M, Roberto Teo quits TIEZA amid DOT ads controversy
MANILA, Philippines —Tourism Secretary Wanda Tulfo-Teo on Monday attempted to end the controversy on the P60-million advertisement deal that implicated her, the Department of Tourism and her family.
At the Kapihan sa Manila Hotel forum, Teo's legal counsel and spokesperson, Ferdinand Topacio, announced that Bitag Media Unlimited Inc. agreed to return the P60 million it received after airing advertisements of the DOT. BMUI, owned by the DOT chief's brother, Ben Tulfo, is a block-timer of state-run Philippine Television Network Inc.
BMUI runs "Kilos Pronto" where the DOT ads were placed.
In a separate radio interview with dzMM, Topacio said that the gesture to return advertising funds is to restore the "good faith" on the agency and to show that there was no corruption that occurred.
Topacio also announced that the tourism chief's husband, Roberto Teo, also resigned from the board of the Tourism Infrastructure and Enterprise Zone Authority or TIEZA after being dragged into the controversy.
Critics raised concerns on conflict of interest and nepotism after news of the two Teos being on the same board.
READ: Two Teos on TIEZA Board not necessarily a conflict of interest
Roberto is listed as a member of TIEZA's board of directors while the tourism secretary herself serves as chair.
The DOT chief's husband represents Travel and Tours Enterprises. He is also a member of all six TIEZA committees: audit, infrastructure, finance, human resource, tourism enterprise zone and governance.
'Roberto Teo has long resigned'
Presidential spokesperson Harry Roque, however, clarified that Teo has long tendered his resignation in Tieza but there is no one to replace him.
"Apparently Mr. Teo (husband of Tourism Sec. Wanda Teo) was an appointee of President Aquino into the TIEZA and he has long tendered his resignation. However, there is no one to replace him yet. He is no longer attending meetings," Roque said in a mix of English and Filipino.
Roberto has also been appointed by President Rodrigo Duterte as a board member of a subsidiary of the Land Bank of the Philippines, the LBP Leasing and Finance Corp., on June 2, 2017.
Wanda and her family made it to the news last week after the Commission on Audit released a report questioning state-run tv network PTNI's payment of P60 million to BMUI to air DOT ads on its show "Kilos Pronto."
Teo and her brother have said that they dealt with PTNI separately and the secretary has said she had nothing to do with the ads ending up on a block-timer show hosted by her brothers.
Topacio also clarified that COA is not looking into Teo's actions but into PTNI's.
Prior to this, Topacio also presented a letter proving that PTNI made the proposal to air the DOT's ads on the Tulfo brothers' show.