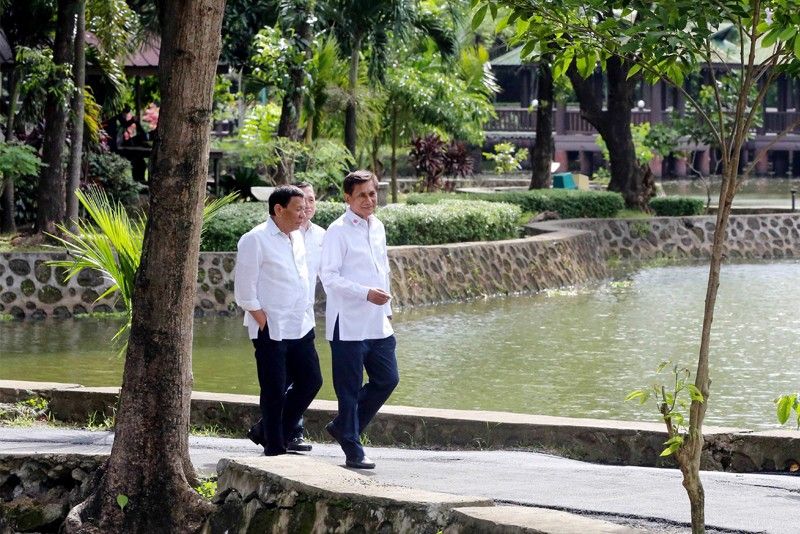 President Duterte walks with Environment Secretary Roy Cimatu and Special Assistant to the President Bong Go at the Ninoy Aquino Parks and Wildlife Center in Quezon City during the 31st founding anniversary of the Department of Environment and Natural Resources yesterday.
Krizjohn Rosales
Boracay no longer a cesspool, may reopen October 26
MANILA, Philippines — Just two months since its closure, top tourist destination Boracay Island is no longer a "cesspool" following intensified rehabilitation efforts to regain its status, the Department of Environment and Natural Resources (DENR) said yesterday.
Environment Secretary Roy Cimatu maintained that Boracay is slowly recovering and the tag "cesspool" given by President Duterte is "no longer" applicable.
"I am very definite on that and the White Beach is already clean," Cimatu told reporters on the sidelines of DENR's 31st anniversary.
"We have all the daily and weekly monitoring results (on the water). It is now lower than the standard compared before when it was erratic. It is more steady now," he added.
Duterte issued Proclamation No. 475 placing Boracay under a state of calamity for six months because of the environmental issues hounding the island, including the lack of proper sewerage system.
The six-month closure starting April 26 is expected to cost the economy some P1.9 billion and affect about 35,000 workers, according to officials.
Despite its impact on the economy and employment, the temporary closure is supported by a majority or more than 60 percent of Filipinos, according to a recent survey by the Social Weather Stations (SWS).
While some are also requesting for a one-year closure with a 64 percent approval rating on the SWS survey, the DENR said it will stick to the plan and open the island on Oct. 26.
"We are on target and we will really go with the target. We are only waiting for the finishing of the roads and implementing of all the decongestion in the area. We are almost there," Cimatu said.
Boracay tourist arrivals have been increasing by 15 percent annually, which eventually resulted in more waste and declining quality of water in the island.
The water quality problem is one of the reasons why Boracay was placed under a state of calamity that led to the island's temporary closure for six months.
As the rehabilitation continues, the DENR has ordered that all hotels, resorts and similar establishments in stations 1 to 3 with 50 rooms and above should have their own sewage treatment plants (STPs).
While those with 49 rooms and below are instructed to have a clustered STP or they may opt to have their own STPs.
Establishments that fail to comply with the setting up of STPs will be issued notices of violation or cease and desist orders.
Cimatu said resort owners can approach companies that offer to set up STPs per establishment, including financial packages and other forms of assistance.
He also encouraged them to talk to Boracay's water suppliers, Boracay Island Water Co. and Boracay Tubi Systems Inc., to explore the best approaches and solutions to their sewage and wastewater problems.
Cimatu said decommissioning Boracay Water's sewage pipeline is a must since it violates the 25 plus five-meter easement rule and no-build zone along the shoreline.
Furthermore, the DENR has ordered both water companies to expand the capacity of their respective STPs to avoid the same problem once the island reopens in October.
The total STP capacity of Boracay is only 12 million liters per day (MLD) but the wastewater to be treated is 15 MLD and more than 200 big establishments are still not connected to the sewer lines.
Duterte also wants a committee to facilitate the land distribution in Boracay after the rehabilitation of the island has been completed.
He said land ownership issues would arise once the government is done with its clean-up of Boracay.
"Allow government to clean it. And after that, I will return Boracay to its rightful owners," the President said during the 31st anniversary of the environment department yesterday in Quezon City.
"Now the problem is how to determine who owns what. That's the problem now. So there has to be a committee to be fair to everybody. From the local government then from the origins of any title there," he added.
Duterte said the island of Boracay has never been open to any "commercial exploitation" and remains forestal and agricultural. He also noted no president has declared the tourist destination as a commercial area.
"Let us determine first who owns the place. If there is any title, and if it gets to be muddy to really dwell into it and question everything, I leave it to the local government to decide or to the congressman," the President said.
Duterte also denied that he ordered the rehabilitation of Boracay so that gaming firms can build casinos in the island.
"We do not have any interest on that. Do not ever believe this s***...they weave a lot of tales about giving it to big business," the President said.
"I will not allow gambling, I will not even give it to big business," he added.
Previous reports said Macau-based Galaxy Entertainment Group and Resorts World Manila are planning to build casinos in Boracay, which is visited by about two million tourists every year.
Duterte maintained that cleaning Boracay is a "moral obligation" because the island is deemed the "crown jewel" of Philippine tourist destinations.
"We are proud of it. So we have to clean it. We banner it throughout the world, 'Go to Boracay,' and it's full of s***," he added. – With Alexis Romero