US ship aids stranded Filipino fishermen in West Philippine Sea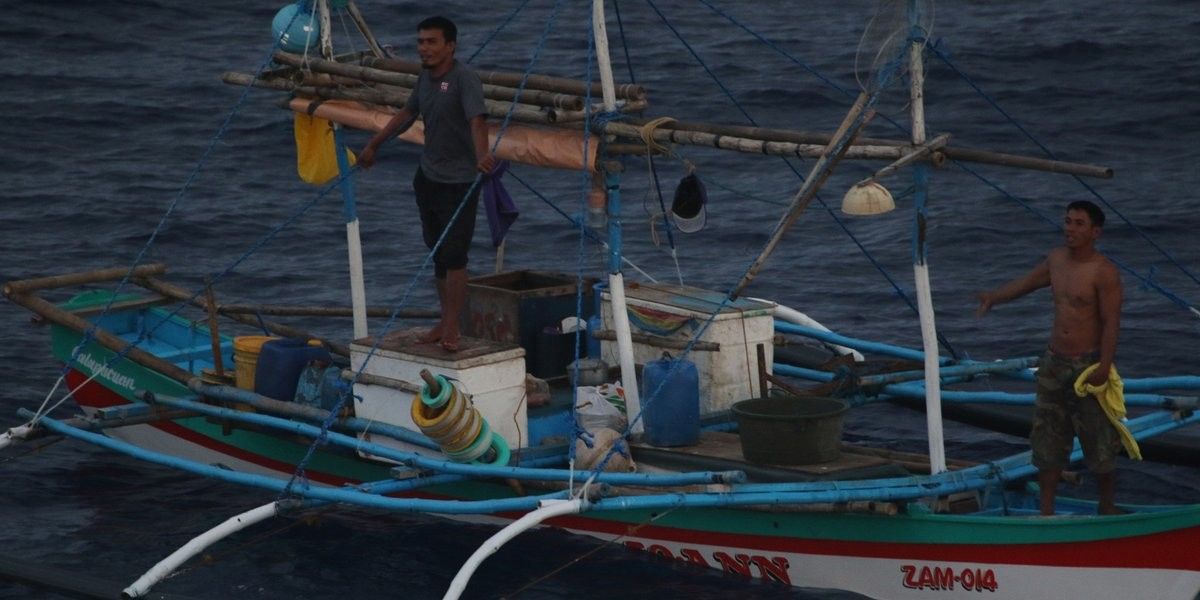 MANILA, Philippines — A guided missile destroyer of the US Navy assisted two distressed Filipino fishermen in the West Philippine Sea after suffering an engine malfunction.
According to a report from the US Pacific Fleet, USS Mustin was conducting routine patrol on Tuesday when watch standers spotted the fishermen frantically waving from their boat.
The US ship immediately provided assistance upon learning that the fishermen's vessel had engine trouble and were unable to return to shore nor communicate with the Philippine coast guard.
The Filipino fishermen had water onboard but did not have food, according to the US Pacific Fleet. The fishermen apparently did not have a radio and did not have a way of contacting the coast guard, only relying on the luck of finding other people out at sea for help.
The crew of Mustin contacted a nearby fishing vessel to relay the situation of the stranded fishermen, deployed an inflatable boat and towed the adrift boat for the mariners to rejoin their fellow fishermen.
Aside from towing the small fishing boat, Mustin crew also provided food good for three days to the distressed fishermen after making sure that they were safely back with other Filipino fishing vessels.
Cmdr. Warren Smith, commander of USS Mustin, said that his crew feels fortunate that they were at the right place at the right time to assist the Filipino fishermen while patrolling in the South China Sea, part of which is the West Philippine Sea.
The Mustin commander added that he was proud of his sailors for safely and professionaly assiting their fellow mariners at sea.
Filipino-American watch standers aboard the US Navy ship provided translation when Mustin assisted the local fishermen.
"That pride extends from my bridge watch officers who spotted the Filipino mariners in the distance indicating distress by waving their shirts over their heads, to our Tagalog speakers who could break through the language barrier to determine the extent of the distress, and finally to my small boat team for their ability to tow the fishing boat to safety during heavy rain, lightning, and thunderstorms," Smith said.
Hospital Corpsman 2nd Class Nicasio Bone said that he used the ships's announcing system in breaking the language barrier.
"It is the right thing to do to help people in distress and if anyone was put in the same position as me, they would bring the same help. I was really impressed by how the ship came together at the end of a long day to help these two fishermen; it seemed natural to do," Bone said.
Mustin is currently deployed to the US 7th Fleet area of operations and conducting routine patrols in the Indo-Pacific region.
The nuclear-powered "supercarrier" recently docked in Manila as part of its routine patrol in the Pacific. The US ship will be in Philippine waters for four days.