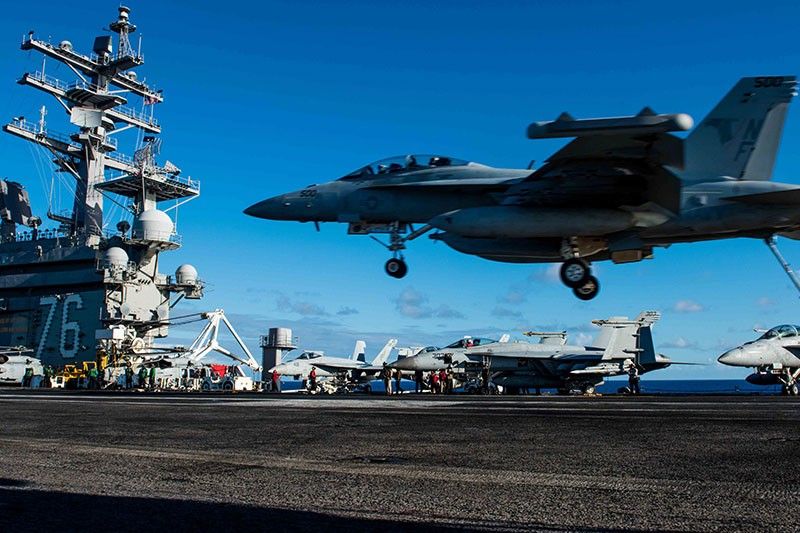 An EA-18G Growler assigned to Electronic Attack Squadron (VFA) 141 lands on the flight deck of the Navy's forward-deployed aircraft carrier, USS Ronald Reagan (CVN 76). Ronald Reagan, the flagship of Carrier Strike Group 5, provides a combat-ready force that protects and defends the collective maritime interests of its allies and partners in the Indo-Pacific region.
US Navy/Mass Communication Specialist 2nd Class Kenneth Abbate
US 'supercarrier' in Philippine waters for routine patrol
MANILA, Philippines — A nuclear-powered "supercarrier" of the United States Navy arrived in Manila on Tuesday as part of its routine patrol in the Pacific.
USS Ronald Reagan, the US Navy's only forward-deployed aircraft carrier, will be in Philippine waters for four days.
The American aircraft carrier is the flagship of Carrier Strike Group 5, which includes guided-missile destroyer USS Mustin and guided-missile cruisers USS Antietam and USS Chancellorsville.
The carrier and the strike group have been training in the area of operations of the US Navy's 7th Fleet while "supporting security and stability in the Indo-Pacific region."
A photo released by the US Navy showed a Phalanx close-in weapons system being used during a live-fire exercise aboard the aircraft carrier.
Ronald Reagan has officially been on patrol since May 29, when it sailed out of the Yokosuka Naval Base in Japan.
Its deployment last month came days after China called out the US after USS Antietam and USS Higgings sailed within 12 nautical miles of the Paracel Islands in the South China Sea.
The Chinese Foreign Ministry called the act a "serious infringement on China's sovereignty."

Ronald Reagan's deployment in the region appears to be part of the US' show of force as China seeks maritime dominance in the South China Sea.
"As we get underway for these operations we will continue to represent the United States as the security partner of choice in the region, to ensure freedom of the seas, drive stability and security and to promote adherence to a rules-based international order," US Navy Rear Adm. Marc Dalton, Task Force 70 commander, said.