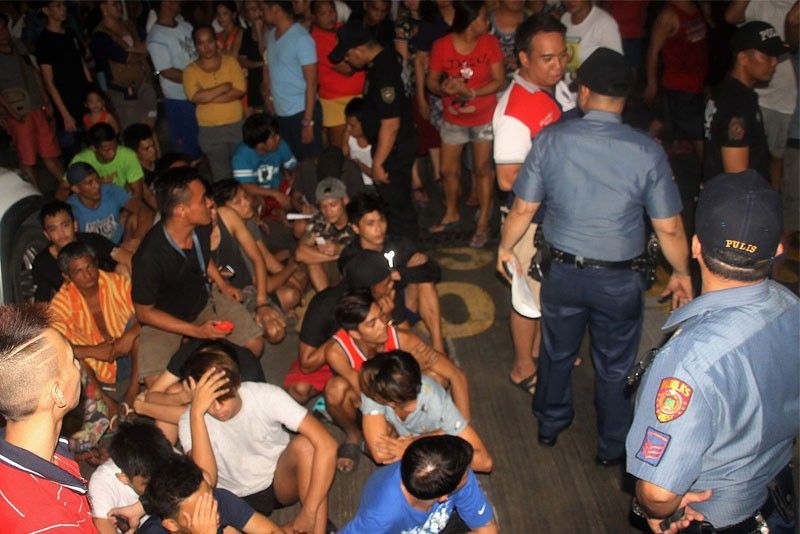 Presidential spokesman Harry Roque said that lower income people could spend time in street eateries or barber shops to avoid being accosted by police.
Edd Gumban
Nowhere to hang out? Try barber shops, 'karinderya,' Roque says
MANILA, Philippines — Filipinos who cannot afford to go to malls or coffee shops can hang out in barber shops or neighborhood eateries instead of staying on the street, the president's spokesman said on Thursday.
On Thursday, a Novaliches man was reported to have died in police custody after being arrested on Friday for not wearing a shirt. In at least one incident, people mistaken for loiterers were brought to the police station.
President Rodrigo Duterte's crackdown on loiterers has raised concerns over potential rights violations, especially of urban poor Filipinos who may not have places to spend their free time.
When asked about the options of lower-income individuals, Roque said on ANC: "In Parañaque for instance, they usually hang out in barber shops or in street eateries (karinderya). In Parañaque, those serving puto bungbong, people sit there while they sip their tea."
"Well, you just stay in your homes," he said later in the program about options for the poor.
Roque also defended Duterte's crackdown on 'tambays', saying this is a legitimate exercise of the president's powers to curb crimes in communities. He also denied that the program is anti-poor and stressed that it is meant to ensure safer communities.
"The increase in police visibility, it's really a deterrent to the commission on crimes. And it is proven to be very effective in places like Japan and the United Kingdom," he said. He later said loitering is not a problem in Japan.
The president's spokesman however had difficulties explaining the parameters on when police could accost an individual on the street. The Philippine National Police has yet to issue guidelines on how the drive against 'tambays' will be implemented.
"If you are loitering around, that's when crimes start," he simply said when asked about scenarios when one could be accosted by cops.
The president's spokesman clarified that there is no national curfew and the police were just implementing local ordinances and laws.
Roque: File cases if wronged
He also urged those who feel that their rights have been violated to come forward and to file complains.
"What are the remedies? Number One: the Bill of Rights. Any administration would say that if you have been arrested you the police should file charges within hours. If you are not charged, the police could face illegal detention," Roque said.
"And, of course, there are remedies- habeas corpus, amparo- there are a lot of remedies," he added.
He also stressed drinking and smoking on the street are prohibited and could lead to a warning from the police.
Last week, police said that they would implement Duterte's order to lessen the number of vagrants on streets in an effort to improve the peace and order security in the country.
Duterte said that invididuals idling outside should be sent home as they could be potential troublemakers.
Opposition figures criticized the move and said that vagrancy had been decriminalized several years ago.
Sen. Panfilo "Ping" Lacson, a former chief of the Philippine National Police, said that the issue should be kept local.
He said that instead of PNP chief Oscar Albayalde doing the explaining local police chiefs should justify operations in their jurisdictions.