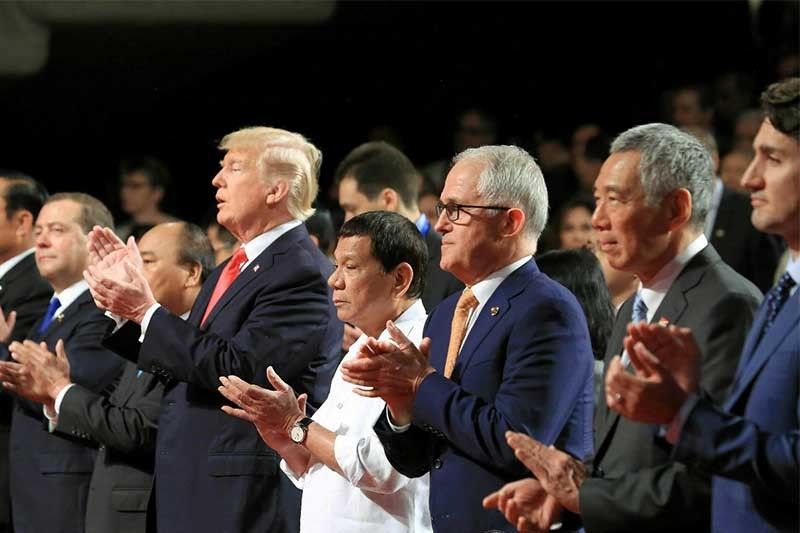 In this Nov. 13, 2017 photo, President Rodrigo Duterte joins the leaders from the Association of Southeast Asian Nations member states and dialogue partners during the opening of the 31st ASEAN Summit and Related Summits at the Cultural Center of the Philippines in Pasay City. The dialogue partners include New Zealand, Timor-Leste, Republic of Korea, USA, Australia, India, China, and Japan.
Presidential photo/Albert Alcain
Philippines seeking 'sweet spot' in its foreign policy, expert says
MANILA, Philippines — The country's so-called independent foreign policy amounts to a hedging strategy where the Philippines maximizes returns from different world powers while minimizing long-term risks, an international security analyst said on Wednesday.
Writing for the Australian Strategic Policy Institute, international security analyst Peter Chalf said that the country's independent foreign policy is in pursuit of a "geopolitical sweet spot," where the Philippines can maximize its returns from many different powers while offsetting long-term risks.
"He (Duterte) has pursued two parallel courses of action: First, to resolve oustanding disputes with Beijing in the South China Sea in an effort to remove what was a key source of international distraction under the Aquino administration; Second, to pragmatically manage the country's bilateral partnerships to maximize potential sources of aid and assistance with the minimum risk," he said.
Despite Duterte's preference to recalibrate the country's relationship with the US, his rhetoric remains just that as Manila's ties to the US remain deep, broad and enduring, according to Chalf.
"Indeed, in many ways this is integral to the goal of hedging should his drives to Moscow and Beijing fail to deliver the expected dividends," he said.
Continuity in US-Philippine relations
Chalf said that two years into Duterte's presidency there have been considerable continuity in US-Philippine relations as the 1951 Mutual Defense Treaty, the 1998 Visiting Forces Agreement, the 2011 Manila Declaration and the 2014 Enhanced Defense Cooperation Agreement were all intact.
He added that regular joint training exercises and drills were still continuous.
"In many ways, rather than adopting an independent foreign policy, Manila appears to be moving more towards an 'interdependent' stance in its external relations, maintaining traditional partnerships (the US) while seeking to diversify ties with new powers (China and Russia)," Chalf said.
READ: Duterte urged to rethink foreign policy amid China's missile deployment
He also urged the Australian government to remain firm in condemning rights violations especially drug-related killings attending the country's so-called war on drugs.
He however stressed that this renunciation should be conveyed through a "controlled line of diplomacy" that's firm in tone but avoided the use of invective language.
Australian support for Philippines
Chalf also called on Australia to support the "non-kinetic aspects" of the government's counter-narcotics campaign epsecially in instituting innovative demand-reduction programs.
He said that Australian police should tell their local counterparts that conducting "off-the-book" operations could imperil the legitimacy and professionalism of the Philippine law enforcement community and the wider fabric of civil society.
He also underscored the need for Australia to support the Mindanao peace process to help the Philippines counter the spread of Islamic militantism.
Australian police and military should also continue their engagements with the Philippine National Police and the Armed Forces of the Philippines to improve their capacity in dealing with terrorism, he said.
READ: Government to pursue independent foreign policy, says Duterte