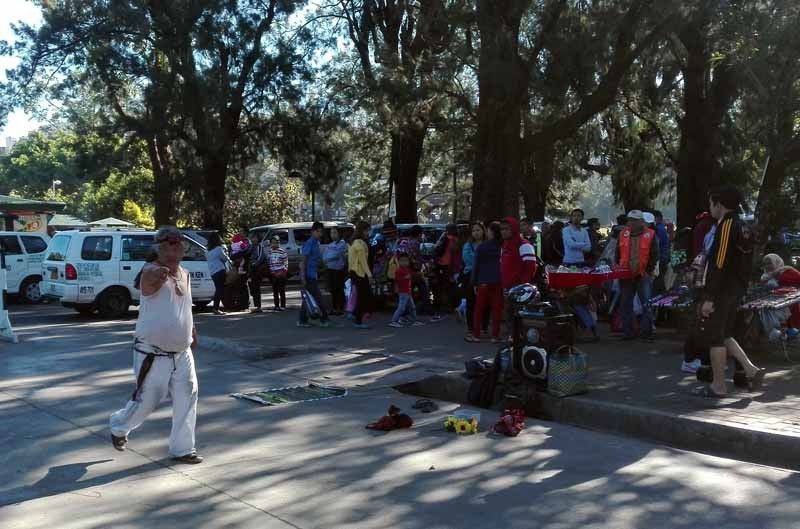 A street performer dances for change at Burnham Park in Baguio City in this undated file photo.
Philstar.com
Palace: Remedies available for wrongful 'tambay' arrests
(Philstar.com) - June 18, 2018 - 5:40pm
MANILA, Philippines — Wrongfully arrested after being mistaken for a "tambay?" File cases.
Malacañang on Monday allayed fears that President Rodrigo Duterte's order for police to be strict on "tambays" or loiterers would lead to illegal detention and other abuses.
Presidential spokesman Harry Roque said there are legal remedies that safeguard citizens against unlawful arrest and detention.
"There are established mechanisms that protect the rights and liberties (of citizens). First, if a person is arrested but not charged, he can file a criminal case for illegal detention against the police," Roque said in a press briefing.
"Second, we have an existing remedy that can be tapped immediately — the habeas corpus. We also have a writ of amparo. We are not running out of legal remedies to deal with those who will act in excess of authority," he added.
A writ of habeas corpus is an order to present the body of someone who is in jail. It allows a person to question an unlawful detention before a court.
A writ of amparo, meanwhile, can be tapped by a person whose right to life, liberty and security has been violated or threatened with an unlawful act.
When asked about the trauma experienced by people who were wrongfully arrested, Roque replied: "Well, if the trauma cannot be reversed, he can file civil damages against the policeman."
The word "tambay" came from the English "stand by" and refers to people who are loitering in the streets.
Last week, Duterte ordered the police to impose stricter measures against loiterers, whom he described as "potential trouble for the public."
Critics have expressed concern over the directive, saying it could lead to abuses. Rep. Tom Villarin (Akbayan party-list) has claimed that the directive against loiterers is reminiscent of the measures imposed during martial law.
Roque insisted that Duterte had ordered stricter measures against loiterers because he wants to protect the public from crime.
"While we no longer have a law against loiterers, we have existing ordinances. He was just citing the need to implement the ordinances because it is important to watch the loiterers closely to prevent the commission of crime," he said.
"So, in other words, it's really police visibility and trying to take steps to ensure that the public knows that the police is present, and that if they are engaged in any conspiracy to commit crimes, the law enforcers are there." — Alexis Romero