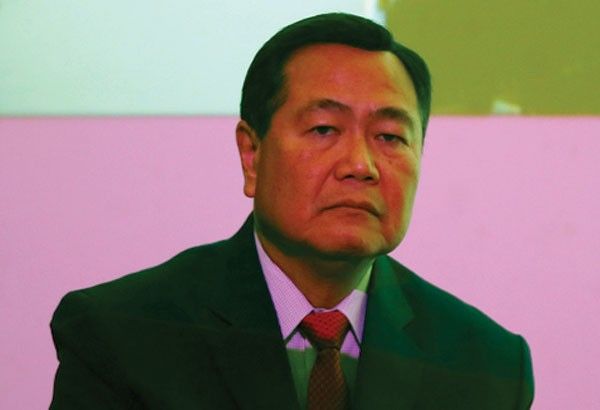 "As recently reported, the Chinese Coast Guard are taking some of the catch of our fishermen which is not correct, that's not supposed to be done," Acting Chief Justice Antonio Carpio said.
AP/Bullit Marquez, File
Carpio: Philippines can file another case against China's harassment of fishermen
MANILA, Philippines — The Philippines can file another case before the United Nations-backed tribunal following reports of the Chinese Coast Guard taking the catch of local fishermen, Acting Chief Justice Antonio Carpio said Friday.
In a video posted by GMA News, the Chinese coast guard can be seen taking the fish caught by Filipino fishermen in Panatag or Scarbarough Shoal in the West Philippine Sea.
Local fishermen told GMA News that the Chinese has been doing this for some time now.
Carpio, an expert on the South China Sea dispute, stressed that the actions of the Chinese in the traditional fishing ground is not correct.
"We can bring another case before the arbitral tribunal that China has been violating the ruling and demand damages for the economic loss the fishermen suffered, that's the course of action we should take if we want to protect the interest of our fishermen," Carpio said.
In July 2016, the Permanent Court of Arbitration released a ruling which invalidated China's historic nine-dash line claim over the South China Sea.
The landmark ruling indicated that Beijing violated its commitment under the UN Convention on the Law of the Sea (UNCLOS) in building artificial islands within the Philippines' exclusive economic zone (EEZ).
The tribunal also ruled that Scarborough Shoal is rock, which is allowed only a 12-nautical mile territorial sea and has no EEZ or continental shelf.
The arbitral tribunal found that China failed to respect traditional fishing rights of Filipino fishermen by preventing access to the shoal after May 2012.
China also breached its obligations under the UNCLOS by operating its law enforcement vessels in the vicinity of Scarborough Shoal, creating serious risk of collision and danger to Philippine vessels and personnel.
Former Foreign Affairs Secretary Albert del Rosario suggested that President Rodrigo Duterte consider holding consultations with Carpio on how to approach the maritime dispute.
"The expertise of Acting Chief Justice Antonio Carpio on the South China Sea is clearly unequalled," Del Rosario said in a statement.
Del Rosario's statement comes days after Duterte admitted that he had no idea that Chinese coast guard and navy harassed Filipino troops conducting resupply missions to Ayungin Shoal.
"There appears to be an urgent need for our President to require a fuller briefing from his people as shown, for instance, by his reactions to developments in South China Sea and, in particular, the West Philippine Sea," Del Rosario said.
Related video: