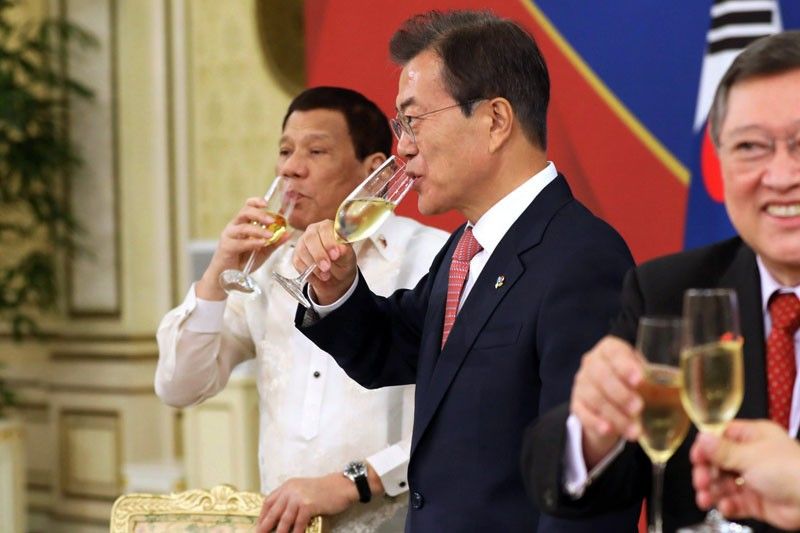 President Duterte and South Korean President Moon Jae-in drink after their toast during the dinner at the Blue House in Seoul last Monday.
Duterte nets $4.8-billion investments from Korea
SEOUL – The Philippines and South Korea have signed a total of 23 agreements worth $4.858 billion in investments that could unlock 58,000 jobs for Filipinos, trade chief Ramon Lopez said yesterday.
The agreements were the result of President Duterte's three-day visit which ended yesterday, he said.
At a press briefing, Lopez said Korean investors were positive and bullish about the Philippines.
"They all know that with an enlarging population and a growing middle class, there's a lot of opportunity in construction, infrastructure, consumer goods, retailing," he said.
Aside from the $4.858-billion investments, presidential spokesman Harry Roque said Duterte's official visit would also make available to the Philippines $1 billion in South Korean official development assistance (ODA).
At the bilateral meeting between President Duterte and South Korean President Moon Jae-in at the Blue House, Lopez said it was agreed that the two countries would revive and strengthen the joint commission on trade and economic cooperation and develop a preferential trading agreement.
"This is with respect to improving the market access of our agriculture products to Korea," he said.
Lopez also revealed the two countries are looking at further strengthening the ASEAN-Korea Free Trade Agreement as well as other areas of cooperation.
"There are still products that we wish to improve market access on, in particular we are referring to products like banana, pineapple, mangoes, coconut products that we intend to improve market access on," Lopez said.
He said one of the main concerns of South Korean investors is power. "In particular power, definitely to fund all this infrastructure and manufacturing buildup, you need power. So there's a lot of interest there," he pointed out. "There's bullishness, that's why the interest; even the attendance this afternoon is really very good, the strong, high interest," he said, referring to the business forum attended by President Duterte.
The President witnessed the signing of a memorandum of agreement (MOA) – with deed of donation – between the Freeport Area of Bataan and Korean Federation of Fire Association (KFFA).
The agreement also involves the donation of a chemical fire truck, a fire pump truck and two car ambulances to the freeport.
A memorandum of understanding (MOU) between the ASEAN Business Advisory Council and ASEAN Korean Centre with Korea Federation of Small and Medium Business seeks joint development and undertaking of programs related to ASEAN Mentorship for Entrepreneurs Network.
The Philippine Chamber of Commerce and Industry and the Korea Federation of Small and Medium Business also forged an agreement for the exchange of information about commerce, industry markets and identification of business and trade opportunities.
An MOU between the Philippine Chamber of Commerce and Industry and the Korea Importers Association (KOIMA) covers technological cooperation and other business relations.
The other agreements were between Philippine Overseas Construction Board and the International Contractors Association of Korea, PH Die and Mold Association and Korea Association of Machinery Industry, Philippine Utility Vehicle Inc. and Deakyung Engineering Co. Ltd., Cagayan Economic Zone Authority (CEZA) and the Sea Offshore Services Corporation, CEZA and Fairbridge Overseas Development-Philippines Inc., CEZA, IP Vebtures Inc. and the Hanwa Life Insurance Co. Ltd., CEZA and Hanwa Life Insurance Co. Ltd; SK E& S; POSCO Engineering and Construction Co. Ltd.
An MOU on Scientific and Technological Cooperation was signed by science and technology Secretary Fortunato dela Peña and his South Korean counterpart You Young Min.
Lopez of DTI also signed an MOU with South Korean minister of trade, industry and energy Paik Unyo.
Defense Secretary Delfin Lorenzana and Paik also signed a separate MOU on cooperation on the expansion of renewable energy deployment.
Transportation Secretary Arthur Tugade and his Korean counterpart Kim Hyun-mee signed an MOU on enhanced cooperation in transport development.
FInance Secretary Carlos Dominguez III and Export-Import Bank of Korea chairman Eun Sung-soo signed a loan agreement for the development of the Cebu International Container Port.
Meanwhile, as the President's two-day official visit to Seoul ended, he reveled at having cut travel cost by taking a commercial flight.
"I think this will be the new norm for presidential travels, it is intended to save taxpayers money," his spokesman said.
Security assurance
At a business forum at the Lotte Hotel, President Duterte also assured Korean investors of full government protection and urged them not to deal with corrupt officials.
"That is how I hate corruption. And so that, if there's somebody asking for money, do not give anything," he said.
"Maybe you can slap him and say, 'Look idiot. I spent money to come here to invest. I have incurred expenses. Do not do that to me because your President says I can kick you in the --- in the ass'," he said.
"And you have my permission. Anybody, mentioning money at all, kindly report it to your resident representative or to your ambassador… my big boss and I will do the rest," he said.
He also appealed for understanding for the "misgivings"of law enforcement agencies. But he did not mention the case of South Korean national Jee Ick-joo who was a victim of kidnapping-murder by rogue cops in 2016.
"I know that there are a lot of misgivings about the law and order situation in the Philippines. And I must admit there were some incidents in the past that did not augur well for people to even consider Philippines as an investment area," he said.
"With the sound policy and competitive business climate, your investments are assured protection and potential for profits," he pointed out.
In remarks before the Filipino community last Sunday, the President said he was happy to travel on a Philippine Airlines regular flight instead of on a chartered aircraft, which he claimed would have cost P500 million a day.
The President flew on an eight-seater Challenger private jet to Singapore for the 32nd ASEAN Leaders Summit on April 26-28.
Even with the pre-departure ceremonies, PR466 that flew Duterte to South Korea departed and arrived at Incheon International Airport on time. The passengers had no prior knowledge the President would be traveling with them.
"I feel proud to travel on the same plane with the President," said passenger Carlo Rodriguez in Filipino.