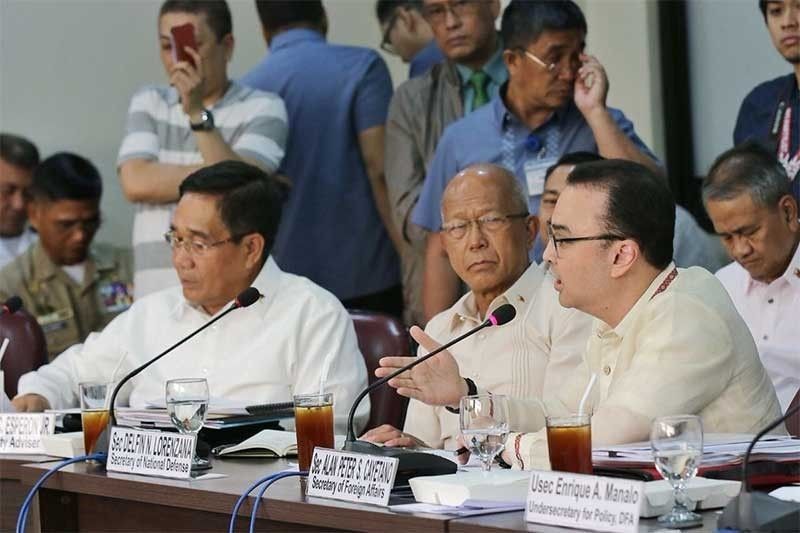 Foreign Affairs Secretary Alan Peter Cayetano briefs members of Congress during a hearing of the House Special Committee on the West Philippine Sea on May 30.
DFA
Cayetano: Philippines, China in talks about joint development in South China Sea
MANILA, Philippines — Philippine Foreign Affairs Secretary Alan Peter Cayetano on Friday said Filipino and Chinese officials recently met to discuss a possible joint development with China in the South China Sea, part of which is the West Philippine Sea.
"We had a pull-aside [meeting] with the Chinese ambassador and the director-general for their maritime and we talked about steps that we have to take if we want to get to a joint development or being able to let our people benefit from the oil and gas there," Cayetano said in a press conference.
"Half of our evening was on clarifications. Our Chinese counterparts get shocked because talks are ongoing but some people are angry at them. So I have to explain," he added in Filipino.
In a Congressional hearing on Wednesday, the Philippines' top diplomat hit back at critics opposing joint development in the contested waterway.
Ties between the Philippines and China have significantly improved under President Rodrigo Duterte, who has set aside a ruling from a UN-backed tribunal that invalidated Beijing's claim to sovereignty over most of the South China Sea.
Early this year, Duterte said a possible joint energy search with China in the hotly contested waters will be like "co-ownership"—a remark that critics say is tantamount to "betrayal of public trust."
Experts say as far as the July 2016 arbitral ruling is concerned, the areas are no longer disputed, meaning that the Philippine government cannot enter joint exploration or development with China without possibly violating the award or the Constitution.
"Maybe the problem with critics is they're insecure over their strategy. We never judged the past administration for their shortcomings but why are they fooling the public and saying that nothing's happening under our watch?" Cayetano said.
Related video: