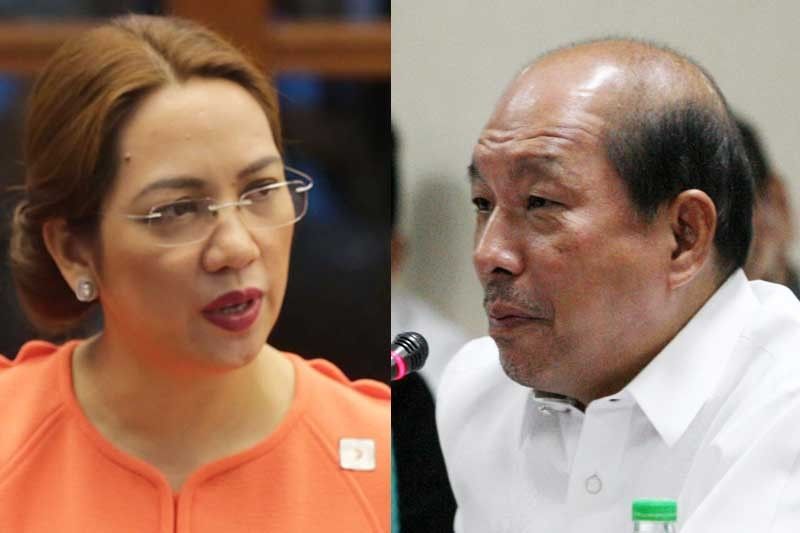 "It is irresponsible and violates journalistic ethics," Abad told The STAR in a text message, saying research should have been done before the story was published.
File Photo
Abad, Garin deny seniors' health fund diversion
MANILA, Philippines — Former budget secretary Florencio Abad denounced yesterday the allegation that he and former health secretary Janette Garin diverted P10.6 billion in funds of the Philippine Health Insurance Corp. (PhilHealth) for senior citizens to the Liberal Party's campaign expenses in the 2016 national elections, saying "it is an absolute lie" and "totally baseless."
"It is irresponsible and violates journalistic ethics," Abad told The STAR in a text message, saying research should have been done before the story was published.
The story came from a joint congressional review of PhilHealth's finances, with oversight panel chair Sen. Joseph Victor Ejercito describing the supposed fund diversion as "a heinous act three times more cruel" than the Dengvaxia vaccine scandal.
"Those sweeping accusations are absolutely without any basis at all. If your paper had bothered to look into the release documents with (the Department of Budget and Management) and interview concerned DBM personnel, you would have seen that no PhilHealth fund was involved and there was absolutely no funds diversion," Abad said.
The former budget chief provided The STAR with documents that show funds in the amount of P5,361,000,000 for the construction of rural health units (RHUs), barangay health stations (BHS) and urban health centers (UHCs) and a further P3,392,005,568 equipping them for PhilHealth accreditation as well as P639,000,000 for the purchase of 162 mobile units – or a total amount of P9,329,005,568 – were clearly derived from savings.
One of the documents was a memorandum from then executive secretary Paquito Ochoa Jr. dated Dec. 29, 2015 showing then president Benigno Aquino III's approval of the DBM's request for authority to use savings from Miscellaneous Personnel and Benefits Funds (MPBF) for projects with budget deficit, including the projects for the Department of Health (DOH).
"These were MPBF or largely salaries and benefits for unfilled items or new positions that were not used and therefore had become available for use as savings," Abad said.
"With authority from the president, these funds were declared savings and used to augment deficient but existing items of appropriation, in this instance the construction of barangay health stations and rural health units, a key component of the Aquino administration's primary health care program," he added.
If there is any issue with respect to procurement and implementation, Abad said he is certain that the DOH and Garin will be able to give enlightenment.
"The news item has a catchy headline but that is all there is to it," Abad said, emphasizing that it is obviously a diversionary tactic.
"I have been reading that PhilHealth has serious financial and actuarial concerns, which secretary Garin adverted to in her statement," he added, noting that Sen. JV Ejercito "should look into that rather than be distracted by unfounded allegations."
Abad said Ejercito has been hitting him consistently.
"I don't even know the guy well nor have I ever worked with him," Abad said.
Garin denies allegations
Garin likewise denied yesterday allegations of fund diversion, saying such realignment never took place.
"It's all a lie. There was no diversion," Garin said in an interview.
This was echoed by former PhilHealth president and chief executive officer Alex Padilla, who expressed willingness to face any investigating body to answer the charges.
Garin, however, recalled that when she was still health chief, she was informed that PhilHealth had some P13 billion worth of collectibles from the DBM for its expenditures for senior citizens.
When she assumed office, Garin said she helped PhilHealth in collecting from the DBM "only to find out there were really no collectibles."
Garin added that she realized that while the law on automatic membership of senior citizens in PhilHealth had not yet been approved then, the agency was already implementing it by using the elderly to raise reimbursements for cataract and pneumonia.
PhilHealth should just focus on answering issues concerning the agency, according to Garin, apparently referring to reports of PhilHealth's impending collapse due to mismanagement and losses amounting to some P9 billion.
"Culprits of fraud and financial mismanagement in PhilHealth should not use me as a scapegoat to cover up for their current disastrous financial situation," she said.
Garin maintained that instead of releasing more funds to PhilHealth, "reforms in its management should be done first" as the agency has been "mismanaged."
"I call on our government to direct an external, credible audit team to dissect the bloated financials being reported by PhilHealth and salvage the said institution before it becomes too late," she said.– With Jess Diaz