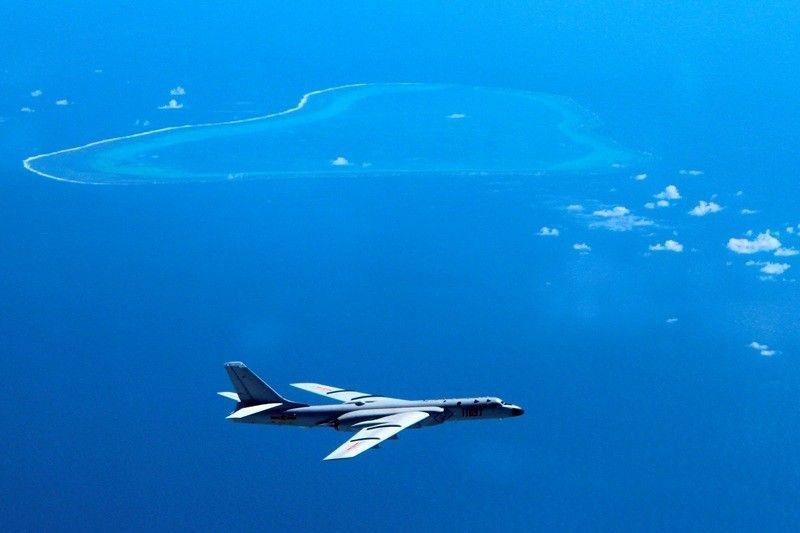 In this undated file photo released by Xinhua News Agency, a Chinese H-6K bomber patrols the islands and reefs in the South China Sea.
Xinhua via AP/Liu Rui, File
Senate must make stand on Chinese activity in West Philippine Sea, Drilon says
(Philstar.com) - May 20, 2018 - 1:30pm
MANILA, Philippines — The Senate should play a more active role in the Philippines' foreign policy, Senate Minority Leader Franklin Drilon said in a radio interview on Sunday.
"The Senate should have strong resolve. This is a challenge to the new leadership: We must assert the Senate's role in foreign relations. We must condemn this creeping invasion of our territory and sovereignty," Drilon said.
Drilon's statement comes after the reported deployment of long-range bombers to Woody Island in the South China Sea.
"Chinese bombers including the H-6K conduct takeoff and landing training on an island reef at a southern sea area," read China's state-run People's Daily said in a tweet.
According to Washington-based think tank Asia Maritime Transparency Initiative, China can use the H-6K bomber to cover most of the Southeast Asian region.
"Nearly all of the Philippines falls within the radius of the bombers, including Manila and all five Philippine military bases earmarked for development under the US-Philippines Enhanced Defense Cooperation Agreement," AMTI also said.
President Rodrigo Duterte, whose administration has chosen to focus on investments from and better relations with China and not on the 2016 ruling by an international arbitral tribunal that the regional giant's nine-dash-line claim has no basis in international law, has said there is little the Philippines can do about the situation now.
"What will we arm ourselves with if there's a war? Will we resort to slapping each other? I couldn't even buy myself a rifle. It was given to me. So how will we even fight with the Chinese?" the president of the Republic of the Philippines is quoted as saying in a speech in Cebu on Saturday.
'Not through war'
Law experts have stressed that the Philippines can protest the buildup in the South China Sea or otherwise oppose China diplomatically without resorting to war, which the 1987 Constitution renounces as an instrument of national policy.
"We should assert our sovereignty. Not through war, we cannot do it that way. In other fora, we should continue our campaign to get back our islands that China has occupied," Drilon said in English and Filipino.
"We are asserting that Spratlys is part of our territory, and China is already there. They are already – we can say – occupying a part of the Philippine territory," he also said.
The Palace has tried to explain away China's presence in the parts of the South China sea that Manila claims and calls the West Philippine Sea, saying China's missiles on artificial islands it has occupied are not aimed at the Philippines.
President Duterte last week added Chinese President Xi Jinping has assured him that China will not allow the Philippines to be destroyed or let Duterte be ousted from office.
Drilon warned that China's aggressiveness could raise doubts about the 2019 elections. "The question at the back of people's minds is China might interfere in the 2019 elections at the rate things are going."
The Philippines under Duterte has pivoted to non-traditional allies like Russia and China as part of what it calls an independent foreign policy.
The Senate is currently led by Senate President Aquilino Pimentel III, president of the administration PDP-Laban party. The formerly moribund party has a cooperation agreement with the Communist Party of China.