Duterte: China has assured me it will not allow Philippines to be destroyed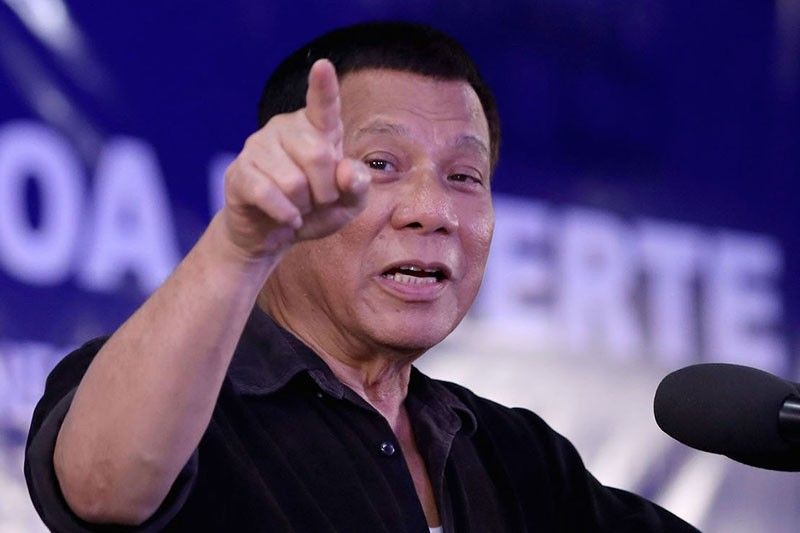 MANILA, Philippines — Expressing distrust of treaty ally, the United States, President Rodrigo Duterte relayed China's assurances that it will protect the Philippines in case a conflict breaks out in the region.
"China will never allow the Philippines to be destroyed. 'We will be there if you need us,'" Duterte said in a speech in Casiguran, Aurora on Tuesday.
Ironically, Beijing has been deploying weapons and military aircraft on its three outposts in the Spratly Islands in the West Philippine Sea, which the Philippines also claims.
RELATED: China to deploy fighter jets to South China Sea — think tank | China deploys military aircraft, 15 warships in Spratlys
China's actions in the region are seen as a threat to regional peace and stability.
Duterte also said that Chinese President Xi Jinping assured him that he will not be ousted as the Filipino leader seeks to strengthen ties with Beijing.
"The assurances of [President] Xi Jinping were very encouraging. Eh, they are there. 'We will not allow you to be taken out from your office, and we will not allow the Philippines to go to the dogs,'" Duterte said, quoting Xi.
It is unclear whether Xi really said China would interfere in Philippine politics but the president has made statements in the past based on supposed confidential conversations.
'China, a neighbor that will protect the Philippines'
The president noted that China would be the Philippines' closest neighbor that could protect the country.
"China said 'We will be there.' I'm not sure with the Americans because the Americans have lost their will to fight. They only have weaponries, cruise missile, maybe they also have a supersonic thing but the boots on the ground, the ones who will go there to fight, America is scared," the president said.
The US military has been in Afghanistan since 2001 and has forces deployed across the world, including in Iraq and Syria.
"They are deathly afraid of death and they do not want to. They only know human rights... that's why they are deteriorating," Duterte said.
The Philippines and its former colonizer, the United States, have been allies since the two countries signed the Mutual Defense Treaty in 1951.
Despite Duterte's hostility against Washington, Filipino and American troops are currently conducting the annual Balikatan exercises in the country. The joint military exercises started last May 7 and will end on May 18.
About 5,000 Filipino troops and approximately 3,000 American forces are currently conducting holding the exercises, which focuses on counterterrorism and mutual defense this year.