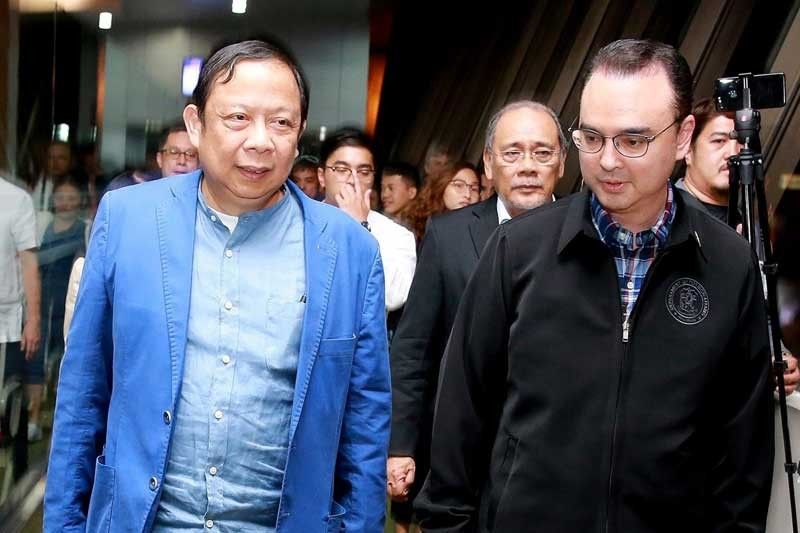 Ambassador to Kuwait Renato Villa is welcomed by Foreign Affairs Secretary Alan Peter Cayetano at the NAIA Terminal 1 on Wednesday night.
Rudy Santos
Cayetano will 'happily' quit if told by Duterte
MANILA, Philippines — Only President Duterte can make him resign, foreign affairs chief Alan Peter Cayetano said yesterday as he parried calls for him to step down in the face of the country's raging diplomatic row with Kuwait.
"If the President wants me to go, I will go happily and I will continue to support him. If a majority in the Department of Foreign Affairs says, 'we cannot follow you,' I have no business being there," Cayetano told reporters at the Ninoy Aquino International Airport (NAIA) where he welcomed expelled ambassador to Kuwait Renato Villa.
"But so far, I have had meetings with them and, so far, they understand. They might not necessarily agree with our direction, but they understand," he said.
The resignation calls, he said, are normal and part of politics.
"But I think you be the judge whether last year, we've stepped up or we've slacked off in taking care of the concerns of OFWs," he added.
Kuwait expelled the Philippine ambassador and recalled its own top Manila diplomat after a video recording of the rescue of distressed Filipino workers from Kuwaiti homes appeared in social media. Kuwait called the covert rescue operations a violation of their sovereignty and charged those involved in the rescue with kidnapping.
He stressed that of the 38 rescues, 35 were coordinated with the Kuwaiti government. He said three had to be rescued immediately without coordination with Kuwait authorities.
"We did it ourselves which is acceptable, and it is a duty under international law but it was commotion to them," Cayetano said.
"That's why I said, I apologize if our actions seemed to violate your sovereignty. But let me assure you, it's in the spirit of protecting our nationals," he added.
Cayetano denied the video recording of the rescue operation would be used as campaign material for a possible presidential run. "Did I appear in the video? If I had intended to use it for politics, then I would have joined the rescue. It's very obvious," he said in Filipino.
In a statement, Cayetano expressed his appreciation for Kuwait's declaration that it's not closing its doors on restoring normal relations with Manila.
"The positive response we have received from Kuwait now provides us with an excellent opportunity to write a new chapter that should allow us to overcome any and all future challenges between our two countries," he said.
The DFA also denied a report in The STAR that career officers were demanding his resignation.
"The alleged clamor by career officials for the secretary to resign as contained in the supposed letter came from some who do not represent the views of the entire career Foreign Service Corps," the DFA said in a statement.
"Career officials remain committed to the highest standard of professionalism and patriotism. Under the guidance of the Secretary of Foreign Affairs, the career foreign service corps can be counted upon to pursue the President's vision of an independent foreign policy," it added.
Villa, meanwhile, said he was "proud to serve for almost three years in Kuwait."
"I will always have fond memories of Kuwait and its hospitable people," he said.
Kuwait-bound
In Davao City, Labor Secretary Silvestre Bello III said he hopes to secure permission from Kuwait to visit the oil-rich Arab country next week to personally check on the situation of Filipino workers.
"I want to see the real situation on the ground for our OFWs there," Bello told The STAR.
"I am still awaiting word from their government if I am welcome to visit or not. Because if they would say I am not welcome, then I am not going there anymore," he said.
In a related development, United States Ambassador Sung Kim said his country has not received any request to be a third party mediator between the Philippines and Kuwait.
"This is the first time I'm hearing of this idea. No one has approached us directly about that or I haven't seen press reporting either," Kim told reporters during the Kapihan sa Embahada.
"My sense is that the two countries are working very hard to resolve the difficult situation," he said.
How developments would unfold is not clear yet, according to presidential spokesman Harry Roque, who earlier announced that President Duterte had averted a crisis by meeting with the Kuwaiti ambassador in Davao some two weeks ago.
"I don't think I'm in a position to actually state what was the root cause of the problem in Kuwait. What I'm saying is, you know, like in any relationship… there are kinks in our relationship with other countries; this is one of those kinks," Roque said when sought for update on the diplomatic impasse.
"I cannot speak for the Kuwaitis. See, I cannot read their minds. They have not actually said what the root cause of their displeasure is," he said.
"They have taken steps to make it very clear that they are displeased, but they have not actually said in very clear language what was it that really offended them – that's why the apology was for whatever reason that may have caused offense to them," Roque added. "But Secretary Cayetano has apologized, and we're hoping to normalize ties with Kuwait soon."
For Sen. Leila de Lima, Cayetano should heed the call of DFA career officers for his resignation.
"The action is unprecedented. This is probably the first time in the country's history that the foreign service officers of the DFA called for the resignation of the foreign affairs secretary," De Lima said. – With Christina Mendez, Marvin Sy, Edith Regalado, Rudy Santos