Duterte firm on Boracay closure, casino ban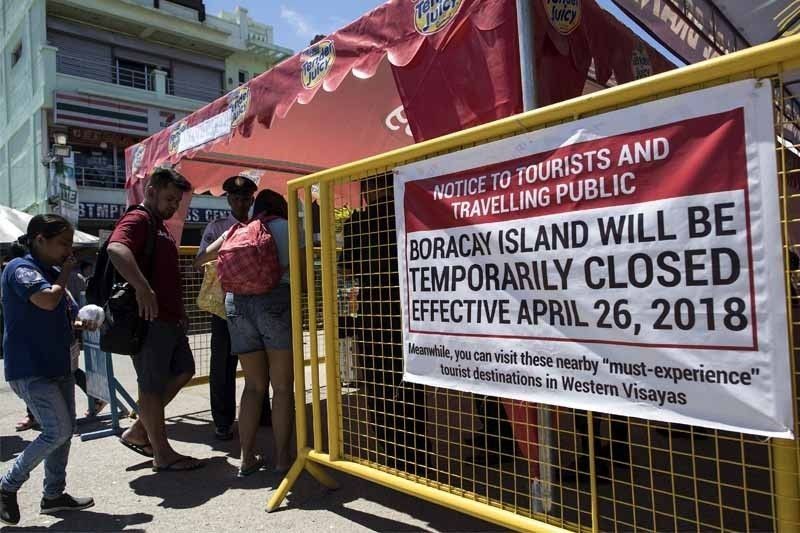 MANILA, Philippines — His Cabinet recommended it, and President Duterte is going along with the closure of Boracay Island for six months despite concerns that this may be too long and can seriously affect livelihoods.
He also reiterated that there would be no casinos on the island.
"I said I do not interfere in the work of the Cabinet members. If that's the recommendation of (Roy) Cimatu, (Eduardo) Año and (Wanda) Teo, then that is it," Duterte told reporters, referring to the secretaries of environment, local government and tourism.
"I do not just revoke recommendations. Once a Cabinet member makes a recommendation, it's a 90 (percent approved). The 10 percent will matter if there are abuses. But (it) seldom (happens)," Duterte said.
Duterte insisted there is a "huge problem" in the world famous island that "places every person, a tourist or local in jeopardy."
"If we do not intervene, there will come a point that it's no longer swimmable. Not just habitable. You know, you do not own it. You just take care of it for the next generation. So that people can find livelihood there," he said.
Last February, the President called Boracay a cesspool because of the lack of proper sewerage system and threatened to file cases against local officials who allowed the island to deteriorate.
A task force composed of the environment, tourism and interior and local government departments has recommended to close the island for six months – the time the government needs to implement rehabilitation projects – from any tourism related activities.
Last week, Duterte issued Proclamation 475 placing Boracay under a state of calamity and ordering agencies to assist people affected by the closure. According to official estimates, this closure will cost the economy P1.9 billion and displace about 35,000 workers.
He also warned businesses in Boracay not to derail efforts to rehabilitate the island.
"Do not put us in a corner. You box me in. Remember… the entire island is still considered (forest) and agricultural. It would need a law or a presidential proclamation to segregate. I have not signed anything... setting aside a portion of the island as open to commerce, commercial area. So do not insist," the President said.
Duterte denied that there are plans to build a casino in the island and promised, "there will never be one" as he pointed out that gambling has "deleterious effects" and should be reduced to the "barest minimum."
"You know the billionaires? Are they from the Okada (Group)? All of them made a courtesy call before they started on a project. They were of the belief that island there is okay for anything. And since there are casinos there, they want to build casinos there. I did not allow it," he said.
Justice Secretary Menardo Guevarra refused to comment on the petition to stop the government from closing the island, citing the sub judice rule which prohibits parties from publicly commenting on pending court cases.
Following reports of a plan by Macau casino giant Galaxy Entertainment and its local partner, Leisure and Resorts World Corp., to build an $500-million integrated resort on the island, Guevarra said it may be legally feasible but could be a long and complex process due to the 2008 Supreme Court ruling that classified the island as both forest and agricultural land belonging to the government.
He said no part of forest land can be appropriated by any person unless the state declares it as alienable, adding that land reclassification is a complicated process.
But lawyer Angelo Karlo Guillen said that while the closure mooted their prayer for a temporary restraining order, the Supreme Court may still rule on their plea for a status quo ante (SQA) order.
"The SQA will stop the enforcement of the closure order and bring back the status prior to its implementation," he explained.
Although the high court tackled the petition of Boracay residents Mark Anthony Zabal, Thiting Estoso Jacosalem and Odeon Bandiola last Thursday, it opted to first hear the side of the government respondents, who were given 10 days to comment.
The three residents accused the Palace of overstepping Congress by using police power to close down the world-renowned tourist destination for rehabilitation purposes. They also claimed violations of constitutional rights to travel and due process.
Just four days after the temporary closure, Environment Secretary Roy Cimatu said rehabilitation works got off to a good start after residents and other stakeholders cooperated in the government's cleanup and rehabilitation program.
"We anticipated confusion and disturbance among the residents and stakeholders, but there was none. We are very happy with the reception of the people. We thought we would not get their unity and cooperation but I was surprised. They already understood and accepted the fact that we have to clean it," Cimatu said.
A majority of Boracay residents and business establishment owners have volunteered and agreed to demolish their structures built illegally along the road.
"Around 90 percent of them have given their waiver for us to proceed with the demolition, unlike before that they were threatening to file cases against us. There are around 300 establishments causing road obstruction," the environment secretary added.
The Department of Environment and Natural Resources (DENR) will ask the displaced workers who registered in the cash-for-work program of the Department of Social Welfare and Development to help in the cleanup of wetlands that serve as the island's water filter.
Cimatu said there are buildings on the wetlands and informal settlers have built houses around the area, resulting in poor quality of water draining into the sea.
He pointed out that Boracay has nine wetlands and only four of these remain.
The DENR aims to recover the five in the course of the rehabilitation, which would focus on drainage and sewerage rehabilitation; solid waste management; forestlands and easement recovery; alienable and disposable land management; road and transport; biodiversity conservation; wetlands rehabilitation, and geological hazard management.
It would also revisit the Boracay master plan to integrate it with the more comprehensive Northern Aklan master plan, which is seen to boost tourism in the nearby areas of Malay, Caticlan, Carabao Island and the entire Aklan province.
Cimatu vowed to deliver a "new Boracay" and work toward the sustainability of the island even after the six-month closure period lapses. – Edu Punay, Louise Maureen Simeon
Related video: