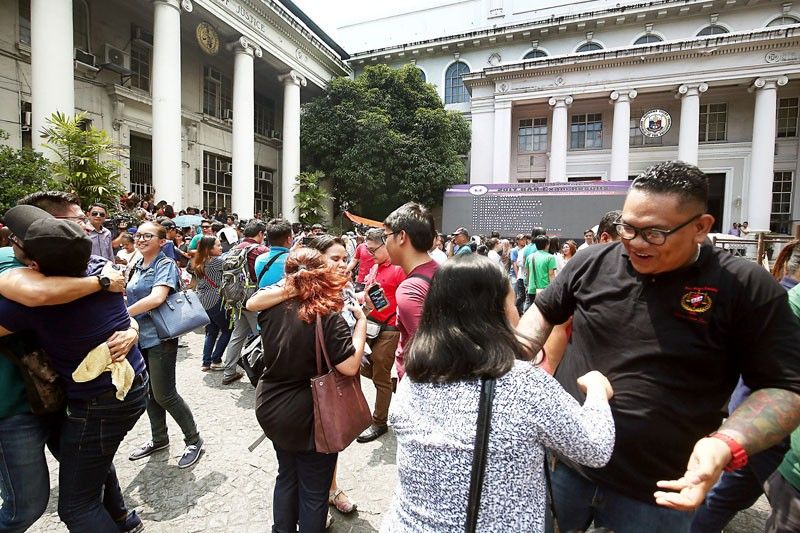 Law graduates react after seeing their names as the list of successful Bar examinees was posted at the Supreme Court compound in Manila yesterday. Bar topnotcher Mark John Simondo of University of St. La Salle in Bacolod City.
Miguel de Guzman
Provincial law schools dominate Bar anew
Edu Punay
(The Philippine Star) - April 27, 2018 - 12:00am
MANILA, Philippines — For the second consecutive year, graduates from provincial law schools dominated the Top 10 in the Bar examinations, including the topnotcher who vowed to uphold the rule of law as he expressed desire to join government.
Mark John Simondo, a graduate of University of St. La Salle in Bacolod City who lorded it over the 2017 Bar exams with an average of 91.05 percent, said in a phone interview that being a lawyer was coincidental.
"I took up law because I did not want to go abroad. My parents were pressuring me to go abroad. I felt that the Philippines is where I should be. I needed a job that would justify my stay here," Simondo said.
Asked for his plans after taking his oath as lawyer, Simondo said he would have wanted to pursue corporate law practice but since such field is limited in his hometown, he is considering joining the government.
Simondo also vowed to be a responsible lawyer.
"Yesterday, I made a promise to God that if I pass my exam, I will do my utmost to promote justice in this country. At the end of the day, we are still a nation of law and not a nation of men. The rule of law should prevail. I will see to it that I will do my part in upholding the rule of law," he added.
When asked about his opinion on the cases against Chief Justice Maria Lourdes Sereno, Simondo opted not to share his opinion.
Sereno is facing a quo warranto case before the Supreme Court filed by the Office of the Solicitor General. The case questioned Sereno's appointment, saying it was void from the beginning because the Chief Justice-on leave failed to meet all the requirements for the position.
Simondo was followed by three other provincial law graduates – Christians Mae Balili of University of San Carlos in Cebu in second place with an average of 90.80 percent; Camille Remoroza of the Ateneo de Davao University in third place with 90.70 percent; and Ivanne D'laureil Hisoler, also from University of San Carlos, with 89.55 percent.
Another University of San Carlos graduate, Rheland Servacio, placed seventh with 89 percent; while Krizza Fe Alcantara-Bagni, of St. Mary's University in Nueva Vizcaya, placed eighth with 88.90 percent.
Last year, Karen Mae Calam of University of San Carlos law school in Cebu City topped the Bar exams with an average of 89.05 percent.
For Metro Manila universities, three graduates of University of Santo Tomas law school and two from San Beda University-Manila made it to this batch's Top 10.
From UST were sixth placer Lorenzo Luigi Gayya, with 89.1 percent; ninth placer Klinton Torralba, with 88.65 percent; and 10th placer Emma Ruby Aguilar, with 88.4 percent.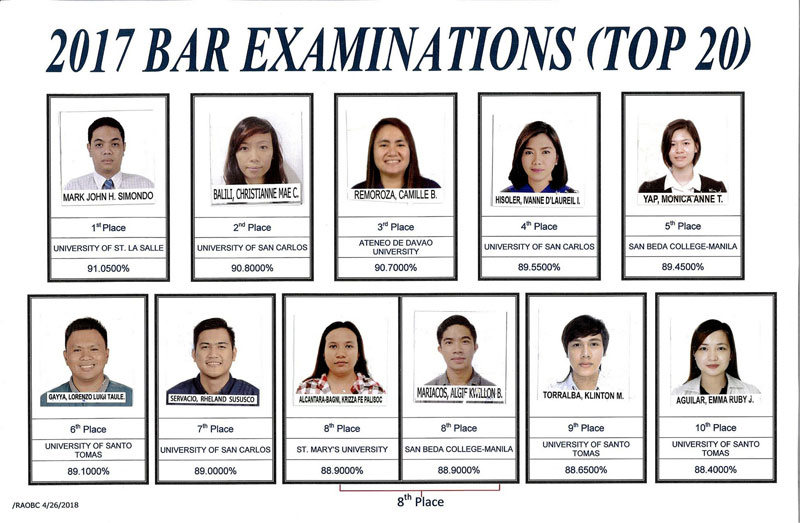 Photos show the top 10 bar passers.
For the first time, the SC announced the Top 20 for the Bar exams.
Lyan David Juanico and Lougenia Cariño, both of San Beda College-Manila, placed 11th and 12th; Arman Joseph Guzman, of UST, placed 13th; Jewelle Ann Lou Santos, of Ateneo de Manila University, placed 14th; while Stephanie Claros, of University of San Jose- Recoletos in Cebu; Rhea Doll Gonzalo of Xavier University in Cagayan de Oro City; and Nadia Christine Mendiguarin, of Saint Louis University in Baguio City were tied at 15th place.
The other topnotchers – from 16th to 20th places, respectively – were Eileen Carla Carpio, of San Beda University-Manila; Ella Mae Mendoza of University of Cebu; Aecaya Christine Calero of UST; Pretz Vernie Vinluan of University of the Philippines; and Roniel Resurrection of Jose Rizal University.
1,724 new lawyers
A total of 1,724 law graduates passed the Bar exams, the results of which were released by the SC yesterday.
Associate Justice Lucas Bersamin, chairman of the high court's 2017 Bar committee, said the successful examinees constitute 25.55 percent of the total of 6,748 takers who completed the exams in November last year.
This batch had the most number of examinees in the 116-year history of the Bar exams.
However, it has the lowest passing rate in the last three Bar exams.
In the 2016 Bar exams, a total of 3,747 passed, representing 59.06 percent of the total of 6,344 takers. In the 2015 Bar exams, on the other hand, a total of 1,731 passed, representing 26.21 percent of the total of 6,605 takers.
The SC bared that a total of 7,227 were admitted to take the examinations, but only 6,748 finished the exams after 11 examinees dropped out and 468 did not show up during the four-Sunday exams.
The Bar exams held at UST in Manila covered eight subjects – Political Law, Civil Law, Taxation, Labor Law, Criminal Law, Remedial Law, Mercantile Law and Legal and Judicial Ethics.
Bersamin also revealed the names of the examiners, which were highly confidential during the conduct and checking of the exams.
They were retired commissioner Mehol Sadain for Political Law and Public International Law; retired justice Francisco Acosta for Labor Law and social legislation; lawyer Arturo de Castro for Civil Law; lawyer Leonor Boado for taxation; lawyer Raul Vasquez for Mercantile Law; lawyer Alexander Padilla for Criminal Law; lawyer Willard Riano for Remedial Law; and Justice Mario Lopez for legal ethics and practical exercises.
Bersamin announced that the oath-taking of the successful Bar passers would be held on June 1 at the Philippine International Convention Center.
Associate Justice Mariano del Castillo will chair the next Bar exams to be held this November.
In the 2013 Bar exams, the SC reverted back to its previous format, which was predominantly essay-type. These consist of 80 percent essay-type questions and 20 percent multiple-choice questions.
In the two years prior to that, the SC had conducted a predominantly multiple-choice format.
The high court also lifted its five-strike rule in Bar exams, a policy implemented since 2005 in which examinees who have flunked five times are disqualified from further taking the exams.
Join government
Presidential spokesman Harry Roque Jr. urged the new lawyers to join the government to help in the administration's reform agenda. He also wished the new board passers well.
Roque expressed hope that all those who are taking their exams this year will take inspiration from those who made it in the 2017 Bar exams.
"Having been a professor for 15 years of law, we'd like to congratulate in advance and wish everyone, all the barristers, good luck on this year's bar exam," Roque said at a regular press briefing at Malacañang.
Citing the idealism, integrity and competence of young and vibrant new lawyers, Roque reiterated his call for them to join the government.
"We hope that many of our country's new lawyers would pursue a career in government so that they may take part in helping us with our shared goal of creating genuine reforms for the nation," he added.
"Your idealism, integrity and competence are most welcome under the current administration," Roque said.
For the complete list of Bar passers, go to www.philstar.com. – With Christina Mendez